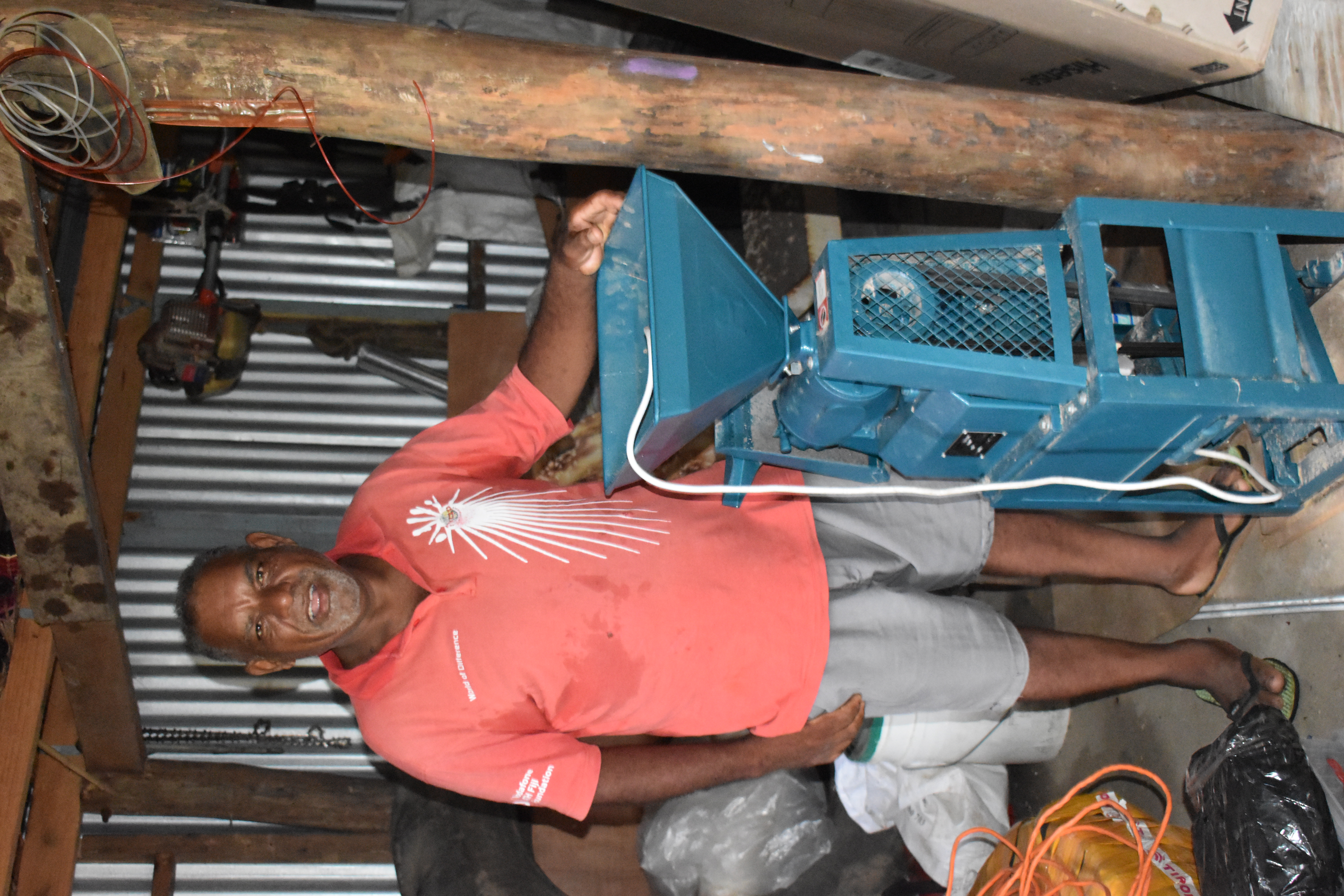 Picture : Mr Mahend standing next to the portable rice mill which was donated by the Ministry.
Rice is consumed by more than half of the world's population; particularly, it is the staple food playing a key role to ensure food and nutrition security in Asia and the Pacific.
Locally, in Fiji, rice is a major source of food for all ethnicities and has greatly contributed to the improvement of the livelihood of thousands of farmers and their families who rely on rice as a main source of income.
Unfortunately, Fiji's rice industry has been increasingly weakened over the years as rice area and production declined and rice yield growth has been marginal.
Consequently, Fiji, which attained nearly 70 percent of self-sufficiency in rice in the 1980s has had to import more than 80 percent of the total rice demanded locally on an annual basis. This is a dilemma because the agro-climatic conditions here are exceptionally favorable for rice cultivation.
This has motivated 52-year-old Mahend Chand of Tova Settlement in Nakorotubu, Ra to continue his rice farming, as well as to honor his family's legacy of farming.
Mr. Chand has toiled the same piece of land his grandfather labored over, strengthening the ties his family shares with the land.
Since communal living has been engrained in the Fijian way of life, the Chand family has continued on this lifestyle by nurturing their farm together. For them, farming is a family affair and Mahend, together with his only brother, Deersia have remained true to their calling as farmers by sharing the responsibilities of their farm.
Mahend Chand, his wife, and his three children along with his brother, Deersia Chand, his wife and their three children call this farm their home.
"We share the responsibilities on the 3 acres of family farmland, where we have a variety of commodities growing on it amongst sugarcane," he said.
They also rear livestock on the farm like cows, sheep, and goats and also have layer birds that roam freely, with the family selling eggs from their home to supplement their income.
"Both families do things together, from eating to farming, no one is left idle when it comes to harvesting time or planting season."
For Mahend, rice cultivation is at the top of his priority because it provides food on his family's table as he preaches self-sufficiency in all that he does, something he has consistently achieved.
"We have over the years benefitted from farming and have never wanted to venture away from it as it has put food on the table and has seen our children off to school and earned them a good education and secured their career paths."
"We have come across hardships over the years in terms of natural disasters and land but with God on our side and the passion we have in farming, we managed to pull through," he proudly said.
The highlight of their farming journey earlier this year was when the family harvested 42 bags of the star rice variety.
"It's not for sale but consumption, and we would like to share the initiative behind it, it is to teach families to be self-sufficient," he said.
"Natural disasters can destroy root crops and other food but this commodity can withstand it all and its storage timeframe is longer."
"Our interest in rice is such that we attend all workshops conducted by the Ministry on rice and we even plant the newly introduced varieties Cagivou and Sitara," he said.
"People normally farm for cash and to assist other families to survive in terms of food but we would like to encourage families and farmers to plant rice not only for cash but also for food consumption as we are practicing," he said.
The Chands previously planted the Totoka and Star variety and are now also trying out new varieties and have implemented sustainable farm management practices as per the advice given by the Ministry's locality officers, interlinking both new and old practices on rice cultivation.
The Ministry of Agriculture assisted the family and neighboring farming households with a portable rice mill to ease the burden of having to take their harvest to their nearest rice mill.
"From perseverance comes rewards, and we have always silently borne the load of taking our harvested rice to either Tavua or Rakiraki," he said.
"In 2018, the Ministry of Agriculture donated a portable rice mill to us and it accommodates the 5 groups in our cluster and we would like to thank the Ministry for looking into our need and lightening our load."
"We are thankful to the Ministry of Agriculture in remembering and supporting us farmers in the rural areas by giving us the portable rice mill," he said.
"The Ministry was also present during the weekend of the last harvest in terms of machinery which assisted us on the rice farm.
Mahend, who is also a Manager at the local Bayly Memorial School, has always offered a lending hand to those in his area when it comes to their farming needs.
"This is a developing community and we have to help one another to grow, it is sad to see a family starving so we assist them with what we have on the farm with cuttings and seedlings or livestock so they can grow from it," said Mahend.
"We all serve a living God and I believe if we work with all our heart and assist those that need assistance, we will be rewarded accordingly."
"Make use of the land you have and help one another in terms of food security, please plant rice as it will benefit your family and help to sustain your livelihood," he advised.
He remains adamant that if farmers commit to rice cultivation on a truly sustainable, commercial level, Fiji's rice industry will achieve self-sufficiency once again.
-Ends-