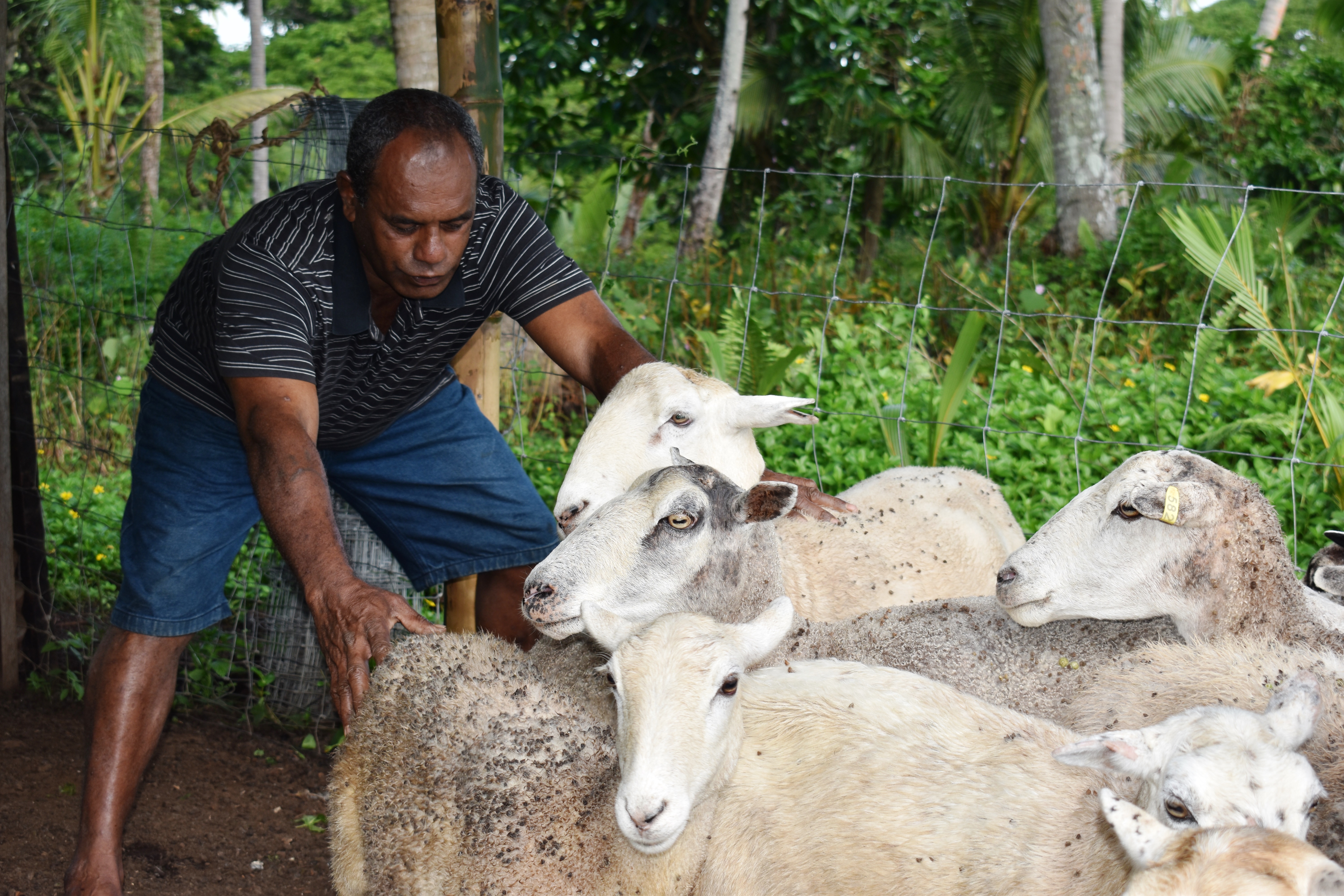 Picture: Mr.Watisoni. Sovivikula tending to the sheep.
There was always an inkling in 56-year-old Watisoni Sovivikula that his best chance at a meaningful life would be through the land.
Growing up, school was never his strong suit. He was always inclined to be the class truant, regularly missing classes, and opting to participate in other non-curricular activities.
His experiences have been a constant reminder to him to mold and guide his children towards becoming the best versions of themselves. Now residing in Vuniuto Settlement in Nasarawaqa, Bua, Mr. Sovivikula had made a pact with himself to see his children's education through.
"Education was never my thing. I would always run away from classes and I went through a very hard time growing up. What I went through, I promised myself that my children should never go through the same, and so I strived to provide them the best," he said.
This promise he made saw his children excel where he didn't, with two securing employment as health care workers, one as a nurse and one as a caregiver, while his third is employed at the iTaukei Lands Trust Board (iTLTB), with one of his twin sons currently studying at the Fiji National University and the other twin opting to assist their old man on the family farm.
"It hasn't been an easy journey. The only thing I saw potential in was the land, and I knew it was the only thing that could fulfill my wishes."
Before he fully committed to the land, he only practiced subsistence farming in the village, and this led to him purchasing a house in Labasa for his children's education.
"I took my whole family to Labasa in 2003 and while there I bought a table in the market and traded yaqona; buying and selling it to accommodate for my kids' tuition and other family needs."
"My Labasa goal was completed when my eldest graduated from nursing school in 2009, I then revisited the farm to continue what I have always loved doing, farming.
He applied to lease their vacant Mataqali land; "Although I had a table in the Labasa market, I kept thinking of the land as I could attain and develop and gain more if I cultivated it myself, that's when I decided to lease the expired Mataqali land," he said.
After the 71.7 hectare land lease was approved, he started with an initial stock of 10 goats, 10 beef cattle, and 5 sheep. In 2006, an opportunity presented itself, and without hesitation, he applied for the Farming Assistance Scheme under the Land Resources Planning and Development for his expired Mataqali lease.
In 2008, he was assisted with $15,000 grant under the Farming Assistance Scheme for the development of the said lease.
"I visited the Land Resource Planning and Development division of the Ministry of Agriculture for advice and they helped me with my papers and the land."
The $15,000 from the Farming Assistance Scheme was used on his land with $5,000 used to pay off the land lease to the iTLTB and the remaining $10,000 used for his farming needs.
When the land arrears were settled and the title was transferred under his name, he began working on his vision, with the assistance of his friend Gyan Singh
"He is the son of the former land tenant and he looked after the land and the livestock while I am in Labasa and in 2017 I managed to build a home on the piece of land and moved my family down here."
Meanwhile, in 2018, shortly after he had settled down on the farm, the Ministry of Agriculture assisted Watisoni with his livestock fence and goat house materials.
Over the years, his livestock increased, and although Nasarawaqa is famous for its Talasiga land, Watisoni tried his hand at planting yaqona on it, with his crop now a year and 5-months old.
"At present, I have 40 goats, 30 beef and 15 sheep, the stock should have been bigger now but because of theft and attacks from dogs, it has affected the growth of my stock.
"This place is not ideal for planting yaqona but I tried it anyway, as I moved inland and planted some of my yaqona in Namuavoivoi," he said.
The road is another hindrance in his farming endeavor, as he has been enduring the hardship of the rough and rugged terrain for years.
"Added to the river that rises during heavy downpour is the problem of our road access, we have the urge to plant and to become commercial but the road access is pulling us back but if we were to be assisted inland, it would be a great help.
"These challenges are part and parcel of farming and I face it with a positive outlook, but I have to keep going.
Additionally, being an elder of Mataqali Veikurakura, he's responsible for the development of his clansman; "This settlement is home to 5 families, and because of the childhood I had, I made it my business to shoulder the responsibilities of these children, and just like my children, I also want a future for them," he said.
"I always advise them not to underestimate the value of education and to keep pursuing it, while remembering the most important one, which is to remember their families when they have succeeded."
"I've also reminded my clan members to use money wisely for the development of each family, the farm, and the settlement."
"If you grew up with a silver spoon in your mouth, remember that there are others who are not fortunate enough and in one stage in life you will have a family of your own and you'll need to feed them," he said.
Watisoni's advice is simple, making the right decision is vital to achieving one's success, but should all else fail, look to the land.
"If you are finding it difficult, the land is always an option, make use of the opportunities education has provided but remember whether you succeed or not, the land is always there for your health and financial support.
-Ends-