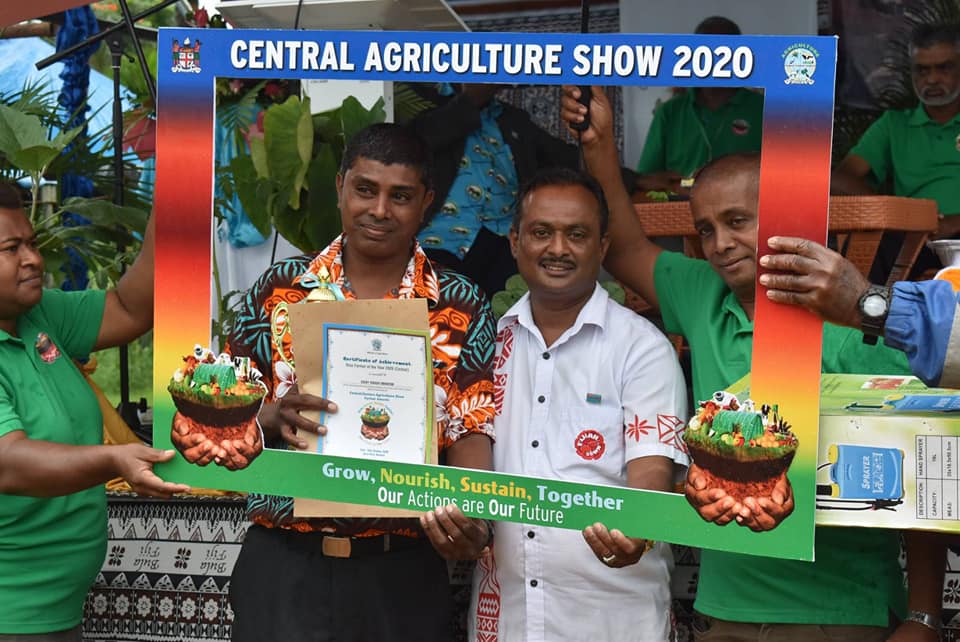 Picture : Mr Vicky Vikash of Navua receives his Rice Farmer of the Year Award from Assistant Minister for Disaster Management Rural and Maritime Development Hon Viam Pillay
The only legacy that Vicky Vikash has ever known was one that has been passed down through his family's generation and is rooted in rice.
His grandfather, Ram Pyare was a rice farmer in Nakaulevu, Navua. Bijen Prasad, Vicky's father was a rice farmer too and now the honour of continuing the family's proud farming history rests with Vicky Vikash.
If you should stumble upon their settlement in Navua and ask about their family, the family name is synonymous with rice. On the piece of land allocated to them in Nakaulevu in Navua, the family put down roots and laid the foundation for their farming venture which has persevered through three generations.
"My grandfather planted rice on the piece of land as a commercial farmer and my father took over after him but his interest was divided when he found work with the then Public Works Department," said Vikash.
"So the rice that was planted by my father was used for home consumption and we, never once, ran out of this staple food," he said.
"We grew up amidst the rice plants. We gained the experience and knowledge of planting rice from our upbringing then, we would all be out on the farm when it came harvesting time," he fondly reminisced.
Mr. Vikash is currently employed with HG Leach Fiji Limited, and he has managed to find his niche in rice farming, juggling his work with his 20 acres dry-land rice farm.
"Although I have work, it has never kept me from farming and it would be on day-offs and in the afternoons after work that I tend to my rice farm," said Vicky.
"My grandfather was a full-time commercial rice farmer, my father did it for subsistence but I decided to combine both their experiences," he smiled.
"I cultivate rice in such a way that I incorporated the commercial farming idea of born from my grandfather while at the same time picking up the workaholic lifestyle and subsistence farming traits from my father.
He was working until a contract with Grace Road in 2015 fully diverted his attention.
"We were to plant and supply rice to the Grace Road Company and in return, they would provide us with machines and planting materials," he said.
"Things didn't turn out the way I had hoped it would so I decided to go my own way and to do my rice farming and to see that I look for my market," he said.
A year after, in 2016 the 40-year-old's vision unfolded as he planted his 20-acres land with dry-land rice; "This has also taught me that you can develop and grow on your own when one door closes, another one will open up," he said.
"After Grace Road, Fiji Rice Limited came into the picture and we began supplying rice to them.
Vicky harvests twice a year and in each harvest, he produces approximately 8-10 tonnes of rice with a yearly harvest of 16 tonnes.
"From this harvest, Fiji Rice buys our product at $800 per tonne, and the more tonnage you produce the more money you will get," he said.
"It is not always sunny in the rice fields during harvest, so we will likely face a decline in the yield due to the adverse weather condition or machines are not ready during harvesting season," he said.
Added to this he said is the uncertainty of rice not growing during the planting season, inhibiting his enthusiasm to grow and to replant again.
"Dry-land rice farming is a challenging job because there is always the uncertainty of excessive rain and Navua is a rainy region and flooding often destroys my crop," he said.
"These are some disappointments we face in rice but again not all commodities run smoothly, there are circumstances that we often go through, it is important to notice how you work your way around the problem to sustain your production."
According to Vicky, rice has not only taught him a great lesson of faith but has also allowed him to purchase assets for his farm.
"The revenue collected was directed to the payment of a $38,000 farm tractor, I managed to purchase three portable rice mills valued at $1,200.00 each, a generator, water pumps along with a garage shed for the machines," he said.
"We all have talents to develop what we know, it takes perseverance and patience to endure those farming hardships because through those circumstances we will continuously learn as they offer an opportunity for us to take away valuable lessons from it," said Vikash.
Vicky Vikash was awarded the Rice Farmer of the Year award during the 2020 Central Agriculture Show held at Syria Park in Nausori from 15-16 October 2020, a testament to his determination and grit for continuing the family's rice farming legacy.
-Ends-