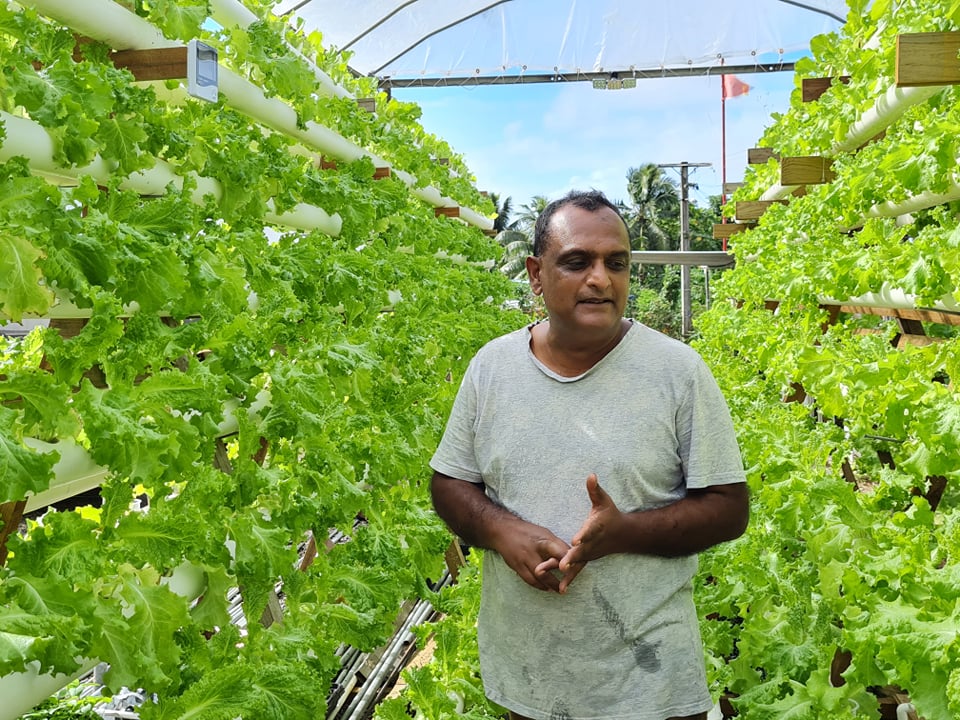 Picture: Madhu Karan in his Hydroponics farm.
At a time when many lost their jobs during the current global COVID-19 pandemic, the sentiments expressed that agriculture will be the way forward for Fiji has never become as true as it has for Tuirara Subdivision Hydroponic farmer, Madhu Karan.
The way he has set-up his hydroponic farm at his home, is impressive given he has made very good use of the tiny space around his home.
"My advice is agriculture is the way to go. You can never go wrong with agriculture because people need food. Job or no job people still need to eat, there's always a market. Provided you look for the market and become efficient. If you treat agriculture as a business, even a small space like this, you can still make a living."
Madhu said the income he and his family earned was equivalent to someone who was earning $24,000-$25,000 per annum.
"It's good income."
The former audio visual businessman, like many other Fijian businesses faced uncertainty when the current pandemic forced the closure of their business. How he and his family were to survive?
"My initial business was events and video production. That came to a standstill when the COVID-19 pandemic restrictions came into place, with no gatherings allowed. There was no other source of income and we would've sat idle at home. We thought about setting up hydroponics because we knew there was a scarcity in the food supply and we know that people will have to eat – it's a viable business," Madhu explained.
He explained there were three main reasons why he started his hydroponics farm. The first, he said, was because he was approaching retirement age and he knew he could undertake the activities required to maintain it.
"Also I wanted my whole family to be involved. Bringing educated kids to farm on the soil is hard. But this kind of work, the whole family is involved. The kids check the pH, Electrical Conductivity (EC), I do the planting, my wife does the marketing, it's a whole family affair," Madhu said.
"We spent all our savings. It was a very hard decision to make. It was risky. It was pandemic time and we did not know when the business would start or where our next income would come from. So we took the risk and put all our savings in hydroponics."
Madhu said an option his family explored before actually deciding to go all out and invest in hydroponics was whether to start off on a small scale. But on the flip side, they decided it would be unprofitable.
The third contributing factor to moving ahead with hydroponics was because he had already tried it out 17 years' ago but on a smaller scale. However, at that time he said, nutrients were not readily available and whilst he had used chemicals and it had worked. He found that it was economically viable, as the chemicals were expensive.
Today, Madhu and his family are steady suppliers of lettuce and mint to supermarkets, roadside vendors, deliver to those who order, and the drop-in customers.
"We have a steady supply. Our productivity rate is five to six hundred plants a week. Our production is done in such a way that we can produce a lot of plants in a very small space. At the moment, we are planting mint and lettuce just because we don't have enough space. The plan to buy a farm and set up on a bigger commercial set up that is automated; having a self-dosing system, pH checks and corrects it – things like that, it will be more accurate and save us time," he said.
-ENDS-