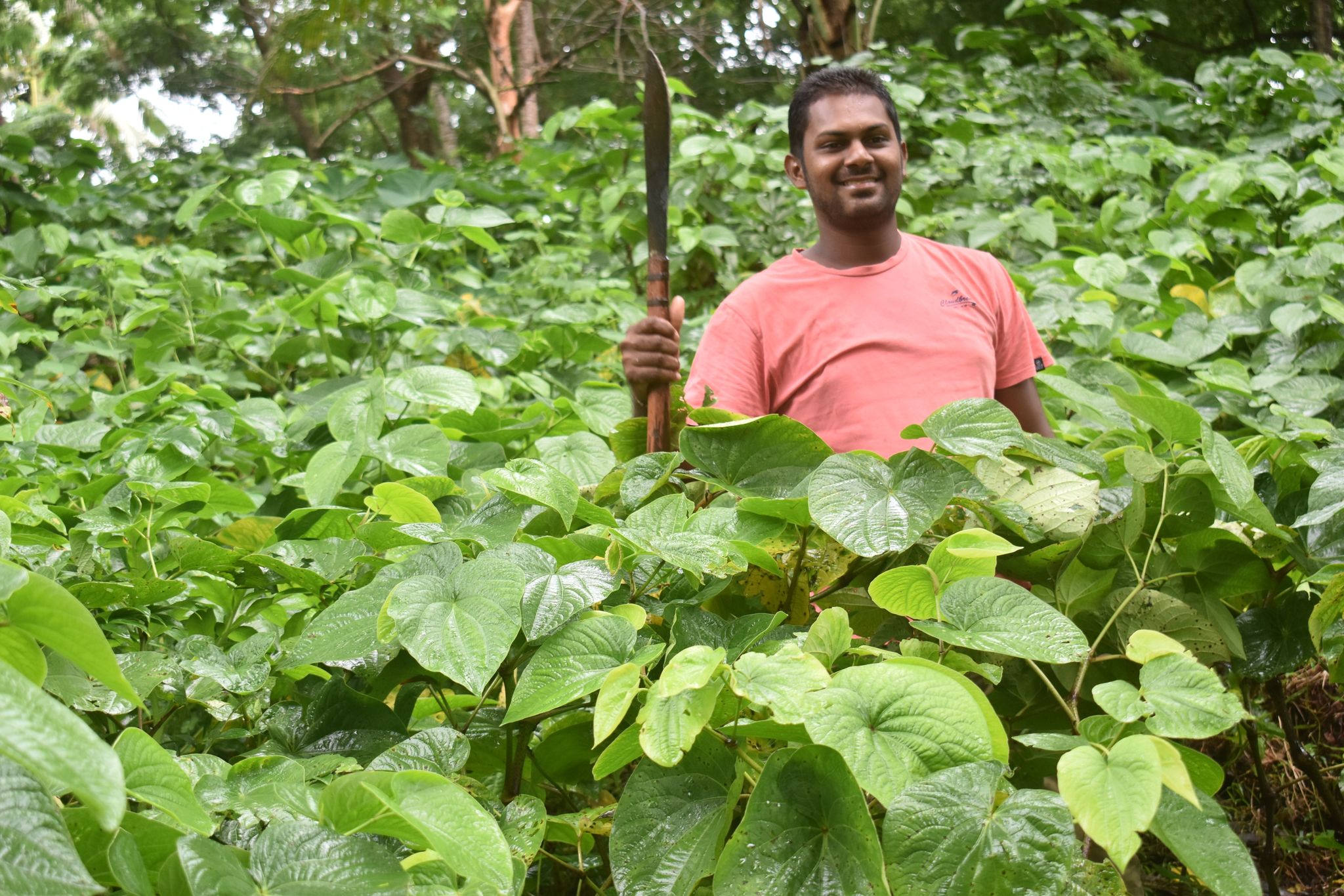 Picture: Atish at his yaqona farm in Taveuni.
From only $100 to his name to becoming one of the biggest yaqona and dalo farmers and buyers on Taveuni Island, Atish Prasad's life is the stuff of fairy tales.
When he got married 9 years ago, he hadn't the slightest idea how he would go about looking after his young family. From that humble beginning, the now 28-year-old Atish now owns assets and operates a business that is registered under his name, all achieved through dalo farming.
He started farming after he left school at the age of 19 and with his challenging upbringing he pushed past his fears and achieved his dream.
He started his dalo farming at Waimaqera on 6acres of land with 10,000 dalo plants only to be disappointed when he was cheated on by the buyers leaving him disheartened during his first harvest.
Even though he encountered this setback early on in his farming career, the ordeal never pulled back the determined farmer as he continued farming in Waimaqera before expanding and purchasing another 4 acres in Soqulu and 8 acres in Ura when his farm had started doing well.
His first yaqona harvest enabled him to start a second-hand tire business at Naqara, which is his other passion apart from farming.
He managed to buy another piece of land in 2018, built a working shed and shifted all his other enterprises to their current location at Nalele on a piece of land he bought at $60,000.
Atish has rolled over and is now importing tires from China and has set up a printing machine for banners, has bought other assets such as trucks, vehicles and boats and has also built a home for his family while also renting out a few flats on his property.
"This was all built and purchased from farming, it was all through necessary sacrifices and being determined to create an impact on your life and those around you," he said.
"With the money I get from farming, I laid out a plan to bring certain services closer to home, some services that weren't available here before like banner printing, and tire repair services and to offer them at a reasonable price here on the island as I know the struggles the people of Taveuni face, having endured them myself while growing up.
Giving back to the community Atish knows the struggles of farmers on the island with the irregular boat schedules and the fluctuating price of dalo being sold at the market that often saw an increase in supply but a low demand the market, which was a disheartening experience for farmers.
He, therefore, came up with the idea of setting up a dalo cooler storage facility for farmers on the island as there was none as of yet.
"For our market, we are supplying to Suva agents who are exporting to New Zealand and Australia and we also do not want to disappoint them," he said.
"Sometimes dalo gets bad from no market, and the boat schedule is irregular at best and because of this, I plan to avoid all the disappointments as it is the farmers' bread and butter and the cooler, will help preserve the sweat of many farmers on the island."
Atish practices phase planting on his three farms with his yaqona being planted according to year planted, from 1-3 years old, together with his Dalo (Tausala), with the hilly land conditions, he uses traditional methods of weed, pest and disease management on his farm.
Starting as an amateur of sorts, he has climbed the successful farming ladder with the assistance of several old farmers from whom he picked tactics from.
Adding to the knowledge he learned from these experienced farmers, his inquisitive mind led him to trial farming technologies and new practices on his farm, not letting failure curtail his efforts.
Atish after having learnt from his little farming experiments has set his long term plans to develop and assist his fellow village farmers achieve their targets too.
"I want to help my farming community that is facing difficulties, not everyone has the money and we need to help other farmers strive ahead."
From a young boy who had nothing to his name to a successful young agri-entrepreneur who has achieved so much through his farming, he dedicates all of his achievements to farming and his wife Rashna Devi and his 15 labourers.
All the experiences in life have motivated him to become not only a better farmer but the problems he encountered have opened his mind to acquire ways to solve problems that farmers and those living on the garden island of Taveuni face.
"Farming can change your entire life, I come from a broken family, and on my own, I depended on farming to pull me through," he said.
"You just have to follow the right path, know the basics of farming and take advice from older farmers, farming does not require a good qualification and if you want to be a successful farmer, work hard and you will reap a lot.
-Ends-