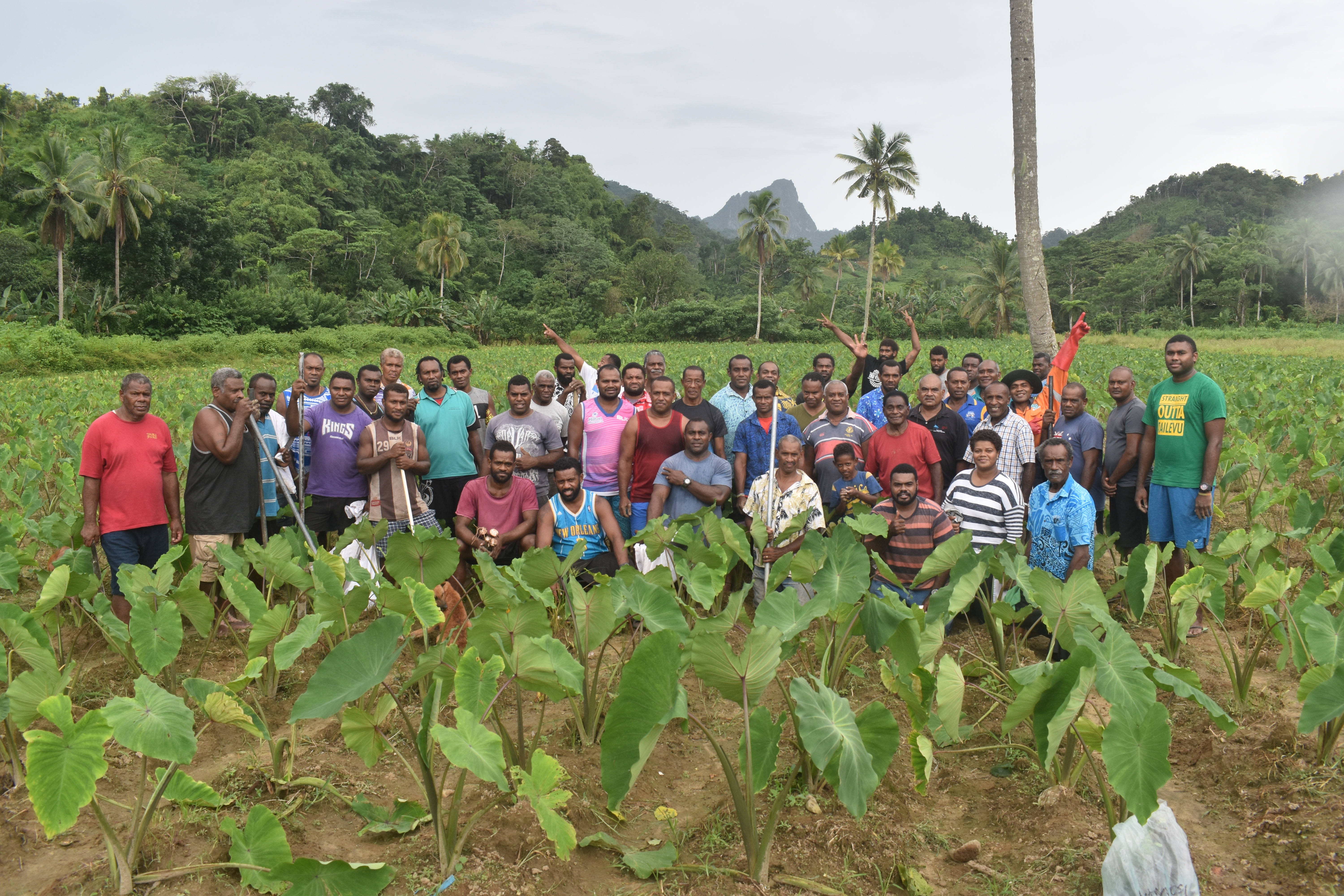 Picture: Alipate Ratini (Blue first right) during the dalo training held at Wainimakutu Village.
Farming has been a way of life for Alipate Ratini and he has achieved much through farming, something he proudly testifies to any who would lend an ear.
The 68-year-old Wainimakutu villager of Namosi regaled his life's journey, a large portion of which was related to his trials as a farmer and its small successes, which he said were a fond memory seeing as he took up farming at the age of 19 and hasn't stopped ever since.
Nestled in the pristine forest landscape of Namosi is Mr Ratini's dalo farm which is 5 kilometres away from his village. After the untimely passing of his father, the then 19-year-young Alipate took up farming to help fend for his family's needs, which he relayed required him to mature beyond his peers and to brush aside the carefree attitude normally associated with young men.
He dabbled a bit and tried his hand at watermelon farming and became one of the highest suppliers of watermelon from his village in 2012. He had planted a total of 2,000 watermelon plants which were sold at the Navua market.
He, unfortunately, had to revise his watermelon planting plans after a cyclone devastated his watermelon farm, later deciding to take up dalo farming once more.
"These are some of the trials and challenges I've faced as a farmer. Loss of crops during cyclones, market price fluctuations, unfavourable weather conditions etc but I must continue to plant, though I face these challenges, it is part of farming and it must not deter me," he said.
"Everything I know about farming, I learned it from my father and the men in my village while growing up, I have been a farmer all my life and I can't think of anything else I would do apart from farming, it is my life," said Mr Ratini.
Speaking in the I'taukei language Alipate said all that has happened to him, whether big or small, has not dampened his spirit as he gets up every day and returns to tend to his dalo farming.
Alipate's years of farming can be visible on his calloused hands and worn feet that have taken him to and from his farm, a 5km walk away from his village, which he shares have taught him the values of dedication and hard work.
Since the farm is situated inland, mechanization isn't an option for him as it is situated amongst rugged terrain and can only be accessible by horse, his family uses traditional farming implements and manpower on the farm.
He owns seven horses that help to cart his produce from the farm to the main road and this is something that Alipate has grown accustomed to as he has had to endure this back-breaking labour of love for more than 50 years as he keeps up with the responsibilities of breadwinner and provider for his family.
"It's all about perseverance," he smiled.
It is evident to see that Alipate is a lion of a man with a heart to match, going about this daily routine year in and year out, providing a roof over his family and meeting their needs, despite the many challenges that were laden at his doorstep.
Through farming, he has managed to put all his children through school and has also met his traditional obligations in the village.
From the revenue collected from his watermelon farming sales, he purchased a Nissan Navara in 2016 and from his dalo, he had managed to buy another Mazda 4x4 this year.
This is to help him transport his produce from the farm to the village and the market, and also assist in transportation needs for his fellow villagers whenever required.
During a recent dalo training held at Wainimakutu village, he advised young farmers to take heed of the information given to them to help feed the dalo market in Fiji and abroad.
With his assets and life now secured, he continues to encourage other farmers to do the same, to be wise and to make a difference in their lifestyles from the money achieved through farming.
-Ends-