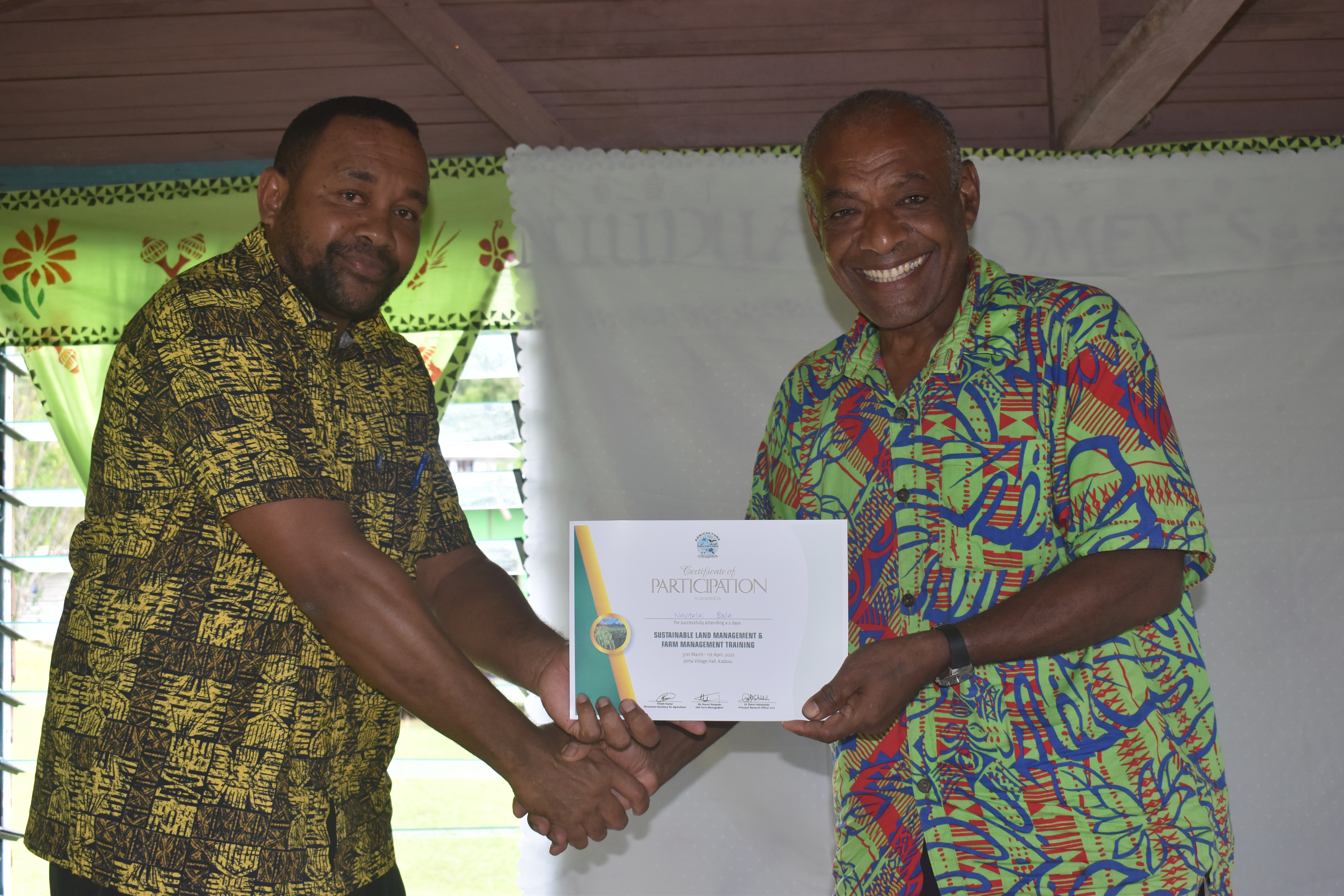 Picture: Nafitalai Bola (right) receiving his certificate after the Sustainable Land Management and Farm Management training
Change is inevitable but a sudden change to one's staple source of income in exchange for another is often received negatively as the outlook for success is marred with uncertainty.
Such was the case for 65-year-old Nafitalai Bola of Joma Village in Kadavu who made the surprising decision to move to livestock and pineapple farming from his usual kava farming in his formative years as a young farmer.
When sharing his thoughts about switching commodities with his family and friends back then, he received mixed reactions, most of which weren't too favourable.
His decision was labelled an insane one because no one from his locality had taken up, what most of them considered to be unorthodox, livestock and particularly pineapple farming.
As he relayed his story, something that stood out was his firm belief in his religious faith and upbringing, having reverence for the Lord in all that he had done and leaning on his faith to see him through whatever lay ahead of him.
"I began farming when I was still 15-years-old and I quickly established myself as a promising young farmer with my yaqona plantation and I was on the right track to becoming a successful farmer, however, because I lost my way a little, I was taught a humbling lesson by God," he said.
Like every young person, he was subjected to the temptations of peer pressure as a young man and eventually was consumed with its pleasures, so much so that it had a telling effect on his growth as a young farmer then.
Fast forward a few years, he regathered himself after falling ill in 1992 whereby he made a commitment to dive deep into his passion for farming, in this instance, now taking up livestock and pineapple farming with a goal towards becoming a semi-commercial farmer.
"I encountered challenges along the way and from the level that I had reached from farming yaqona to starting from scratch in livestock and pineapple, I had to remain positive and keep committing to the farm no matter what," said Nafitalai.
"I was often asked how my family would survive after the commodity switch and I overcame all those challenges by obeying the conviction of the Holy Spirit within me," he shared with a smile.
He rebuilt his farming passion, managing to rear 100 goats, 50 of which were expecting does, signs of good things to come for his farm back then.
His efforts didn't go unnoticed as the Ministry of Agriculture, in 1999, took Nafitalai and other farmers to its Mua Research Station in Taveuni for copra and livestock training and it was also there that his knowledge of livestock rearing was broadened.
However, despite his small successes in his farming stream, an opportunity arose for him in 2007 that saw him leave our shores for the United States of America to pursue greener pastures.
All the while he was overseas, the thought of his farm back on Kadavu never left him and he made his return home in 2016 only to be met by a decreased number of stock due in large part to livestock mismanagement.
"That did not deter me from once again rebuilding my farm from scratch, I knew what I needed to do and I just did it," he said.
He journeyed across to Viti Levu, purchasing another buck and five does in Rewa which he then ferried across to Kadavu along with another buck and doe from Yale District in Kadavu to help boost his livestock re-population and replacement efforts.
In 2018 he was assisted by the Ministry of Agriculture with 500 pineapple suckers which has expanded over the years, with an existing count of 3,500 pineapples on the ground.
He is willing to assist farmers who wish to venture into pineapple farming on his island home Kadavu, extending an olive branch in particular to his beloved district of Naceva.
In addition to his mainstay livestock and pineapple farming, he also plants cassava, dalo, and an assortment of vegetables most of which he sells to the Vunisea market.
Nafitalai markets his dalo, pineapple, and vegetable at the Vunisea market and neighbouring villages while his goats, which are sold every six months, often are sold at $200-$300 per buck.
As a semi-commercial livestock farmer, he now has a total stock of 60 goats that graze on 30-acres of his land that he has designated for livestock rearing.
His heart of gold is visible in all the forms of assistance he has helped with in his village which is indicative in the building of their Pentecost Church and the village dispensary as a result of his farming career and his trip to the US.
Through his life's continuous struggle and an unwelcome decision at first, he has managed to build his family a house they can call a home and has purchased a fiber-glass boat and outboard engine for the family's travelling needs.
Although the distance between Joma village and Nafitalai's farm is far, he manages to generate enough revenue to invest in his family and also reinvest in his farm, which is a telling indication of the level of commitment he places on his farming.
"Being a man who had his farming career brought to its knees twice, it is vital that you hear what God is telling you and that the path he has set for you be made clear, although however painful it will be, it will always be fruitful because he already knows the desires of your heart."
-Ends-