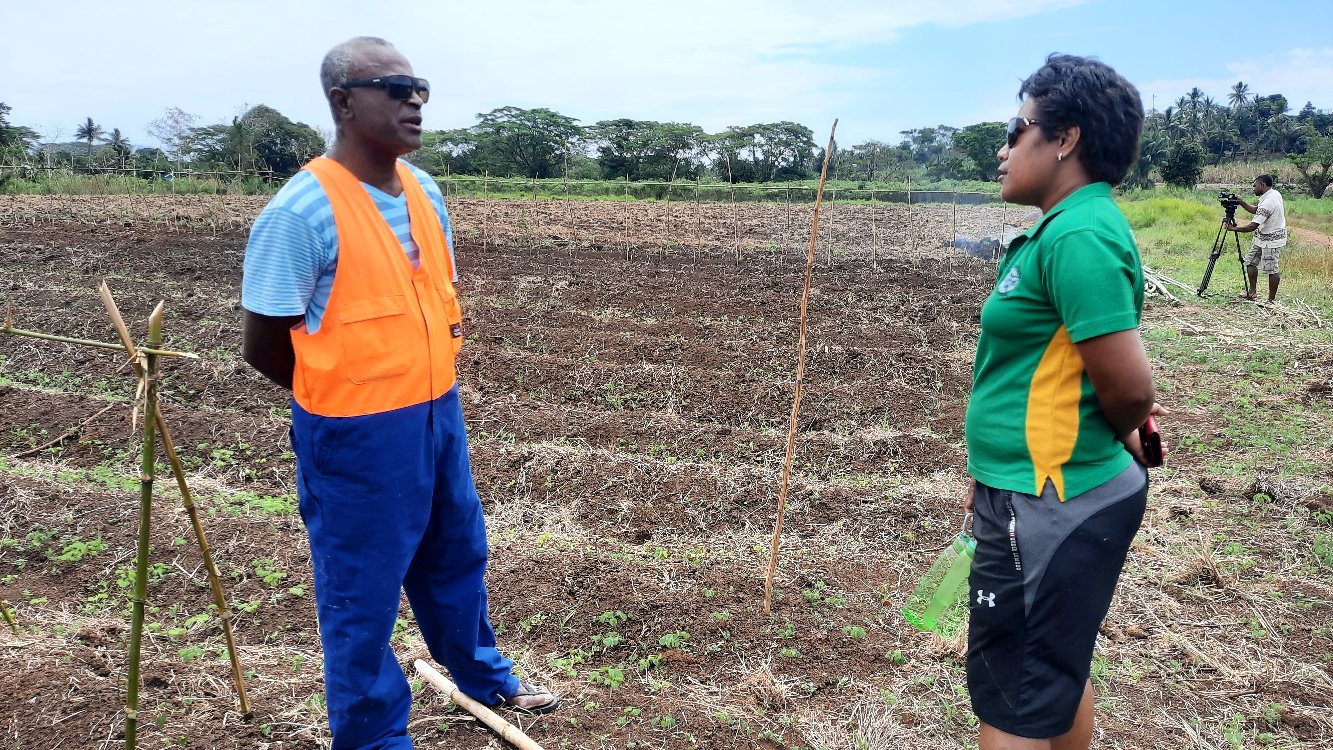 A certain kind of acumen, self-discipline, and commitment are needed to develop a successful career.
With over three decades of experience as a surveyor, Timoci Qimaqima, 52, of Lauwaki Village, Vuda in the Province of Ba, needed all of those qualities and more to distinguish himself from his contemporaries in the land surveying fraternity.
But in 2020, when the COVID-19 pandemic was at its worst and the Fijian economy virtually collapsed, he had to take stock of his accomplishments on the personal and professional fronts as well as the objectives he had set for himself. His newly discovered path only led to one thing in particular, and he found his silver lining in agriculture—specifically, yam farming.
With the express purpose of bettering the lives of his family and kin, Mr. Qimaqima took it upon himself to lease his own Mataqali land. "The land I am currently leasing is approximately 23 acres. I worked as a surveyor for 32 years before quitting in March 2020 because most businesses had closed.
"So I made the decision to go back to my village to help my family's way of life by using the land we had previously but had never been fully utilized for farming purposes. This is why I started using this piece of land in March 2020, and I focused on fully utilizing this land to support us during these difficult times," he said.
As he considers his time as an employee, he laments the time he could have otherwise dedicated to such rewarding avenues as farming. Consequently, he has no regrets about choosing to take up farming and abandoning his once preferred profession of land surveying.
"We are all aware that whether we work for the government or for a private company, we are under supervision for eight hours each day. During my tenure as an employee, I have learned and experienced this firsthand.
Previously, eight hours of his day was spent doing supervised work, but he smiled and said, "When I left the working environment and took up farming. I felt a huge relief and a heavy burden was lifted off my shoulders."
Mr Qimaqima said, "I manage my own time. I can decide when to wake up or when I can start my farm work in a day. More importantly, when I am hungry, the food I eat is here on my farm. When I was working, the majority of the time I bought my food, but now, I eat what I plant, all right here from the farm that I am on.
In order to provide for his future generations and help them understand the value of owning and utilizing land, he has laid out a plan to convert the land he currently farms into a family estate.
I have a plan to put up my children along this piece of land and have it as a family estate so that they and their children can grow up to call this place their own. They can live here and eat from it. To ensure that they can get everything they need right here, I intend to plant fruit trees, banana and plantain trees along the edges, and coconut trees all around the area.
"When there was a family function like funerals or weddings for us to attend, something that always challenged me was that there wasn't a farm to help cater for these huge family functions."
"Our family members and mataqali always went to the markets to buy the produce even though we had the land. I always kept a close watch on this piece of land and I had laid a strategy to ensure that they no longer needed to go to the markets to buy the vegetables and crops for these functions, but instead for us to grow all the food needed for the traditional obligations and family functions (funerals or weddings)," said Mr Qimaqima.
Additionally, he boldly counseled his Mataqali's members to invest in land rather than keep their money in a bank, in an effort to strengthen his Mataqali's investment portfolio.
Going one step further, he also made the most of his connections with the Yasawas by purchasing a fiberglass boat and outboard motor for use by the fishermen of his Mataqali, as well as for transporting people between the Yasawas and the mainland.
And as he reflected on his time spent working as a surveyor and now that he was reaping the benefits of farming, he gave some words of wisdom to his fellow landowners, advising them to use the land for their own gain.
"Since many of our fellow Fijian from the maritime islands don't own land, unlike us here from Viti Levu, I just wanted to offer some advice to landowners and those of us who do. I see that many people from the maritime islands are eager to come to Viti Levu and lease so they can cultivate it," he said.
"I would like to address and implore the large land-owning units from the provinces of Ba, Ra, and Nadroga to utilize our land well, in Tailevu, and throughout Viti Levu in particular, because I believe that this will help to ease some of the burdens and struggles that we face every day.
"Let's work on the plot of land the Lord has given us and make the best possible use of it," he said. "That's the word of wisdom I'd like to impart."
-Ends-