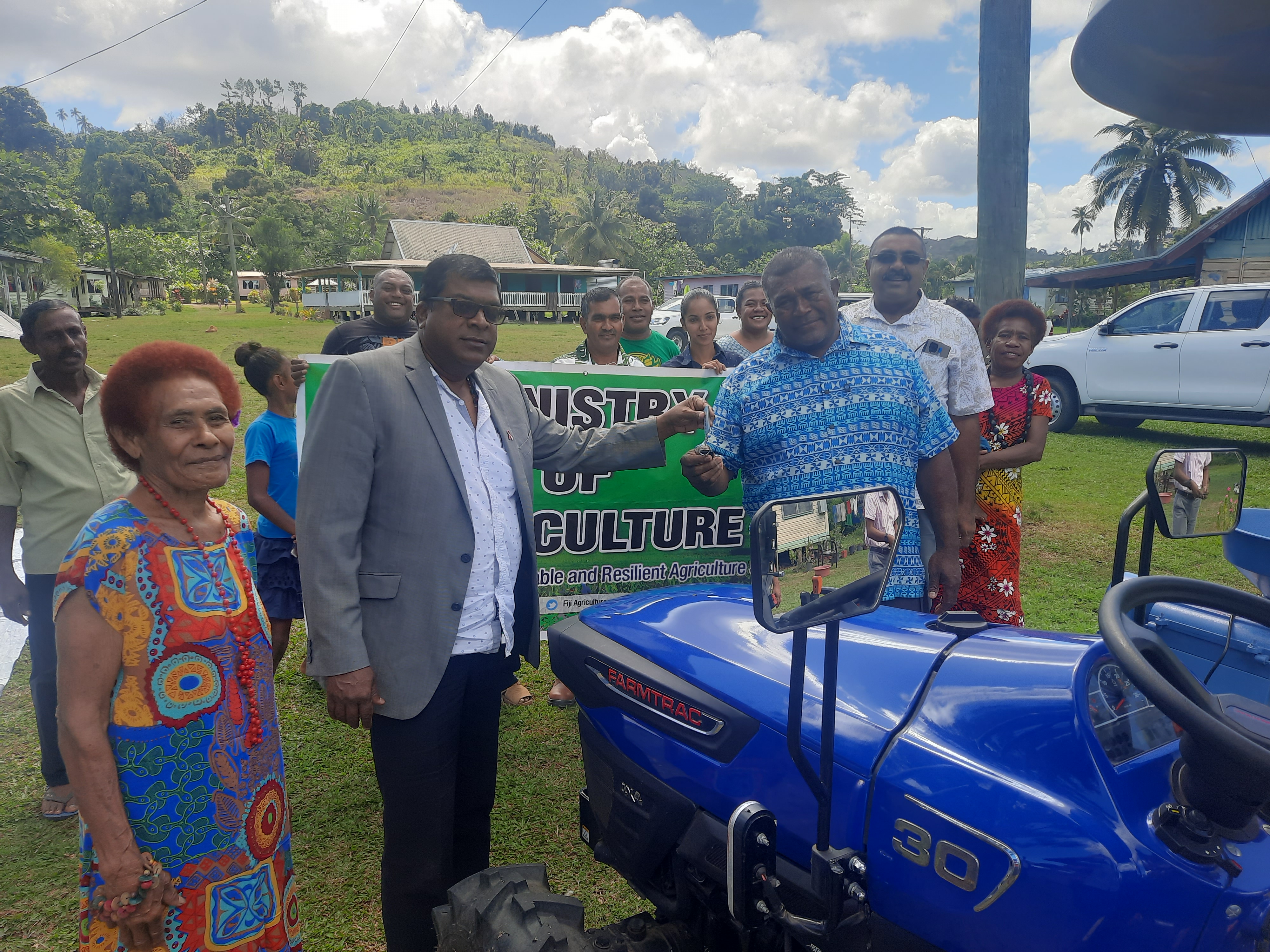 Picture: Minister for Agriculture, Waterways and Environment - Dr Mahendra Reddy handing over the tractor key to the Co-operative President Mr Viliame Lautiki
The Kaubulabula Farmers' Cooperative of Mataniwai Village in Macuata has praised the Ministry of Agriculture's Small Farming Equipment Programme for paving the way towards owning a brand new Farmtrac 4WD mini-tractor with a two-disc plough.
Agriculture Minister Dr Mahendra Reddy presented the Cooperative with a mini-tractor about a month ago, and according to Cooperative President Mr Viliame Lautiki, all of this was made possible by a talanoa session held earlier this year at a neighboring settlement and through the Cooperative's combined efforts.
"I would like to convey my sincerest thanks to the Ministry of Agriculture for this programme, because I have longed to own a tractor for such a long time, and through this programme, my dreams have become a reality," said Mr. Lautiki.
"From 2001 when I first took up sugarcane farming, right up until 2022, I have always wanted to own a tractor but I couldn't afford it. However, through this initiative and following a talanoa session that I had attended with the Minister, I hoped and prayed for a tractor to be owned by our cooperative, and I thank the Lord for providing me with the divine guidance to seek this opportunity out.
"Upon discussions with the Minister during that talanoa session, he told me to save up $7,000.00, then and only then could we be considered to be part of this Small Farming Equipment Programme, and I thought to myself, $7,000.00 is a big amount of money, these days, saving even $10 is a challenge in itself, but I am thankful that doors were opened and our cooperative was able to source the needed funds, and we now are proud owners of this tractor that is being handed over to us," added Mr. Lautiki.
He explained that the Kaubulabula Farmers' Cooperative had established goals and targets for each individual member to achieve in order to aid in the development of their village community, which would be enabled by committing their efforts to farming.
"We have a lot of plans to improve the standard of living here."
"Especially for all the families here in Mataniwai Village in terms of education for our children, improving living standards for those of us who live here in the village, and for our farmers," he said.
"And this tractor will greatly help us as we work towards all these goals, and in light of the difficult times we are facing now in the country, and the shortage of manpower, I believe this tractor will go a long way in ensuring we meet the targets that we've set as a village and cooperative," Mr. Lautiki shared.
He elaborated that in their push to move forward and grow as a cooperative and a community, they wanted to ensure that all their cooperative members, and to a further extent, their whole village, had a stable source of income to help drive their village development plans.
"There are some sugarcane farmers here, and we know that this is a seasonal crop and income isn't stable from sugarcane farming as sugarcane payout happens once in a while and it cannot meet the needs of our daily lives, and that is why we put in a request for the mini-tractor to help us switch into rice farming so we can plant it and sell it too," he said.
"We've made clear plans also to continue to build up our savings in our bank accounts to show that we are financially literate, and it helps members of our cooperative manage their finances well, and that was part of our goals, to own a mini-tractor and to increase rice production in Mataniwai," he added.
The cooperative also plans on growing other assorted vegetables and fruits like watermelon, and pineapple, and they also hope to plant ginger.
"We have a lot of land that is available to be put under agriculture, but we needed a boost like this, so the next step now is for us to clear and prepare the land and begin planting these assorted vegetables like cabbages, moca, beans, and tubua, and this will also help to secure our income and bring about positive development in the village.
"I want to thank the government once more, especially for considering us here, the Kaubulabula Farmers' Cooperative, to be recipients of this program, because, on a lot of occasions, our Indo-Fijian brothers have developed themselves from farming but we, the iTaukei, tend to remain comfortable in our own way of life with little to no vision of development," he said.
"For us the iTaukei, we have the land, but we don't have the necessary equipment to tend the land, our Indo-Fijian farmers have invested well in their farms and they are reaping its rewards while we iTaukei farmers continue to use the knife and fork and with the 'isolesolevaki' traditional practice, which is the old way of farming and it causes us to tire out much quicker, we need to move with the times and that is why we are so thankful to the Government for this programme," Mr. Lautiki added.
"This programme has enabled us to own and operate our own tractor for our own benefit, with this machine, we tackle the issue of a lack of manpower because you only need one person to operate the tractor and prepare your field and planting will follow shortly after, it is very convenient.
Meanwhile, Minister Reddy also urged them to continue to make worthwhile investments in their land to help them achieve food and income security, saying that there could be no growth in agriculture if there was no investment.
The Kaubulabula Farmers' Cooperative also received a portable rice mill along with their brand new Farmtrac 4WD mini-tractor and two-disc plough from the Ministry of Agriculture on October 13, 2022 at Mataniwai Village, Macuata.
The Kaubulabula Farmers' Cooperative had to pay a third of the cost of the mini-tractor and 2-disc plough which amounted to $7,000 which is a part of the requirement of the SFE program which incorporates the one-third, two-thirds payment model of government assistance.
-Ends-