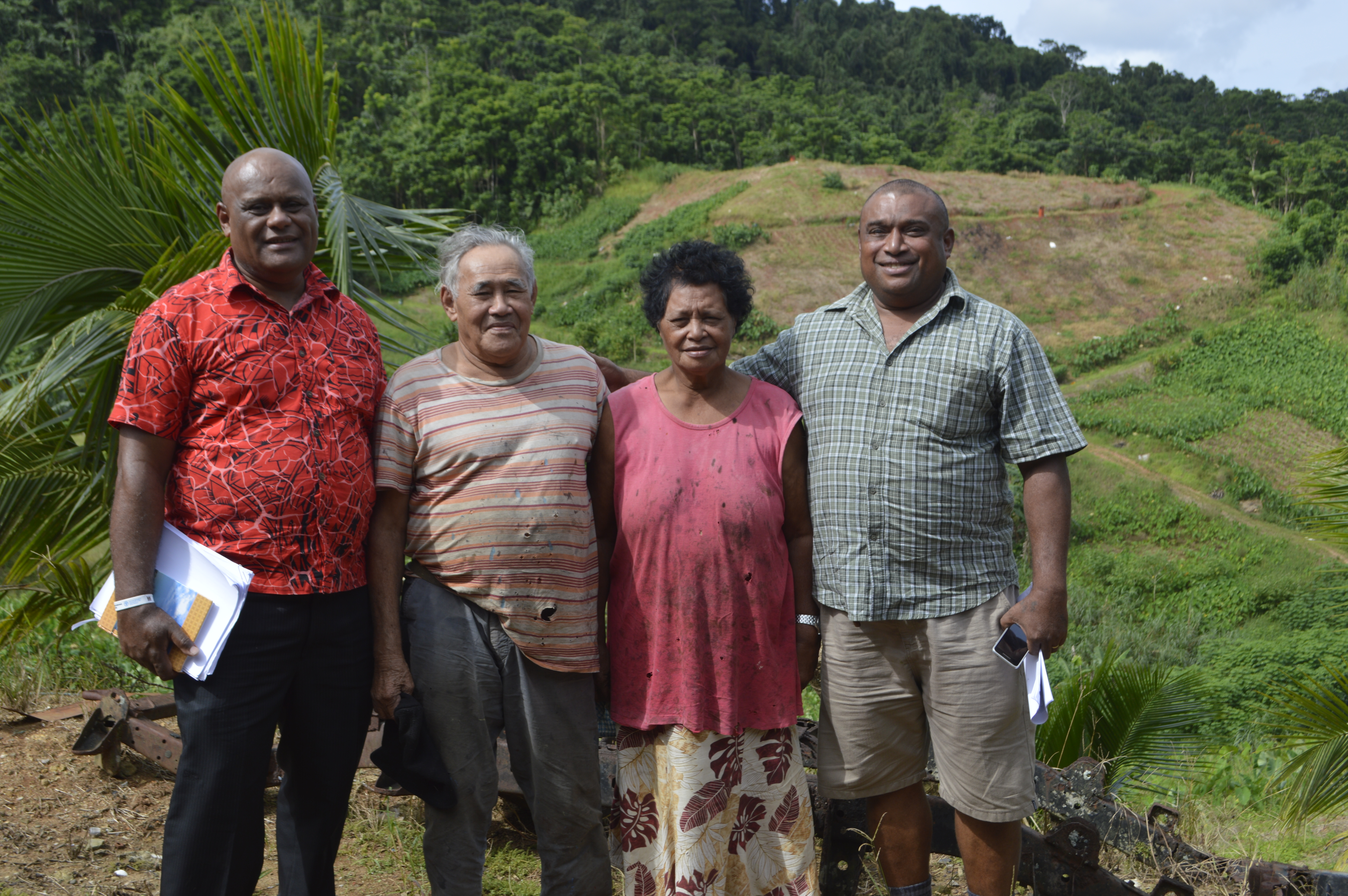 Netani Kuila is a name synonymous with farming in Batiki Settlement, Waibau up in the highlands of Naitasiri.
Tracing back his long arduous years since leaving his home island of Vanuavatu in Lau in order to shoulder his role and responsibility as the eldest in the family to his younger siblings, he recalls having only one mind – look to the land.
So he assumed the role of a parent to his younger brother and sister and remained steadfast in his resolve to provide for them to the best of his abilities, opting to put his wits to the test and take up farming.
"The time had come for my sister to continue her secondary school education and in those years, there were no high schools on the island so my siblings and I embarked to the city for higher education," he said.
"Coming from the island to the main island requires money and support, we had relatives in Suva but I wanted them to have family support and to keep seeing familiar faces to avoid being homesick so they could excel in their school work hence my trip with them.
His sister attended Ballantine Memorial School while his brother went through as a border at Ratu Kadavulevu School only returning to the farm on school holidays for pocket money and school fees.
His quest to see his siblings through school directed him to Waibau in 1963 and he continued on to Lomaivuna in 1965 before settling for a 15-acre piece of land in Batiki Settlement in Waibau, Naitasiri in 1969.
The Waibau farm is hard to miss, on the way to Lomaivuna, the farm punctuates the landscape with endless dalo plants which is rotated with ginger during the summer.
Mr. Kuila's passion for farming only grew through the years and he bought himself another 30-acre piece of land in Wailase, Naitasiri where he continued to farm, and while most young men left to find jobs in the urban center, he continued pursuing what he started and made full use of that which was greatly lacking on his home island - land and market access.
Through farming, Netani met the educational needs of his siblings and helped cement their future, and through all this, he settled down and started a family of his own, raising his seven (7) children on the farm.
As fate would have it, Mr. Kuila's passion rubbed off on his children and they inherited the love their father had for the land, starting commercial farms of their own – proving that the apple does not fall far from the tree.
Thirty five years on and the ambitious farmer still continues with the assistance of his wife, Torika Leba, his son and laborers and through his experience he knows all too well the planting seasons like the back of his hand.
"Farming is my medicine and even though I have come of age, I still make time to keep pursing my passion as I have experienced the goodness that toiling the land affords me," he said.
He has diversified onto poultry farming, with a total stock of 18,000 birds and three poultry sheds.
His poultry farm has been a frequent practical site for agriculture students of the main tertiary institutions in Fiji and has attracted many interests from people passing by in admiration of the farm structure and the farms' content.
In 2015, through the Demand Driven Approach (DDA) Program of the Ministry of Agriculture he was assisted with his farms land preparation and ginger planting materials in 2017.
"We have been planting dalo and cassava and through the 2015 land preparation assistance, we were able to expand our dalo and cassava production.
"In 2017 we were more fortunate when we received 2 tonnes of ginger seeds for planting materials and we've harvested 5 tonnes ginger early this year," Mr. Kuila added.
"I have been really fortunate having to receive the assistance from the Ministry of Agriculture, from the revenue collected from the harvest of ginger and dalo through these programs, we managed to buy a single cab worth $8,000 and a twin cab worth $10,000.
From his perseverance and hard work, his estimated annual revenue from his harvests total $17-$20,000 for dalo, $12-$15,000 for his cassava and $35,000 from his poultry farm.
Supplementing this revenue are the trips his wife makes to the market as Netani mentions that products not picked by middlemen are taken to the market.
He continues to uphold his traditional obligations to the vanua whereby he gives his soli back to the village, underlining his connectedness and link to his origins, which despite years of absence from his homeland still remains strong.
"I wasn't really depending on the assistance but it came as a great blessing and we are thankful to the Ministry in recognizing and motivating us to keep going with this types of assistance," he said.
Apart from farming, the ever-green Taira, Vanuavatu native is a jack-of-all-trades, being a farmer, a wielder and a mechanic and though age has caught up with him, it has done little to hinder his willingness to continue farming.
"We want to continue with our ginger farming, even though our initial plans have been achieved in the establishment of the farm, our passion is still in farming and we will continue toiling it," he said.
"The farm has enabled us to tackle the hardships of life, starting from nothing to having everything we ever needed and we are grateful to the land and it is my challenge that people make use of the land as you will gladly shoulder any responsibility that comes across be it the Church, family, social or vanua obligations.
-Ends-