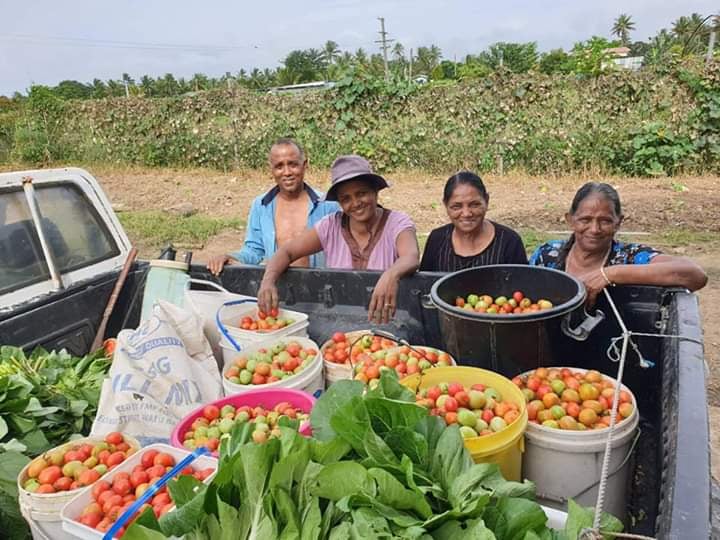 Grit and determination are what best describe Tara Mati.
As the 51-year-old mother of two reflects on the humble beginnings she and husband, Sushil Chand, had started from, for her it all boiled down to their never say die attitude which has set the solid foundations for her family's wellbeing today.
They had made a living for themselves in Qelemumu, Macuata before that land lease eventually expired in 2000 and since their circumstances dictated that they relocate, the family had to look for alternative places to settle down.
"Back in Qelemumu, we started with vegetable farming and because of the constant flooding there, we had to start somewhere and had no choice but to plant cabbage alone in plots," she said.
"We would always be in the garden and our son would go around the neighborhood selling cabbages; we never lost hope.
As the family matriarch and driving force of the family, Mrs. Mati and her family eventually made their way to Manoca in Nausori in 2004 on a piece of land they had earlier purchased in 2002.
"We saved every penny we had from the cabbage selling and we managed to secure land in Waituri and we decided to move my whole family to the new land for farming," she said.
"This is also in-line with the family plan for our children's education in Suva and to be close to them to provide them with support."
The family settled in well on the 5-acre land and planted assorted vegetables, but due to the constant flooding in the area, this led to mixed results as far as their income was concerned, after which the family bought another 5-acre land in 2006.
"We saw that the situation we were facing was affecting our plan, we looked into other measures that we can do to alter this," she said.
With the newly acquired piece of land, they planted a variety of crops like dalo, long bean, rosella, tomatoes, moca, cabbage, bitter gourd, cassava, lemon tree, pawpaw, soursop, coconut, and breadfruit.
She fulfiled her duty as a mother and a wife all the while ensuring the family's farm is managed to maintain its level best productivity; "I work on the farm as well and before that, I have to make sure that meals are cooked, clothes are washed and the house is cleaned."
"Farming generates a good income and it is wise that we make good use of the land to cultivate and provide for us," said Mrs Mati.
Annually the family gets approximately $5,000 from the sale of the uro-ni-vonu dalo variety, long bean and rosella, $10,000 from tomatoes and moca, $2,000 from cabbages and bitter gourd and $1,000 from cassava.
"It is not that we are boasting about the amount of money we get, it is how you manage it that also comes into place and we are sometimes faced with the unfavourable weather and other unforeseen circumstances that we have to keep in mind," she said.
"You can also achieve this and be your managers and bosses if you turn to the land," she challenged.
"We have come across a lot of hurdles but this did not deter me from pursuing my family's dream and the future of our children."
The door to door cabbage selling the family used to practice back in Macuata paved the way to a much brighter future for the children.
"From all the challenges, we have persevered and endured, we have managed to put our sons through their tertiary education," she said.
"Now that they have graduated and have families of their own, we are working towards our other plans, the building of another new home," said Tara.
Added to their assets purchased from farming is a tractor, a Toyota Hilux vehicle, a hand rotavator and farming tools.
"We accomplished all this through farming, we wouldn't have this had we been in another career and we are proud to be farmers."
Although all that the couple had planned for the long term has been achieved, the idea to expand their farming is still on the table.
"The other land is still vacant and needs utilizing and is prone to flooding, we have decided to raise the land and start a fish pond and to also venture into Hydroponic farming and expand the mini nursery that we have," she said.
"Over the years I have learnt to be independent and I urge all women to push your way through, do not always rely on your husbands because your potential is far beyond your imaginations," she advised.
"For those of you who have less land, you can always venture into Home Gardening as there is more than one way to skin a cat," Tara added.
"I would like to acknowledge the hard work of my husband and the perseverance of my sons, we worked together as a team and we managed to pull through," she said.
"We would also like to thank the Ministry of Agriculture for always supporting us in whatever way they could, be it in terms of seeds and planting materials, manure and drainage," she said.
Through her family farm, she has also managed to help the needy in her community by contributing in-kind gestures through the purchase of school stationery for children of less fortunate families, a situation she knows all too well herself as she once struggled to make ends meet.
"I know what it feels like to have nothing because I started as one and I would like to help those that are facing similar situations by providing what I can."
Tara Mati embodies the characteristics of a strong-willed woman, and her determination and drive has seen her family enjoy the fruits of their labour on their Manoca piece of land.
-Ends-