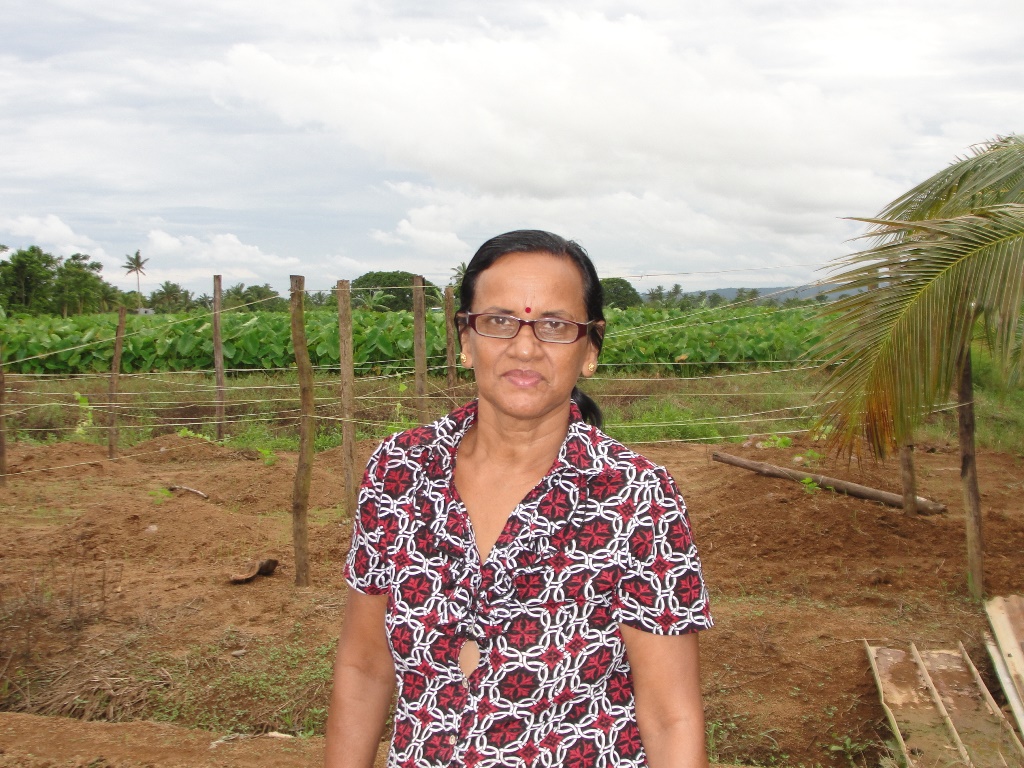 The relationship shared between siblings may be the longest one of your life, it isn't constrained by distance or external factors and is one that gives you as much grief as pleasure.
This bond and love was what elevated Mrs. Saraswati from the doldrums she had unfortunately found her family in, but luckily, through the intervention of her brother, the family was given a life line to continue their farming, something they held close to their hearts.
"Life was hard back in 1997 in Suva for us, we were struggling with education and work and my brother transferred his piece of land to me for farming," she recalls.
The migration to Nausori for greener pastures landed Saraswati a job at the Value City while her husband also found employment at the Peltrok Fishing Company in Walu Bay.
"The road ahead was a blurred line and when my brother intervened we grabbed the opportunity and got our hands dirty outright," she said.
"Through this assistance I never looked back and started toiling the land with the support of my husband."
Her husband, Kunwar Knawal Singh then tendered his resignation from his work as a driver with the fishing company to focus all his energy and time to 'drive' the management and development of the land aptly provided to them by his brother-in-law.
"We took a loan from the Fiji Development Bank and built our home and invested the remainder on the farm, buying planting materials and assets," she said.
"We are fortunate that the 4 acres land given to us by my brother is a 50 year leased land and a lot can be done in those years."
In 2013 the family started farming at their Lobau Feeder Road farm in Nausori, planting 6,500 dalo suckers, long bean, tomatoes, bitter gourd, banana, plantain amidst the 100 hybrid coconut seedlings.
"We were well versed with farming and we continued from what we had acquired in the past years, and because assorted vegetables only take a short time to harvest, our income comes solely from it and our supply is to the local Nausori market, and the Agricultural Marketing Authority of Fiji," she said.
Due to the abundance in supply, the family have also traded their produce with their community and their identified clients who contact them during a harvest.
As is with the uncertainty in farming and the love-hate relationship mother-nature shares with it, the unpredictability of the weather is something beyond their control and the family isn't exempt from the effects of natural disasters.
"Flooding is one of the many hindrances we face, we cannot complain but always look out for the sunshine after the rain," she said.
"Our 6,500 dalo were all damaged in 2014 and after this devastation we opted to focus on vegetables and other resilient crops," said Saraswati.
"We talked through our ordeals and thought to plant something that can withstand any natural disaster that might come our way."
"The farm also experienced the effects of Tropical Cyclone Harold and the torrential rainfall during these past weeks," she said.
The tight-knit family have always had one thing in mind though and that was to keep flourishing despite the obstacles they faced, and prosper they did.
After all the hurdles and challenges, they now also have rourou, cassava and 2 chains of yam on the farm and have already harvested approximately 300 kilograms of yams.
"It is a great sight to see these crops growing but the sad thing is seeing the rest of our crop being stolen, as thieves are also a hindrance apart from flooding," she said.
The couple now have helpers on the farm during the harvest as well as for the farms upkeep and maintenance, a positive outcome from the perseverance they have endured over the years from just being the only ones who have been managing their farm.
"We are getting old and if needed we would hire laborers at $20 a day and $30-$40 for contracted workers which is a great help for us."
The couple have set plans for their farm; "Since our three children have all grown up we are now thinking of venturing into Tilapia farming and other commodities once the drainage is fixed, and also to plant rice on the farm," she said.
On a separate note, the close bond they have with their iTaukei friends sprung an unusual relationship the family have with Fiji Rugby sevens star Jerry Tuwai and his family.
"Our children are now assisting us with the running of the farm, as a repayment of their upbringing, and what contributed to their lives today; the land, and my daughter has been contributing greatly," she smiles with satisfaction.
"One of my grandsons is named after Jerry and it is all right with us as we have a very close bond with his family."
"There is always a light at the end of the tunnel and when you are given an opportunity grab it with glee and make use of it," she said.
"We experienced lots of flooding and other natural disasters but we kept focusing on the light and toiled crops that can withstand all this."
She has also acknowledged the assistance of the Ministry of Agriculture through the provision of planting material and technical advice.
-Ends-