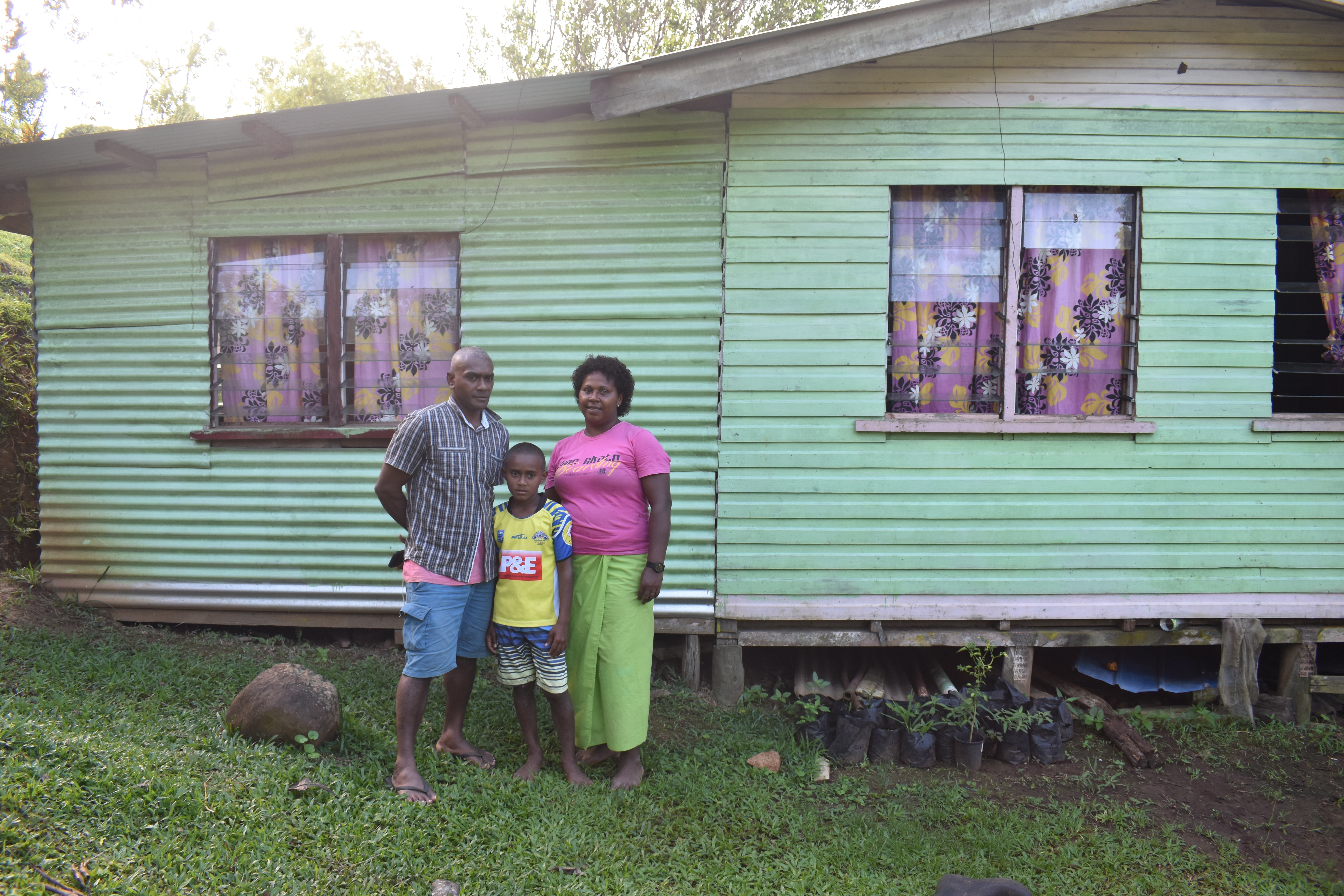 Picture: Mesulame Soga with his Wife and son Timoci at their home built from farming.
"You learn a lot when you expose yourself and exposure brings out the potential in you."

This is the testament of 38-year-old Mesulame Soga of Banikea Village tikina Lekutu in Bua who has advanced from yaqona farming and created a brand to his name.
"I used to drive the village carrier and in 2015 I transported participants of the World Day to Combat Desertification to Nayarabale village in Macuata and it fascinated me that on my way back I promised myself to utilize the land," he said.
"Upon my desires, I bought planting materials and planted 3,000 yaqona plants to start with on a piece of land closer to home before expanding with the expenses saved from driving the carrier to buy another $500 worth yaqona plants for the second phase," said Soga.
With little knowledge in farming as a business, being a transporter provided him the opportunity to gather more skills from other trainings conducted by the Ministry of Agriculture.
"When the carrier is hired during agriculture trainings I also get the opportunity to strengthen my knowledge, killing two birds with one stone."
Mr Soga is farming on 10 acres land and has 2,000 three-year-old yaqona plants, 7,000 two-year-old, 1,000 one-year-old, and 500 newly planted yaqona on the ground.
"I am doing this for the future of not only my nuclear family but for the welfare of my relatives too, I want my extended family to reach a suitable lifestyle," he said.
"During yaqona drinking sessions it is like a lecture room here at home as I often advise and keep reiterating the importance of toiling the land to the youths employed on my farm for clearing, planting, and maintenance and give ideas to those still establishing," he said.
"I constantly tell the lending hands that planting material is available should they want it, I know the struggle of starting from scratch, all is there for them to actively participate and to take farming seriously," said Mr Soga.
"The idea of paying the helpers and sharing my planting materials is a support to the youths and keep the farm running to create employment for the villagers and at the same time they can learn and get motivated by what they do and see," he said.
"It is also these youths that assisted me in the transportation of our farm-house materials to the farm, I paid them to assist carry the 20 corrugated iron up on horseback."
"Farming inland is good because of the suitable soil type but the only disadvantage is the road access when it is heavy rain apart from the rise in the river level, the road leading to the farm gets really bad," he said.
"Farming is our source of livelihood and we keep striving despite the obstacles and we are also planning on leasing a piece of land where access is proper to venture into livestock farming."
In 2018, he expanded his territory by starting the Soga Logging Company which is a sub-contractor to Samendra Pratap's Logging Company in Seaqaqa hiring machines from the Bua Logging Company and employing eight hardworking lumberjacks.
"From the 3,000 yaqona plants I started with, I invested in a logging company and it was all possible from farming," he said.
"It did not stop me from planting yaqona, I just thought to have logging as a small business as Bua is a pine-forested area."
"I always tell my lumbers to split their wages, one to feed their respective families and the other half to invest in farming and to lease a piece of land if the home is far," he said.
"I have seen the impact of farming to my family, first in providing for our family needs, secondly I could start a logging company, extending our initial home, bought a 12 wheeler truck, a twin cab and if payments for logging is late, it is the farm revenue that I resort to," he said.
As the saying goes that behind every successful man is a woman, and it is Vinaisi Tubu Raviakana who is a pillar of strength behind his farming goals.
"Support is an essential gear towards success in farming as a business and we should be grateful where God has placed us and it is there that you have to thrive," she said.
"I grew up in a farming environment as well and I knew it at the back of my hand and I am always grateful to the trainings provided by the Ministry of Agriculture as new ideas kept springing from it," said Vinaisi.
Soga's advice to the youths is to utilize the land to be successful in life.
"I left school when I was in form four and what I have achieved today also came as a surprise to me as I never thought I would end up like this with my level of education but I am glad that farming has brought me this far."
"It is also good to share with others what you know and how to go about doing things, share what made you grow so others can grow too," said Soga.
-Ends-