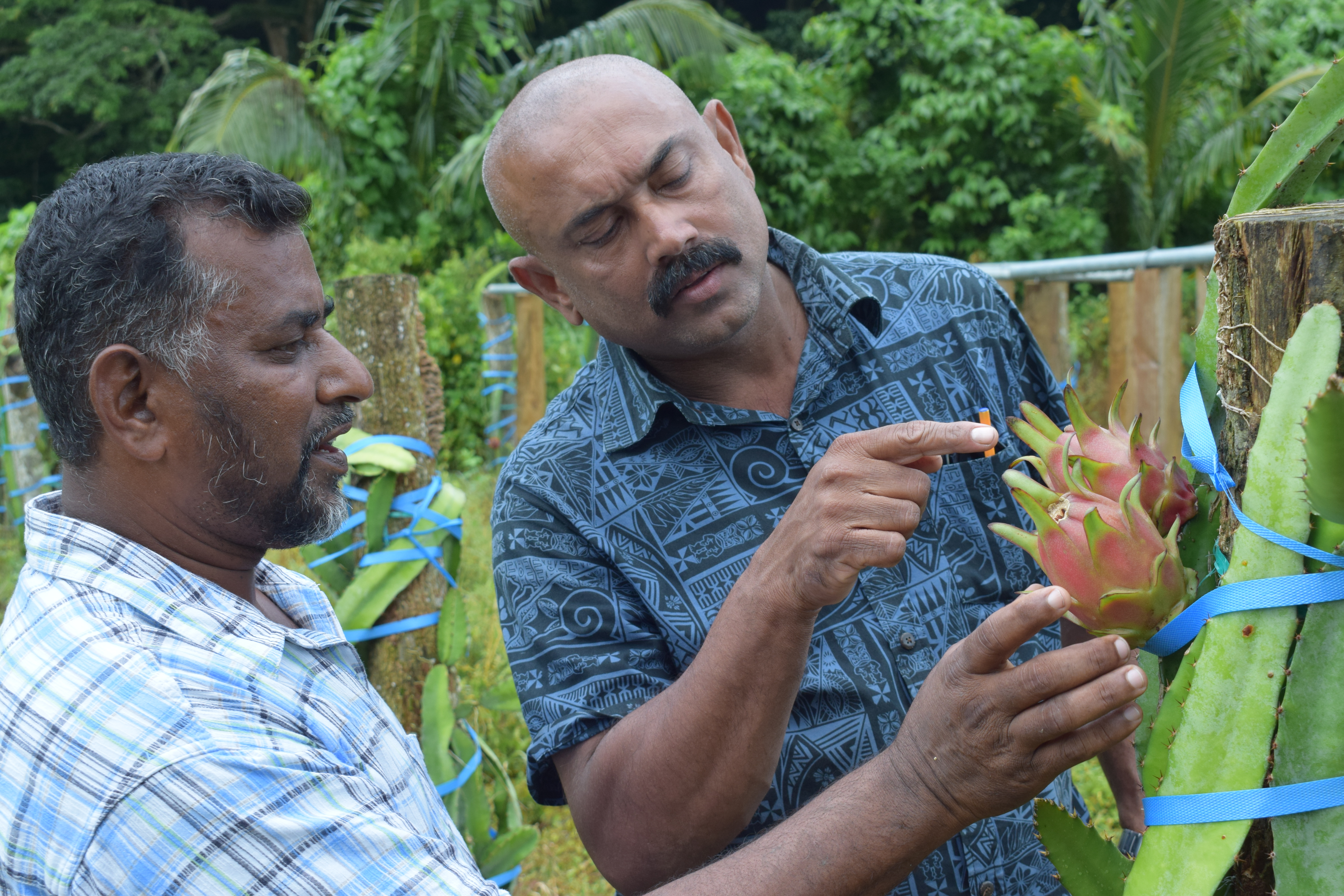 Situated by the roadside in Sovi Bay, Sigatoka is a little market – a reminder of humble beginnings for a once inexperienced novice farmer.
It was from this quaint market, nestled amidst the bustling Queen's Highway, where Faizal Khan carved a niche for himself and architected his future.
Over the years, since starting his farm in 1985, Faizal gradually moved from being a subsistence farmer to commercial farming and has had to endure the uncertainties of the introduction of various varietal commodities.
"It has been my passion from the beginning, whenever I come back from school, I would plant vegetables on the hill as a hobby and I would love to watch them grow."
After his parents passed away, the responsibility of their land fell on him, and with the clouds having a silver lining, though through his loss, he was able to practice his agricultural passion.
He then started planting vegetables with the available land cultivating bean, watermelon and maize; "From the 12 acres, I improvised and tried my best to cultivate whatever could bring cash to my household," he said.
While he supplies to hotels and other agencies like the Cane Coastal Cooperative Group in Malaqereqere for his guavas, the hardworking man never leaves his roadside market empty.
"I have never regretted building a market along the road because of commuters and long travelers who travel this way daily," he smiled.
"They stop and buy and that is my best market and during the week, Sunday is the best day we serve a lot of customers because of the closure of the market and what delights me more is the pleasure of meeting interested customers who want to know more of the variety and the farm.
"I have received buyers whose curiosity has led them to mini tours of the farm and my explanation of a specific variety or direction towards successful farming and I am always glad to share my experiences with them on the roadside," said Mr. Khan.
From his roadside sales, Faizal earns approximately $150-$200 daily and $500-$800 weekly from the sale of pumpkins, watermelon, corn, chilies, kumala, vegetables, pawpaw and the new guava variety "Green Pearl".
"When all other markets fail me, my market by the roadside never does, it will always bring me customers and that is why I focus on keeping it fully stocked," he said.
His Sovi farm is soil and home to many commodity trials and the man with a farming heart, has over the years trialed newly introduced commodities.
"Before this new variety guava, my favorite was the Rising Sun 2 tomato, I gained a lot from it but due to the unavailability of seedlings, I had to stop and will continue again once it is available," he said.
"I used to plant potatoes too but opted to stop because of the process we will have to go through during planting season, but I am not giving up on trying new varieties of commodities introduced and planting the old ones too.
With a number of new crop varieties introduced recently, Mr. Khan has trialed the 'Green Pearl' Guava, Potato and Dragon fruit after its introduction, weighing each commodity's pro's and con's.
The Ministry of Agriculture in collaboration with Taiwan Technical Mission introduced a new variety of Guava from Taiwan in 2017. This variety has been under research for the last 10 years and is now recommended for commercial cultivation in Fiji.
This variety has a lot of potential for local markets to be supplied to supermarkets and hotels. It is a dwarf variety and can be harvested in 6 to 8 months after transplanting.
The 4-5 month old guava plant, of manageable height has kept Faizal busy as he supplies 70 kilograms to Malaqereqere and 15 kilograms per day for the roadside and with one fruit fetching $5 with the same price for his customers as far as Suva, the new guava variety is raking in revenue for Mr. Khan.
"It is not just an ordinary guava like the ones we see growing wildly or the ones introduced before, this new variety guava is one of the few that I like planting because of the flesh and sweetness of it and surprisingly the demand is really high," said Mr Faizal.
Added to his engagements as a crop farmer, he also operates his livestock farm on 833 acres which assists his revenue intake.
"My total stock for cattle is 130, 100 goats and I've just recently practiced sheep breeding with a total stock of 50, I am still new to this commodity and I am trying my best to expand it."
Being a devout Muslim, during the Islamic festival of sacrifice - Qurbani, Faizal supplies to his fellow Muslim friends with orders coming in from around the country for the festival and could sometimes receive a total of $25,000.
His passion for farming and the market stall by the highway have paved the way for Faizal's family, "We achieved all our successes, our home, the machines, and the welfare of my family through farming," he said.
"Everyone will have to one way or another find a means to support themselves and to expand and we found ours in toiling the land.
-Ends-