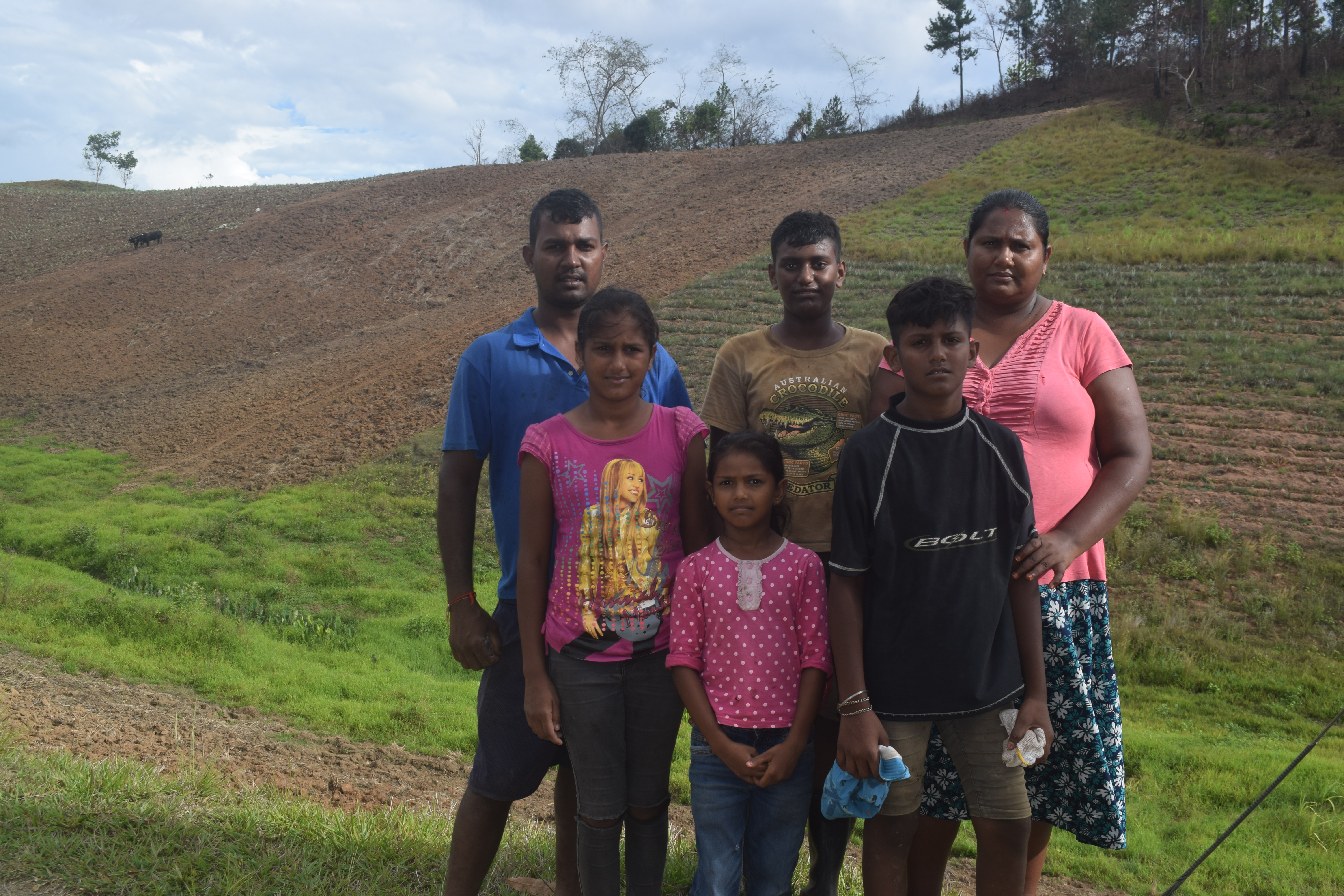 Picture: Pineapple farming is a family affair. Sigatoka's major Pineapple farmer and supplier Ronit (back, left) and Sarika (back, right) with their four children.
A remarkable achievement indeed for the young couple, Ronit Singh, 35, and Sarika Deo, 30, of Lomawai Settlement, Sigatoka who are now Sigatoka's main supplier of pineapple, after only just beginning planting last year.
Today, the couple have 35,000 pineapple suckers already in the ground with plans on increasing this number to fully cover their 12-acre land.
"I planted one acre first in December last year, and I have already harvested. I planted another one acre, and will continue to plant one acre at a time. So I am doing phase planting because I want to supply right throughout the year.
"Right now, I have about four acres of land either already planted or still being planted, and other parts are being ploughed to be ready for planting," Ronit said.
"Our plan is that by the end of this year, we would have planted six acres of pineapple," he added.
The couple's main goal is to have their 12 acres of land that is under Crown C lease, transferred to them.
Sarika said farming was a whole family affair that included their four children; Hem Ranish Singh, 14, Roansh Ronit Singh, 12, Riyansha Ranjita Singh, 10, Suhani Sagrika Singh, 7.
"Our children love farming. Every day they're on the farm doing something," she said.
Ronit explained they were sugarcane farmers before deciding to concentrate on pineapple farming. He said his sister had introduced him to pineapple farming and after starting and seeing how well it grew and how profitable it was, that became the deciding factor.
They explained, after their first harvest they took it to Sigatoka market a few times to introduce their produce and sold it as well by the main Queens Highway.
Now, the market comes to their doorstep.
The pearls of wisdom the couple wished to share to those who had land and had not done anything about it – "use it, if you can't, give it to me."
Ronit said whatever one in full time employment earned in a week, with farming, one could earn that in a day.
"In full time employment you have to work eight hours, but with the farming you only work four or five hours a day, you rest whenever you want, you are your own boss, but money you get, you can earn double or triple from what you get from full time employment."
The couple thanked the Ministry of Agriculture for assisting them with 4,000 pineapple suckers in March this year, which they would harvest early next year. They also thanked the Ministry for regularly visiting them and providing advisory services.
Ronit and Sarika were assisted under the Ministry's Pineapple Program whose objectives were to increase cultivation of pineapple to meet export and local demand, to promote pineapple crop as a resilient crop to mitigate climate change and disaster risks, and to promote pineapple as a supplementary crop for sugarcane farmers.
-ENDS-