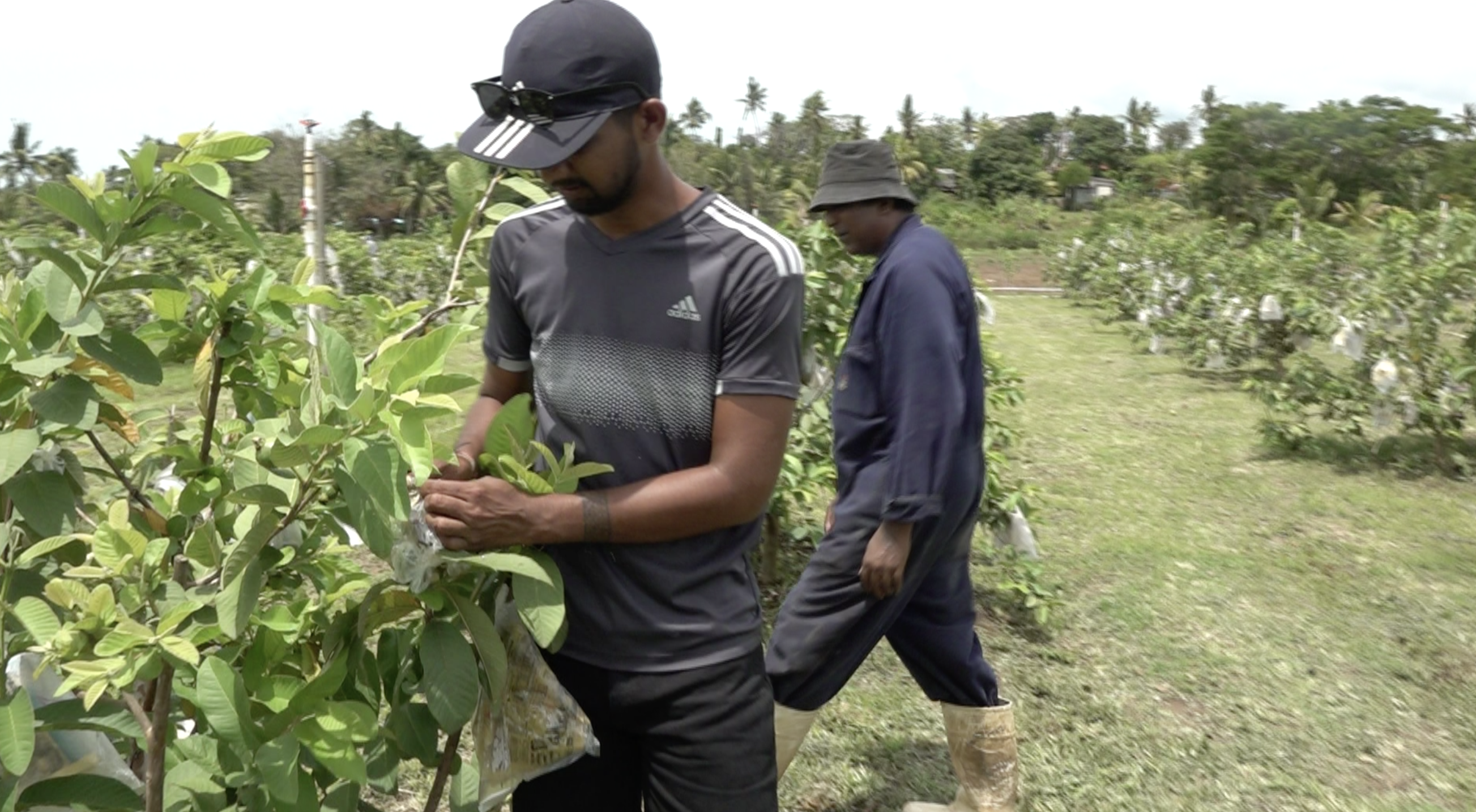 Picture: Kaushik and dad, Atish work on their farm.
'Mauda Greens' in Buabua, Lautoka is the first farm utilizing 100per cent renewable energy to power its business, thanks to the innovative and brilliant thinking of the agriculture entrepreneur's son.
Not only is the farm fully powered by nine solar panels on a mobile machine that is easily moved from point A to point B, but the solar-powered system also energises their home.
Atish Chand, 47, and his son, Kaushik, 22, are the ultimate father-and-son combination, working seamlessly together to successfully blend modern technology and farm work, thus immediately resolving issues of fuel costs, stealing, and water supply for their vegetables.
Having the most climate smart farm in the Western Division did not happen overnight. Rather it was the experience of a young Kaushik watching his father, Atish struggle in farming that sowed the seed of determination that blossomed to a brilliant and customized, modern, solar energy-powered farm; that most likely will become a model for climate smart and engineered farm in the Western Division, or even Fiji, if it is not already.
For Atish, farming was something he ventured into after leaving work to take it up full time. Starting off was not easy. All this was carefully observed by Kaushik. His father's struggles to put him into school until he graduated with an electrical and electrical engineering diploma, allowed him the space to become creative with his interest.
Today, when one takes a walk around their family farm, one is able to instantly pick out the smartly-engineered technology Kaushik built amongst the fruit trees and vegetables in the form of at least two different types of irrigation systems; sprinklers and flood. These are of course powered by water pumps via solar energy, of which water is drawn from a nearby creek that runs by their land.
While Kaushik was undertaking studies, Atish was assisted by the Ministry of Agriculture to start off his fruit tree orchard with 50 guava trees, which he diligently worked on. He did so well that he was assisted with another 50 of the same fruit trees. From these 100 fruit trees, Atish invested an additional 100, then another 200, which he planted on a separate one acre of land.
"For this one acre of land, we spent $10,000.00 that included planting materials, land preparatory activities, and a drip irrigation system. I am very grateful to Taiwan Technical Mission (TTM) for their technical advice that led to successful guava productions" Atish said.
"When I started farming, I was alone at first. Then I employed one labourer. Today, I have eight labourers. All from farming," he added.
"I want to thank the Ministry of Agriculture for this orchard program. I want to thank the Ministry for assisting farmers who have shown their potential in farming. My fruit orchard was given by the Minister and I want to thank him for it. From that orchard we have really benefited and invested more into it," Atish added.
Atish is now also planting dragon fruit, through the assistance again of the Ministry and he looks forward to this particular experience as it is his first time to try it out.
Kaushik's interest in technology fueled by his passion to help farmers in reducing costs, knew no bounds and when he watched a video on how solar energy powered a house, he instantly nurtured the idea that the same technology could also power a farm.
A lot of reading, researching; a lot of trial and error; coupled with his 'natural gift' and intelligence – saw him four months later build his first lot of creations on the family farm – solar panels with its accompanying gadgets to power both the farm and their home, CCTV cameras, irrigation systems, and he even re-made a drone; where he took it all apart, made adjustments of his own before putting it together again - all now fully operational. These all occurred a year ago.
Now Kaushik has progressed further, with the 22-year-old registering his business – 'Resolution Technologies' the purpose of which is to marry agriculture and modern electrical engineering to save costs for farmers to ensure peace of mind.
"My products have a five-year warranty period. That is how confident I am in my products. But I am not doing this for the money. I want to help farmers because I know the problems that come with farming.
"My products for solar energy are customized for each farmer, which means I have to physically visit the farms, no matter where it's located, so I can understand the issues the farmer is facing and tailor the products to suit his farm. I also throw in a free one-day training to teach them how the products work.
"I can also design their irrigation systems, as long as they have a water source, everything else after that is customized for that farmer," Kaushik explained.
Proud dad, Atish said Kaushik was very good at identifying solutions to problems on the farm.
"He (Kaushik) knew we had a problem with water for the farm, so he made the irrigation systems. We had a problem with high electricity costs of around $400 weekly. Kaushik created solar panels for our solar energy so we now have free electricity on the farm and home which is free. We had problems with people stealing vegetables on the farm, so Kaushik made CCTV cameras and we can watch the farm from the comfort of our home," Atish explained.
-ENDS-