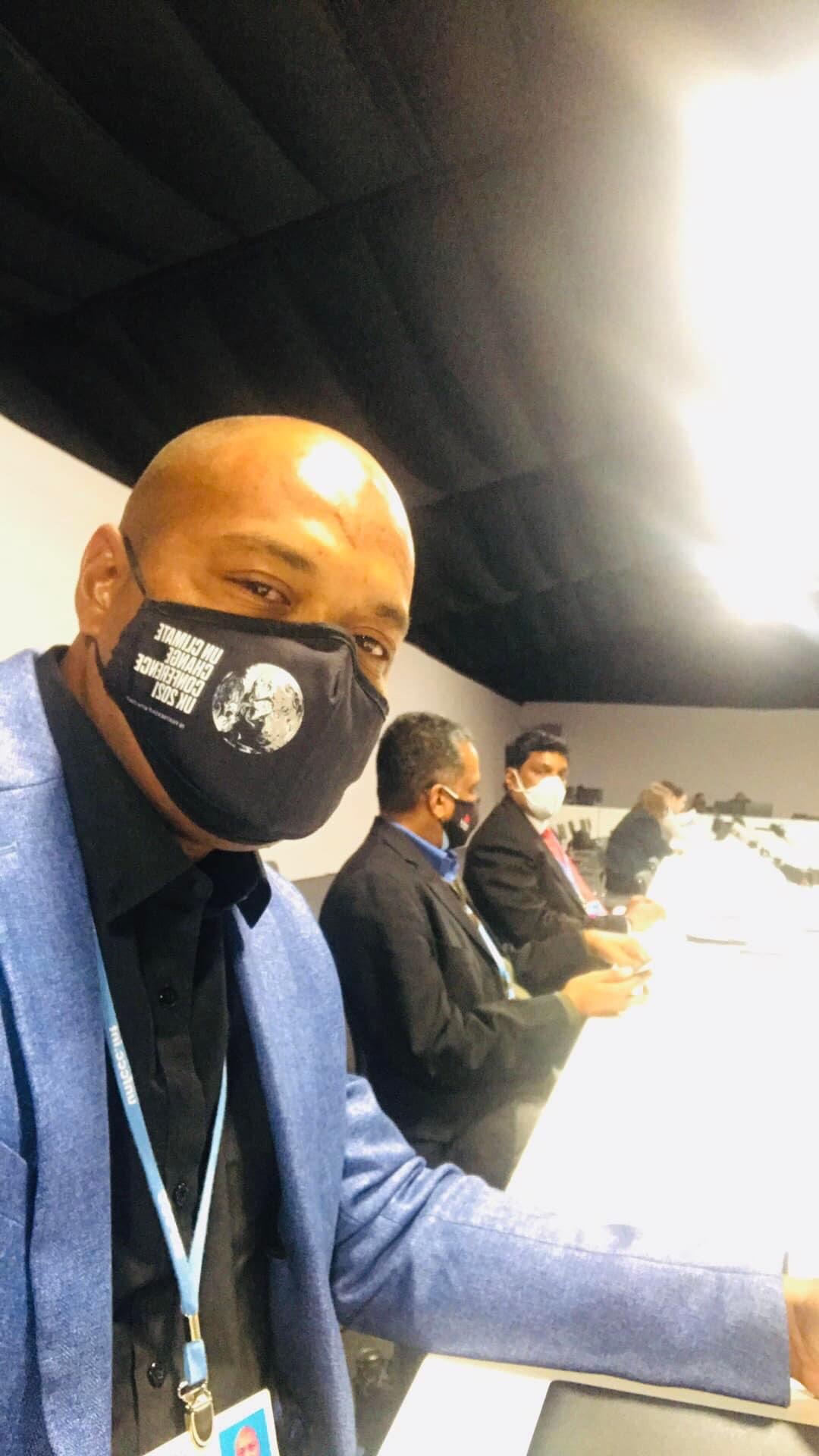 Picture: Dr Tekini Nakidakida during the COP26 in Glasgow
It is important that Fiji and the Pacific Small Island Developing States (PSIDS) develop specific positions on how linkages between Finance and Adaption, in relation to Agriculture will be made including potential guiding mechanisms for COP27.
These were the observations of COP26 Koronivia Joint Work on Agriculture (KJWA) Lead from Fiji's Delegation and Ministry of Agriculture, Principal Researcher – Land Use, Dr Tekini Nakidakida who attended the recently-concluded Glasgow meeting on behalf of Agriculture for Fiji and the Pacific.
The importance of Agriculture in the global level climate change discussions for Fiji and the Pacific was recognized in the COP meetings. At that high level discussion, agriculture and its related issues are negotiated under the 'Koronivia Joint Work on Agriculture' (KJWA).
In explaining how Fiji's agriculture sector, Fijian farmers, and the PSIDS would benefit from the recently-held COP26, Dr Nakidaida said Fiji and PSIDS positions on agriculture included securing a COP Mandate, to focus on the way forward and an elaboration needed on a stronger linkage between Agriculture to Finance and Adaptation.
"These were not explicitly addressed in COP26 but the proposed inclusion of 'agroecology' to introduce elements such as equity and ecosystem protection, were accepted in text, although bracketed," he said.
Through all the technical and legal language, Dr Nakidakida clarified that developed countries highlighted the focus of the KJWA was on agriculture, and not solely adaptation, thus should include mitigation.
"These bigger and more developed countries emphasized this in a way that did not force any country to reduce emissions. This was what developing countries opposed. Further deliberations in informal sessions led to the draft conclusions which recommended a draft decision for consideration and adoption by COP 27 (November 2022)," he highlighted.
Further he said, the Conclusions by the Subsidiary Bodies tasked with addressing issues related to agriculture at COP26, noted four workshop reports were acknowledged as well as the importance of support to enhance action to safeguard food and nutrition security and ending hunger through sustainable and climate resilient agricultural systems, especially noting the impacts of climate change on agriculture.
"Notably, in the draft conclusions, Paragraph 11 suggests there is room for continued discussion surrounding making linkages between finance and adaptation," Dr Nakidakida said.
"We just did not have time to go through everything that we needed to negotiate on in Glasgow. The workshop reports took up most of the time. At this level of negotiations, it is very important that we go through each sentence and all parties agree to it, if they do not then we will remain in that meeting until there is a unanimous decision. It is crucial to have a good understanding of policies, political stands and technical information. A lot of technical discussions goes on which needs not only our input but also to ensure our Pacific voice is heard," Dr Nakidakida explained.
In summary, the Koronivia outcomes from Glasgow included 4 technical reports that the Subsidiary Bodies recognized. There is a fundamental priority of safeguarding food security and ending hunger by designing sustainable and climate-resilient agriculture systems applying a systematic approach in line with the long-term investments in agriculture focused on this objective.
Also recognized was the importance of scaling up support to enhance action on safeguarding food and nutrition security and ending hunger, aiming for inclusive, sustainable and climate-resilient agricultural systems, taking into consideration the vulnerability of agriculture to the impacts of climate change.
"All nations were in agreement of the need to improve the enabling environment for mobilizing resources to implement action at the local, national and international level."
It was also recognized that livestock management systems were vulnerable to the impacts of climate change, and that sustainably managed livestock systems had high adaptive capacity and resilience to climate change while playing broad roles in safeguarding food and nutrition security, livelihoods, sustainability, nutrient cycling and carbon management.
Finally, they also recognized that soil and nutrient management practices and the optimal use of nutrients, including organic fertilizer and enhanced manure management, lie at the core of climate-resilient, sustainable food production systems and can contribute to global food security.
-ENDS-