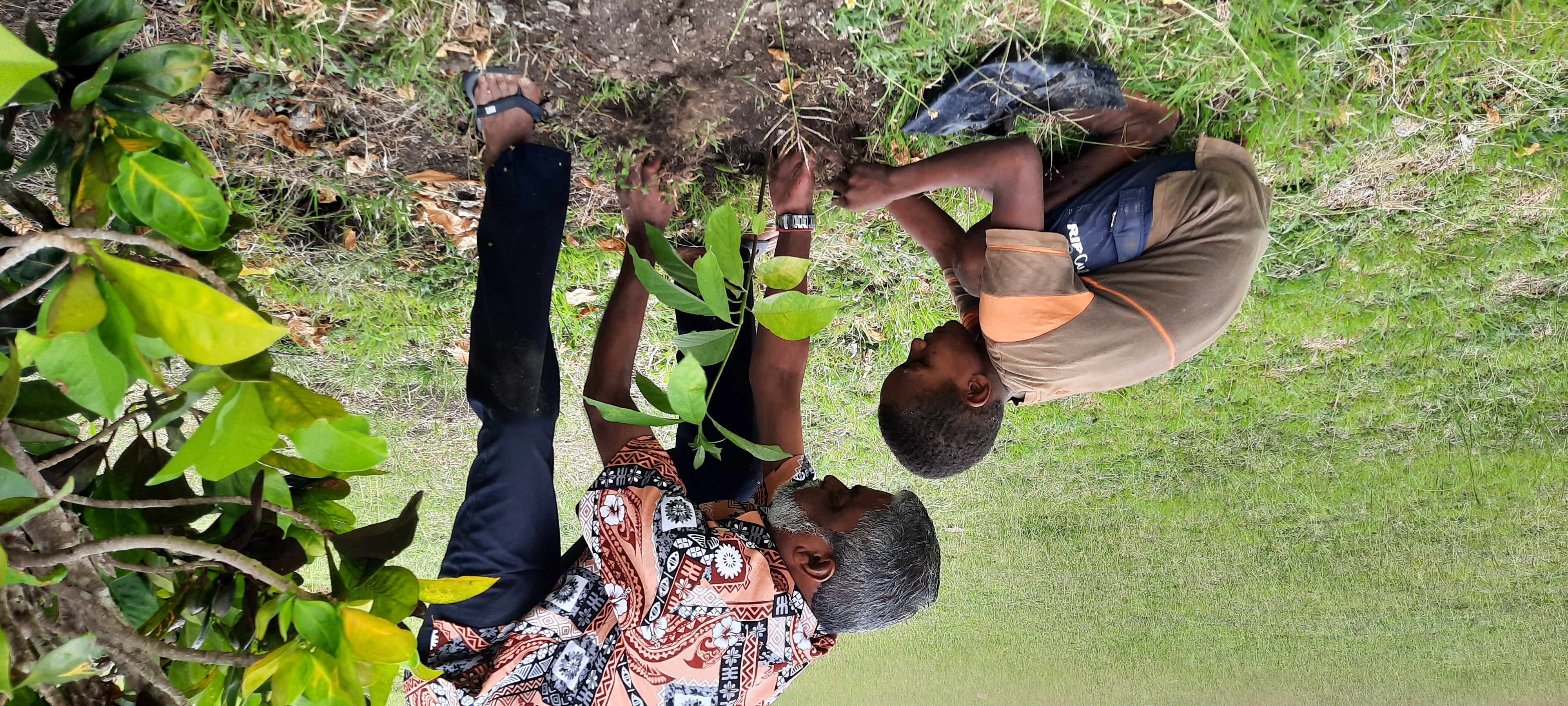 Picture: Assistant Minister for Agriculture Hon . Viam Pillay and a young boy of Natia Village plant an avocado tree at Natia Village in Viwa
Ensuring the nutritional security of Fijian villages remains a paramount undertaking for the Ministry of Agriculture.
This was reiterated during the handing over of fruit tree planting materials and home gardening packages to the three villages of Natawa in Waya district, Natia in Viwa district and Gunu in Naviti district, Yasawa by the Assistant Minister for Agriculture Hon. Viam Pillay on Monday (21.09.20).
Five villages from three districts in the Yasawa group of islands are earmarked to benefit from the Ministry of Agriculture's 'Village Nutrition Security Initiative', as planting materials are being distributed to these maritime villages during the two-day trip.
The program is one of the 16 initiatives launched earlier this year in April 20, 2020 by Minister for Agriculture, Waterways and Environment Hon. Dr. Mahendra Reddy, which targets 50 villages to be supplied with fruit trees.
"Every day, you must plant, utilize all the available arable land around you to maximize your productivity by planting what you can, where you can, when you can but you must maintain your consistency," said Hon. Pillay.
"We're here to hear from you, we've noticed the challenges you face here in the maritime islands and we're committed to ensuring that nutritional security of Fijians is not one of those challenges, and we will see how best we can address your issues," he added.
A delegation of Government officials led by the Assistant Minister for Agriculture Hon. Viam Pillay took planting materials ranging from mangoes, avocado, green pearl guava variety, home gardening packages, pineapple suckers, kumala cuttings and vertiver grass to the 5 villages of Natawa, Natia, Gunu, Yaqeta and Nabukeru.
Under the 'Village Nutrition Security Initiative' the Ministry of Agriculture will provide a set of 3x12 fruit tree seedlings to Fijian villages to meet their nutritional requirements.
The Ministry will deliver these seedlings to the villages; and, oversee the planting and will train the community on how to support the seedling(s), conserve the seeds and protect it from external threats.
Meanwhile, Turaga ni Koro of Natawa Village, Sisa Naibale praised Government for keeping maritime islanders in their development plans.
"Here on our island, we are surrounded by mountainous and rocky terrain and the assistance of the fruit trees that has been planted today will surely be felt by our future generations as they are the ones who will benefit greatly from this initiative, which secures their nutrition to supplement the traditional food on the island," said Mr. Naibale.
"We cannot thank the Ministry of Agriculture enough for this worthwhile program because we will surely reap its rewards in the future through our food and nutritional security on the island," Mr. Naibale added.
-Ends-