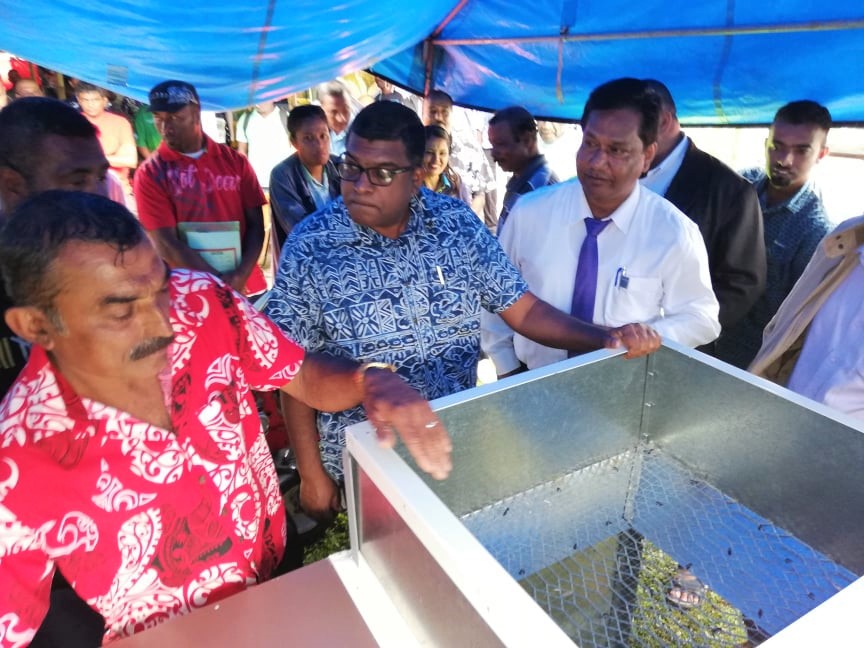 Picture: Hon.Minister for Agriculture Dr.Mahendra Reddy with officials and Farmers in Mudhuvani, Rakiraki during the Rice field day event.
There is a need to redouble efforts to grow more rice in Fiji to reduce the significant import bill of buying rice overseas, urges Minister for Agriculture, Waterways and Environment, the Hon. Dr Mahendra Reddy.
"We are approximately importing $46.2m worth of rice every year. There is no reason why Fiji should continue to import rice from Thailand or Vietnam. "We can grow it here. Our climatic conditions are good.
We can grow rice year round," he said. He said the Ministry had three varieties of rice that could grow year round. Dr Reddy made the comments while launching the off-season rice field day in Madhuvani, Rakiraki on Tuesday (22.9.20).
Speaking to a packed-shed of farmers from surrounding areas, the Hon. Minister said gone were the days when farmers grew seasonal crops.
"In agriculture today, working on your farm should not be seasonal. You can grow crops throughout the year.
"That's why we are promoting growing rice grains in the West so we can become closer to becoming self-sufficient in this sector," he said.
He said currently, Fiji was operating at 17per cent self-sufficiency in rice production. "It is in our national strategic interest that we raise this self-sufficiency given the importance of rice in our household foods we should raise it to at least to 80per cent."
The Hon. Minister acknowledged the efforts of Madhuvani farmer, Mr Pravin Kumar for growing off season rice as well as other crops.
"Mr Pravin Kumar is an exemplary farmer. He will be growing his third crop in the same piece of land in the period of 12 months. This is the kind of farmer we want throughout Fiji."
Mr Kumar explained in Hindi through a translator that he was not only relying on rice but was also growing other crops and fruits.
He said he had already harvested water melon with another lot to be ready in November.
In addition, Mr Kumar said he was also rearing 40 goats and sheep and shortly he would also be starting his shrimp farm as his pond was ready.
Further, he had another ten-acre land that he would be planting next month.
-ENDS-