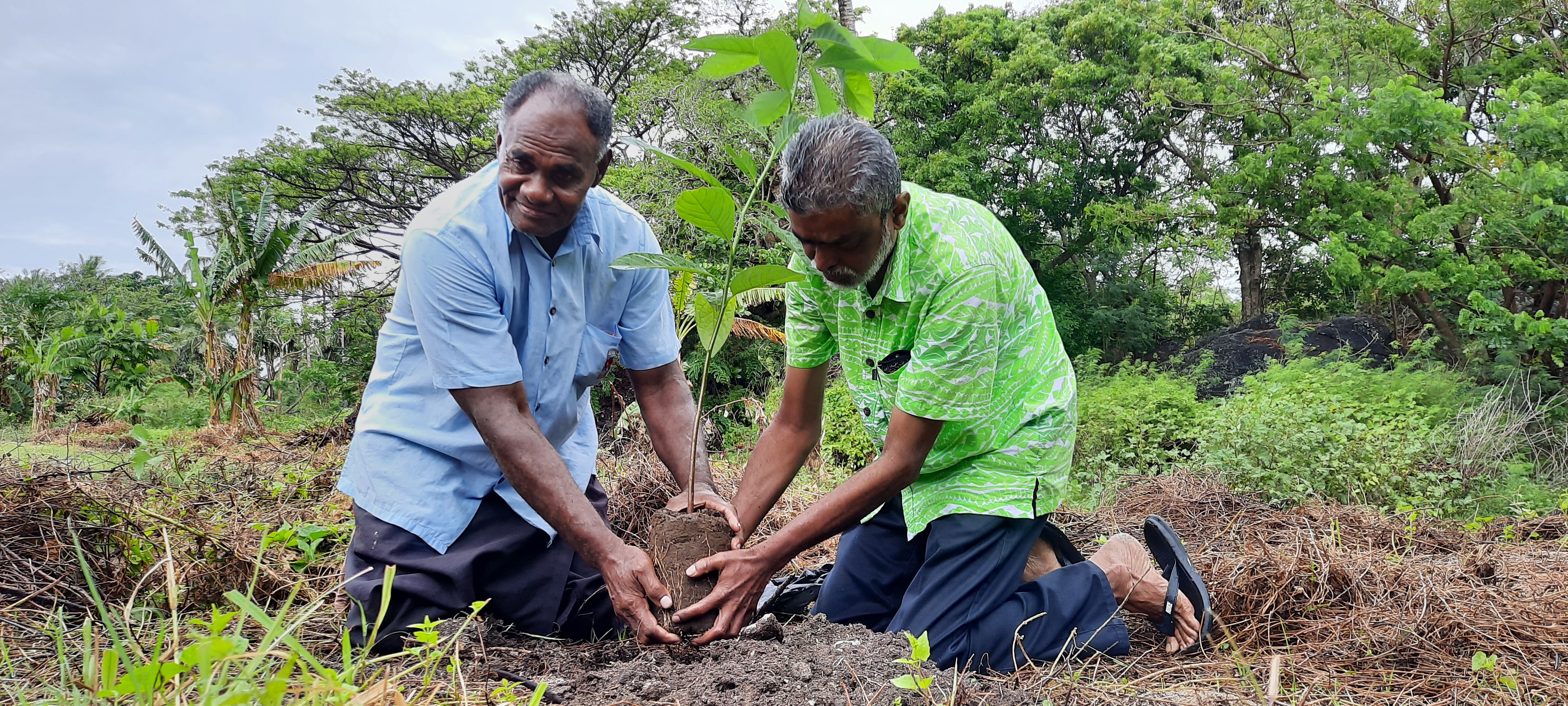 Picture: Turaga ni Koro of Namatayalevu Village Apisai Raiqele and Assistant Minister for Agriculture Hon. Viam Pillay plant an avocado tree at Namatayalevu Village
Indiscriminate burning of land in the Yasawa's is counterproductive to agricultural development efforts.
This was highlighted by Assistant Minister for Agriculture Hon. Viam Pillay yesterday to villagers of Bukama, Teci, Yasawa-i-rara, Dalobo, Tamusua and Nabukeru that make up tikina Yasawa.
While holding an informal talanoa session at Nabukeru with villagers and the district representative, Hon. Pillay said it was irresponsible behavior to continue on burning their fields, especially during yam planting season.
"Stop burning, here we're trying to develop and as you plant, there are some who are burning and there is a real need to conduct awareness on the matter to improve your understanding of the issue as it is concerning your livelihoods," he said.
"We must conserve our resources. It is important that we do our part in protecting and preserving it so that our future generations may also benefit," said Hon. Pillay.
He reiterated that it was in everyone's best interests to refrain from the practice of burning and that villagers take special care of the environment for their wellbeing.
The villages of Bukama, Teci, Dalobo and Yasawa-i-rara were also acknowledged for supporting Government's 30 Million Trees in 15 Years Initiative spearheaded by the Ministry of Forestry.
Fruit trees were also planted at Nabukeru village as part of the Village Nutrition Security initiative with additional vegetable seed packages being handed over to the villagers to ensure their nutritional security was met.
The Village Nutrition Security Initiative is one of the 16 initiatives launched earlier this year which targets 50 villages to be supplied with fruit trees every quarter.
Five villages in Yasawa received planting materials ranging from mangoes, avocado, green pearl guava variety, home gardening packages, pineapple suckers, kumala cuttings and vetiver grass handed over to them by Assistant Minister Hon. Pillay.
-Ends-