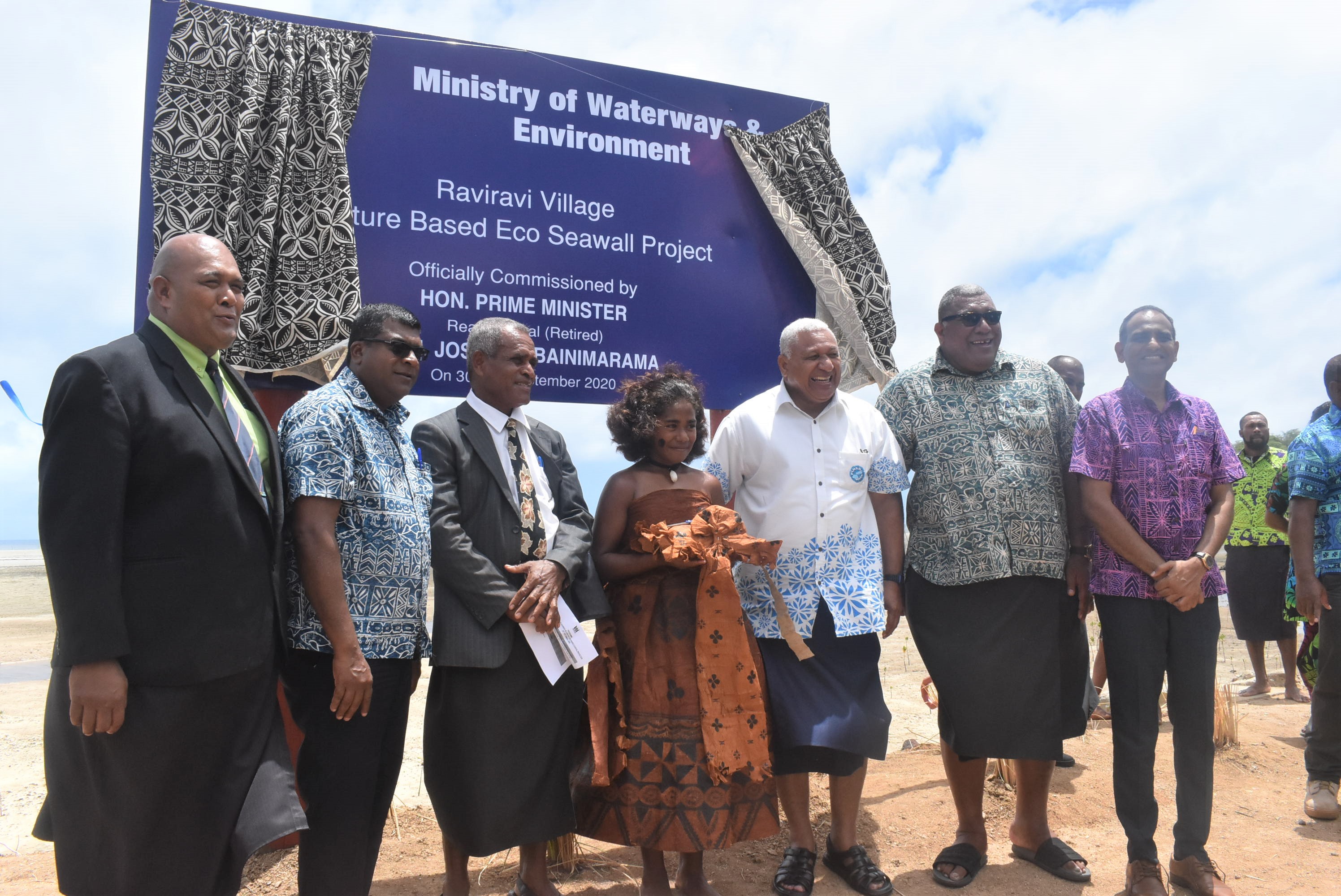 Pictured: The Prime Minister Hon Voreqe Bainimarama and Minister for Agriculture Waterways and Environment Hon Dr Mahendra Reddy with the government officials during the commissioning of the Raviravi village nature eco Seawall.
Minister Reddy's work is exemplary commented the Head of the Yavusa Matainubulevu, Koro o Raviravi, Yavatu Navatudua, Bua, Mr Akuila Paini in i-taukei on Wednesday (30.9.20).
Mr. Paini was expressing his gratitude to the Prime Minister, the Hon. Voreqe Bainimarama and Minister for Waterways and Environment, the Hon. Dr Mahendra Reddy following the commissioning of the newly completed nature-based eco solution seawall in Raviravi Village, Bua.
Mr. Paini said it was a truly historic occasion given in a very short span of time, the seawall they had wanted for a long time, was finally built.
He said it was truly amazing that it took only 11 weeks to complete the seawall.
Mr. Paini said it was the first seawall in Fiji to use nature-based resources from the area such as the boulders, mangroves, with the vetiver grass provided by the Government.
Dr Reddy said the project cost $20,000 which was a huge savings for government in that natural protection against the elements were used to build the seawall.
"If we had outsourced and given this project to a contractor, we would have paid around half a million dollars.
"But this is a great and successful example of the community and government working hand in hand to not only combat climate change, but also a way for the community to take ownership of projects that will benefit them," he said.
In commissioning the Raviravi seawall project, Prime Minister Bainimarama said the 146metre-long seawall built by the Ministry of Waterways and Environment in 45 days was a remarkable efficient effort suited to the urgency of the village's situation.
"This seawall is an ingenious combination of human-made and nature-based solutions to provide protection that is more effective and less expensive than a concrete wall.
"The use of boulders reduced construction costs, and the mangroves planted in front of the wall and vetiver planted behind the wall provide extra protection for their ability to absorb and contain tidal flows.
"The mangroves are the first line of defense, as they have always been in Fiji, and the vetiver is the last line. The vetiver forms a strong hedge. Its deep roots hold in the soil, and it can thrive even in soil that has been inundated by seawater."
-ENDS-