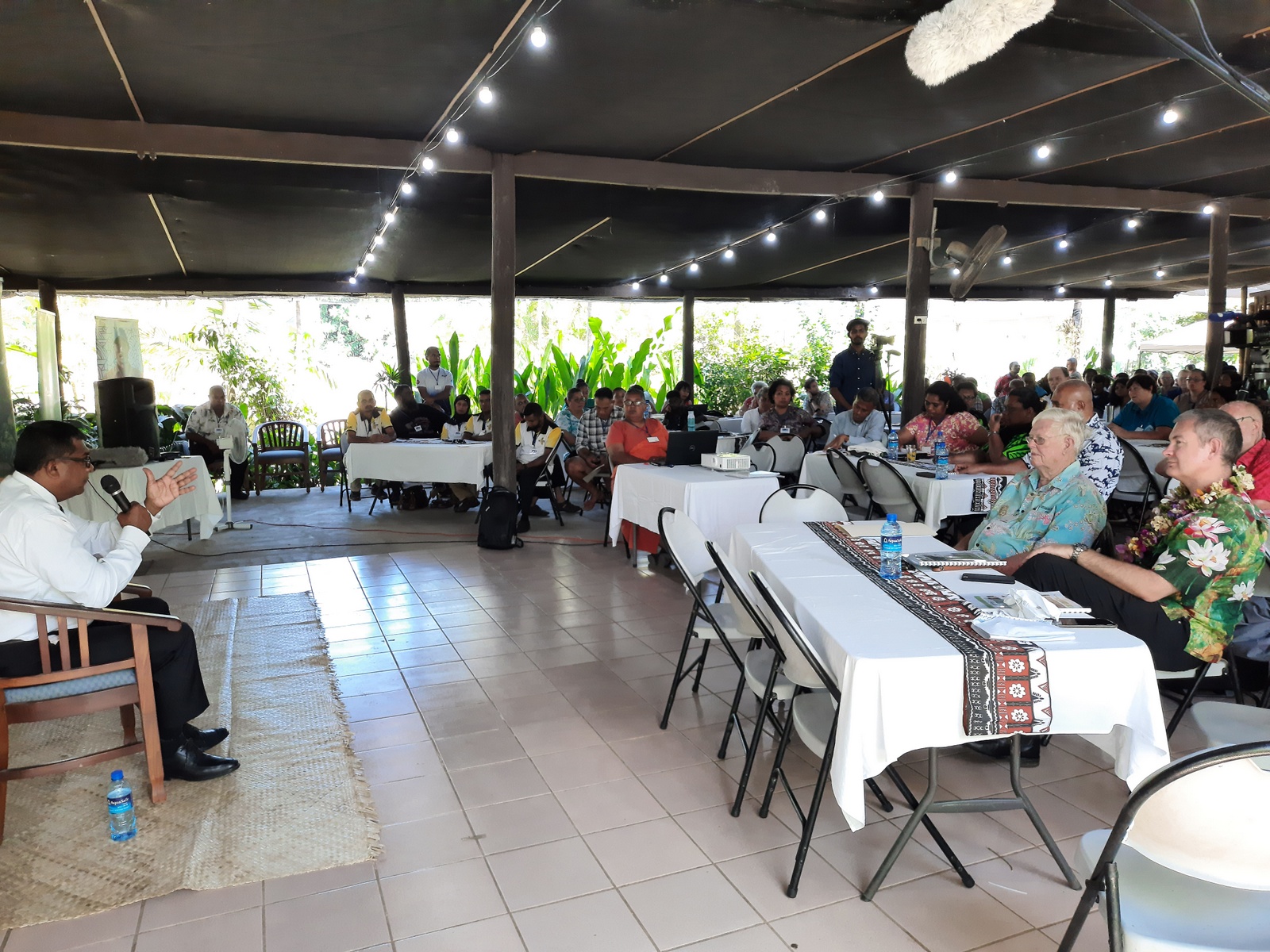 Picture :Minister for Agriculture Waterways and Environment Hon Dr Mahendra Reddy holds an informal talanoa session with farmers organizations and farmers represents
The contributions of the agriculture sector to the Fijian economy has been steadily consistent throughout the years and must not be grossly under scored.
This was stressed by Minister for Agriculture, Waterways and Environment Hon. Dr. Mahendra Reddy today at South Sea Orchids in Nasau, Nadi while officiating at the Pacific Islands Farmers Organizations Network (PIFON) Fiji Farmers Forum whereby he shed light on the growth of the primary agriculture sector as compared to other development sectors such as the industrial, manufacturing and service sectors.
"Agriculture was one of the largest contributors to the country's Gross Domestic Product (GDP) but over time as the other sectors started to grow, obviously agriculture's contribution to the GDP started to decline but that did not mean that agricultural output in real terms had declined but it had appeared so due to the growth rate of other sectors.
"Now going back to the argument about increasing investment or the budgetary allocation for the agriculture sector my argument is that when the agricultural output increases then all those who are engaged in agriculture through various rural factors and product market, let's say laborers or those who supply land or those who supply various other inputs like the financial sector, all of them will benefit and in this equation, livelihoods should be dealt with," said Hon. Reddy.
"So if you argue agricultural support based on the livelihood issue, you are under scoring the agriculture sector. You are grossly under scoring the importance of the agriculture sector," emphasized Minister Reddy.
He said that based on overall production, there was no denial that production had increased and that we were also doing extremely well with respect to non-sugar exports, despite the global pandemic.
"Over the first 6 months this year, our exports of fresh and chilled produce increased by 15%, from 4.9m kg in 2019 to 5.7m kg in 2020. In value terms, this amounts to an 11% increase, from $24.1m to $26.8m this year, January to June.
"On this front, we could achieve an annual export figure of $60m by end of this year but we wish to raise this to $100m of annual exports within two years time," he said.
Minister Reddy stated that the Ministry of Agriculture fully understood the impact of COVID-19 and the demand for agriculture growth as the backbone of Fiji's economy saying; "Our paradigm shift has pushed the Ministry to another level to formulate plans and strategies that will not only sustain us through this pandemic but has enabled us to bounce back better than before."
Supported by PIFON and other international agriculture stakeholders, Tei Tei Taveuni convened this one-day forum for Fijian farmers with the theme - 'COVID-19 and Agriculture - Seizing Opportunities'.
Tei Tei Taveuni President Alan Petersen said the objective of the one-day forum was to bring together farmers and farmer organizations for networking and sharing of information, exchanging of ideas and learning from other farmers' successes, challenges and experiences adapting to COVID-19 and to identify and prioritize key opportunities and actions required to respond to COVID-19.
Participants included representatives of farmer organizations (both men and women), individual farmers, Ministry of Agriculture officials and local agricultural stakeholders.
-Ends-