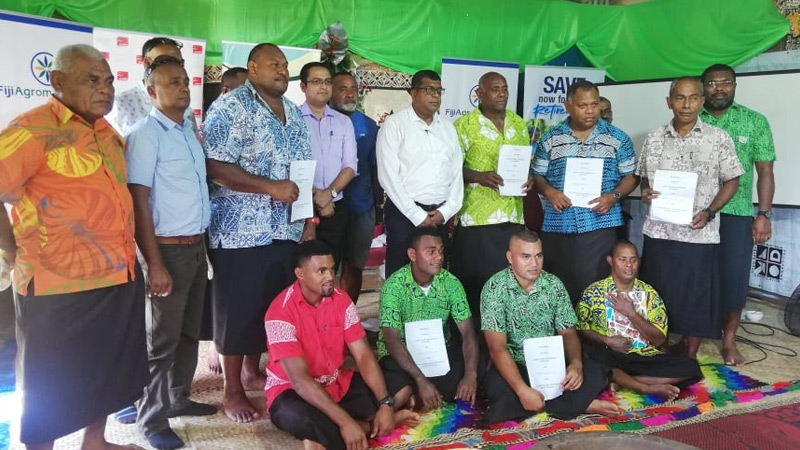 Picture : FDN Young Farmers
The 'Future Depends Now' (FDN) Young Farmer's group of Sector Six in Lomaivuna are benefiting from the contractual and market access initiative of the Agriculture Marketing Authority of Fiji.
The initiative launched by the Minister for Agriculture Hon. Dr. Mahendra Reddy has opened doors of opportunities for the development of youths and aspiring young farmers in Lomaivuna.
Their advisor Patricia Titifanua said the three-year contract would allow the eight-member young farmers group to continue to work together as a cluster, dream big to achieve big.
"This contract farming will enable and motivate us to rise and lift our game from subsistence to large scale farming," she said.
"At this stage, it is all team work as a cluster. The older ones guiding the younger ones and we are all doing hands-on respectively, sharing knowledge, ideas and farming techniques that will enhance our current production, quality and its consistency," said Patricia.
"This opportunity will enable us to create employment within our families and community as a whole as per our draft working plans."
"For FDN Young Farmers, our vision is to keep striving to be Lomaivuna's Best in terms of quality, consistency and reputable root crop producers/suppliers to our contracts as well as Farm-to-Table for local markets."
The contract(s) with AMA ensures the young farmers have a confirmed market in return the latter is to consistently supply quality root crops honoring its commitments towards the said contract(s).
"Rewards earned will definitely motivate other farmers to be part of this initiative and AMA is taking the first step coming to our doorstep as a market instead of us going down to our municipal markets on nominated days," she said.
"We will continue to produce the demand of the markets and with this we believe that we will benefit as a whole in terms of food and financial security, sustainability, quality living, and to be more business minded farmers."
In addition, the FDN young farmers group have also signed up for the Fiji National Provident Fund Voluntary Membership Scheme.
"AMA has made this possible for us by registering with FNPF for voluntary membership. We are in agreement with AMA to deduct a portion from our revenue earned and pay to FNPF on our behalf towards our retirement savings which makes the whole work hassle-free," she said.
"We are more than happy to say that AMA is playing a major role helping us to realizing the importance of savings for our respective families own financial security and addressing other financial issues."
-Ends-