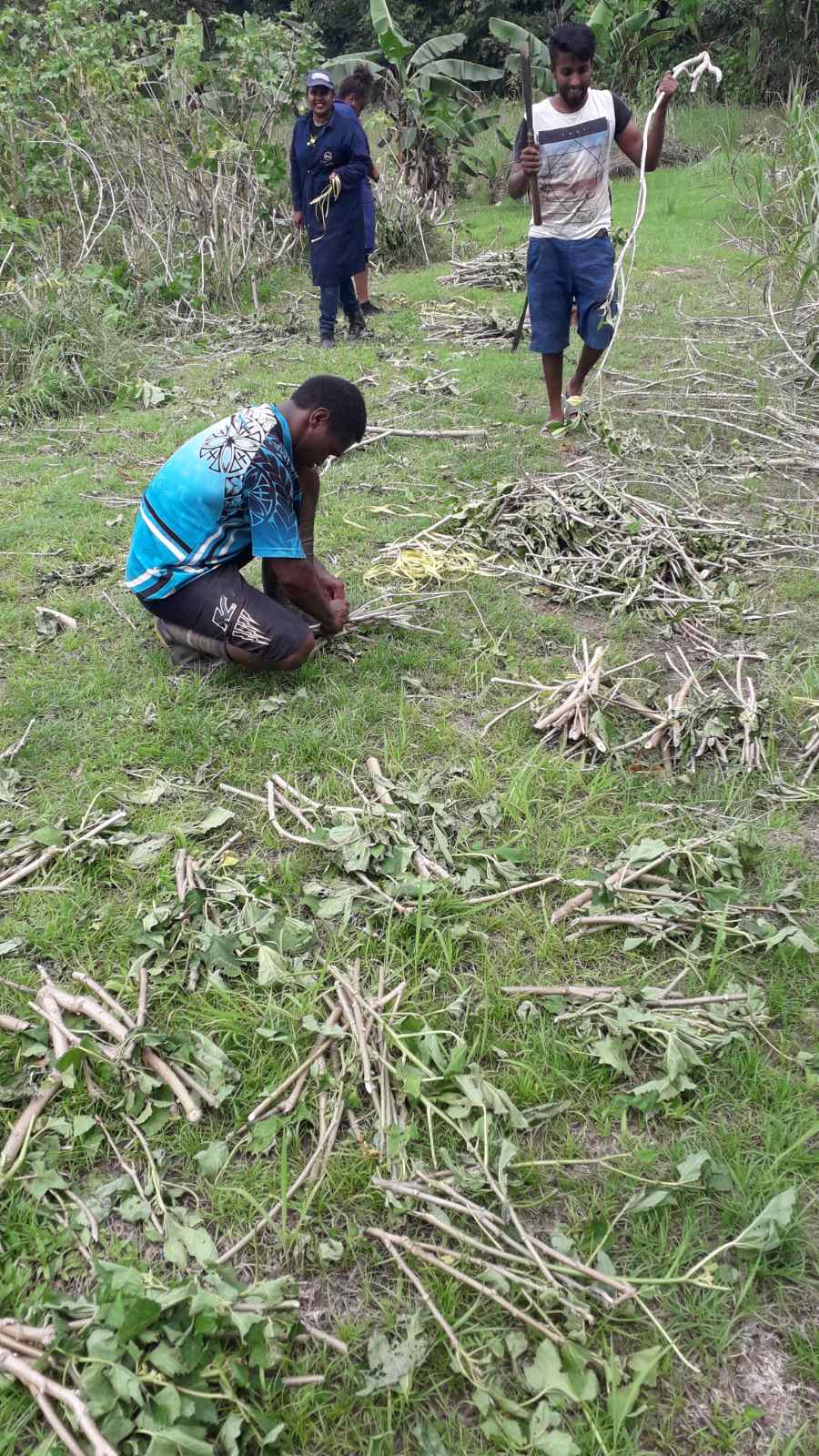 Picture : Ministry staff preparing bele cuttings for farmers in Vanua Levu
Fiji Agromarketing Authority will be prioritizing buying honey from farmers badly affected by TC Yasa in Vanua Levu, revealed Minister of Agriculture, Waterways and Environment, the Hon. Dr Mahendra Reddy at a recent press conference.
This was one of the immediate measures the Ministry was implementing to assist affected farmers bounce back.
"We are providing support to bee farmers, in terms of providing free sugar as a supplement to the bees so that they can get their honey production up quickly.
"We will work with AMA to give priority for purchasing of honey from these areas, at least for the next six months' so that they can have a source of income for their households," he said.
In addition, planting materials and day-old chicks was also been distributed to those in the red zone who were directly impacted by TC Yasa in the Northern Division.
The Hon. Minister said the quick response by the Ministry was made possible following the immediate mobilization of Agriculture teams deployed to the affected areas to conduct Initial Damage Assessments as early as Sunday, 20 December.
"We have mobilized 10,000 packets of seeds containing six to seven vegetable seeds that will be distributed to households in these affected areas in Bua, Cakaudrove, Macuata.
"30,000 bele cuttings will also be given out in this area and 150,000 cassava cuttings.
"This is the first round," Hon. Dr Reddy said.
In addition, day-old-chicks would also be distributed at no cost to affected farmers complete with the feed for the chicken, he said.
He explained the chicks were to be raised as a source of protein that could be harvested in eight weeks' time.
"They can raise poultry and at least in 8 weeks' time, these will be ready for consumption in a very short period of time."
The Minister said the support would continue for the next four months to prioritized farming households in Cakaudrove, Bua, Macuata, Southern and Northern Lau, and Lomaiviti.
ENDS.