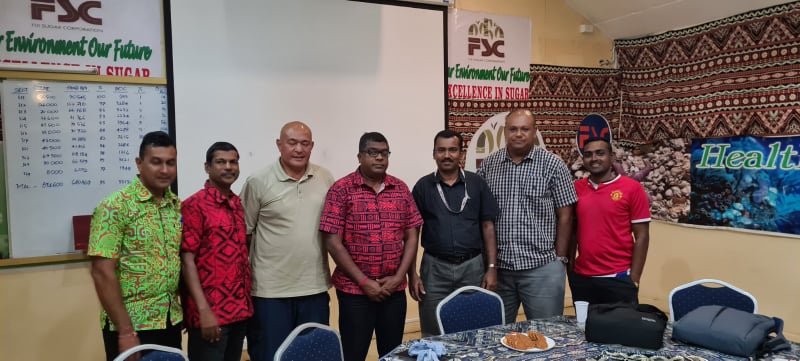 Picture : Minister for Agriculture Waterways and Environment Hon  Dr Mahendra Reddy with government officials and senior management of FSC.
Owners of sugarcane farms in the Northern Division affected by salt water intrusion as a result of the storm surge that occurred during TC Yasa have been offered an alternative option of rice planting for the next 4 months to give time for the farm to recover from salt water intrusion.
The suggestion was offered by Minister for Agriculture, Waterways and Environment, the Hon. Dr Mahendra Reddy during a recent meeting with senior management of Fiji Sugar Corporation.
The meeting discussed strategies to assist farmers affected by the salt water intrusion in the low lying coastal areas.
The Hon. Dr Reddy said most of the farms in low lying areas of Nagigi, Korovatu, Vunika, Wailevu and Tiri settlement of Tabucola had been affected.
"King tide could be as high as 1.8m above mean sea level. The seawall constructed to prevent flooding in farming communities is at least 2meters high from mean sea level. The intrusion of seawater during TC Yasa was due to a storm surge that rose to around 3meters above mean sea level," he explained.
"Seawalls are designed to prevent salt water intrusion from normal tides and King tides. However, in this case storm surges occurred which are a result of wind and atmospheric changes usually associated with storms that swept salt water into these farming communities."
The Minister noted it would take time for the salt water to wash out and suggested to sugarcane farmers in the affected areas to take up the offer from the Ministry of Agriculture and Fiji Rice Ltd to plant the salt-tolerant Deepak variety of rice.
"The Ministry of Agriculture will provide subsidies on land preparation costs by 80% and will provide free rice seeds," the Hon. Dr Reddy said.
Further, he added that the Deepak variety would take four months to harvest, by which time the field would be ready for cane cultivation.
He said FSC would mobilize its field officers to inform farmers of this support and ensure that those willing to plant rice would be supported immediately.
Minister Reddy thanked the FSC Mill Manager and Head of Extension for their willingness to support this project which gave a window of time for cane farmers to regroup and improve their farmland.
-ENDS-