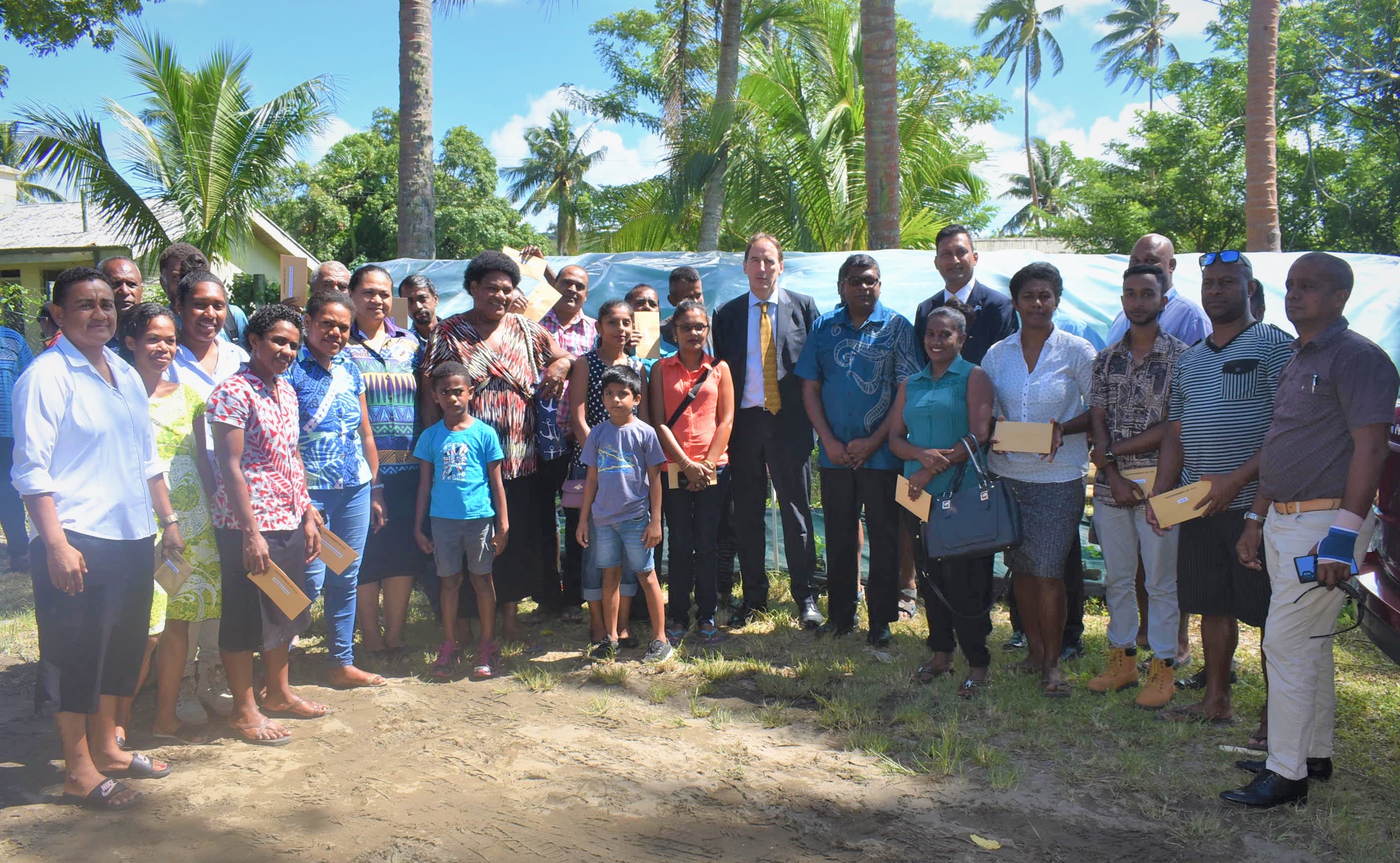 Picture : British High Commissioner to Fiji, His Excellency George Edgar and Minister for Agriculture, Waterways and Environment Hon. Dr Mahendra Reddy poses with the Sigatoka recipients of the nursery kits at the Sigatoka Office.
The British Government handed over 54 nursery kits to the Fijian Government on Thursday (7.01.21) to assist those who had been economically impacted by COVID-19 to turn to agriculture as an alternative livelihood option.
At the handover ceremony in Sigatoka and Nadi, British High Commissioner to Fiji, His Excellency George Edgar said the event was a result of close collaboration between the British High Commission and the Ministry of Agriculture through its Food Security and Accelerated Agriculture Growth Plan.
"...which is aimed at rebuilding and accelerating agriculture in response to COVID-19 and the recent tropical cyclones that have done such damage to Fiji, including to its agriculture," he said.
"In October 2020, the UK Government through its International Program provided funding assistance up to $FJD53,860 to the Ministry of Agriculture to strengthen the resilience of Government's crop nurseries."
His Excellency said it was part of a broader effort to support resilience in the face of negative social economic impacts of the COVID-19 pandemic.
In receiving the nursery kits on behalf of Government, Minister for Agriculture, Waterways and Environment, the Hon. Dr Mahendra Reddy thanked His Excellency for the extensive assistance provided by the British Government to start up nurseries that would serve multiple roles.
"Households who had lost employment in the formal sector are now able to secure an alternative source of income.
"Not only will they be able to generate a source of income but they will also contribute to our second most important role in agriculture which is to expand the agriculture sector commercially," he said.
Another rippling effect, the Hon. Dr Reddy explained, was that the nursery products these nursery owners would have in their care - other farmers would buy, thus expanding agriculture commercial activity.
Mrs Bina Bikashni Lal, 34yrs, of Barara Flats on Valley Road, Sigatoka was all-smiles when receiving her nursery kit.
"It's my first time to do farming. It's very hard for me, because sometimes it rains and sometimes it's too hot and I cannot work on the farm. Before I used to sit in the shade and work," she said.
She used to work in a Gift Shop in Sigatoka and her family also ran a DVD shop until COVID-19 impacted her work and business. She was forced to work on reduced hours until she eventually she had to leave employment altogether.
She said her husband and son would help her set up her nursery. Mrs Lal will plant seedlings and flowers in her nursery.
"I feel very happy for this assistance. I have three kids and need to prepare them for school and this will help me.
"Thank you very much for supporting us at this hard time," she said of the assistance given by His Excellency George Edgar.
Another recipient, Mr Joeli Vatavehi, 59yrs, who received the nursery kit on behalf of the Nawamagi Village Group, said in itaukei, the assistance would motivate the group members to continuously plant non-stop as the nursery would protect the seedlings and plants from the elements.
He said his 15 group members were all farmers and used to supply their produce to the hotel until COVID-19 hit the tourism sector. He said they now were taking their produce to the Sigatoka Market to sell to make ends meet.
Mr Vatavehi said the group were trialing out small greenhouses they had built in the village where they had cucumber and beans already nurtured there and the nursery kits they received would greatly boost the existing production.
He also thanked the British Government for the assistance, which he had waited so long for.
-ENDS-