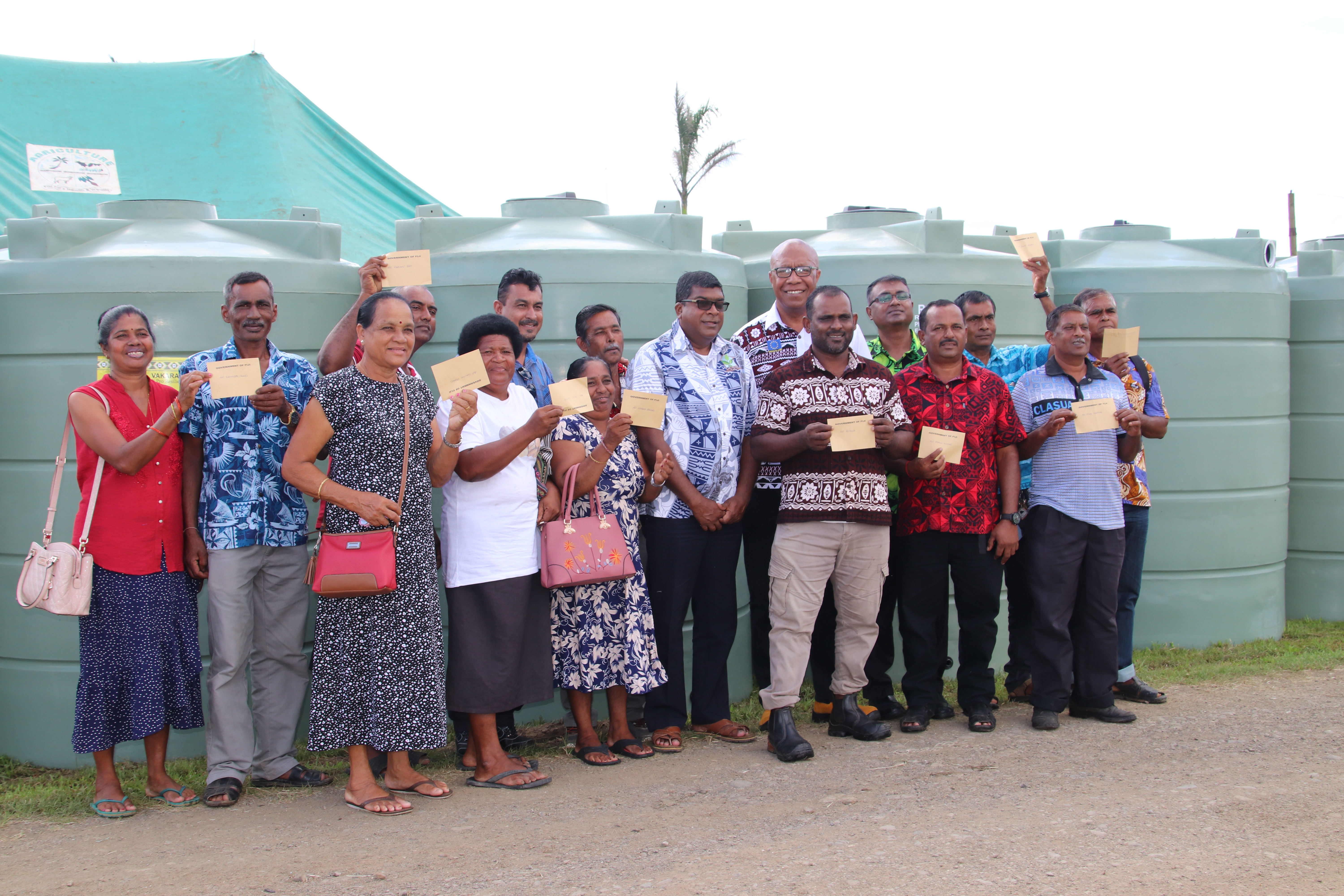 Picture : Minister for Agriculture Waterways and Environment Hon  Dr Mahendra Reddy with ADRA Fiji Country Director Mr Iliapi Tuwai Ministry staff and the recipient
Ten Labasa farmers were each handed a 5,300litre water tank valued at over $1,200 per tank by Adventist Development and Relief Agency (ADRA) today (13.01.21).
Lagalaga livestock farmer, Ms Akisi Vinaka, 63, said in itaukei she was grateful for the assistance as it would greatly help her with the water problems usually experienced in the area she lives in.
She said water problems was always experienced in the area she lived in creating difficulties for her sheep and piggery farm, hence, the water tank was a welcome relief.
Dreketilailai crop farmer, Deo Raman, 52, also expressed his appreciation for the water tank.
"Before our water source was the river, we would use the pump to reach us. But this water tank will make it easier for me. Now the water will be pumped into the water tank and from there we will use it for both household and for the farm," he said.
ADRA Fiji Country Director, Mr Iliapi Tuwai said the assistance was part of a project targeted at helping communities address water problems.
"ADRA is here to help you and I want to thank the Hon. Minister for this partnership we have with Government.
"I want to reassure you that we will continue to work with Government to help you get up again," Mr Tuwai said.
Minister for Agriculture, Waterways and Environment, the Hon. Dr Mahendra Reddy thanked ADRA and other development partners for assisting farmers in improving their livelihoods.
"This project by ADRA will provide an essential need, clean water.  Provision of clean water is very critical with the support of development partners, and donors.
"Recipients will use these water tanks for their households and agricultural activity. It will transform their livelihoods and increase their agricultural productivity," he said.
-ENDS-