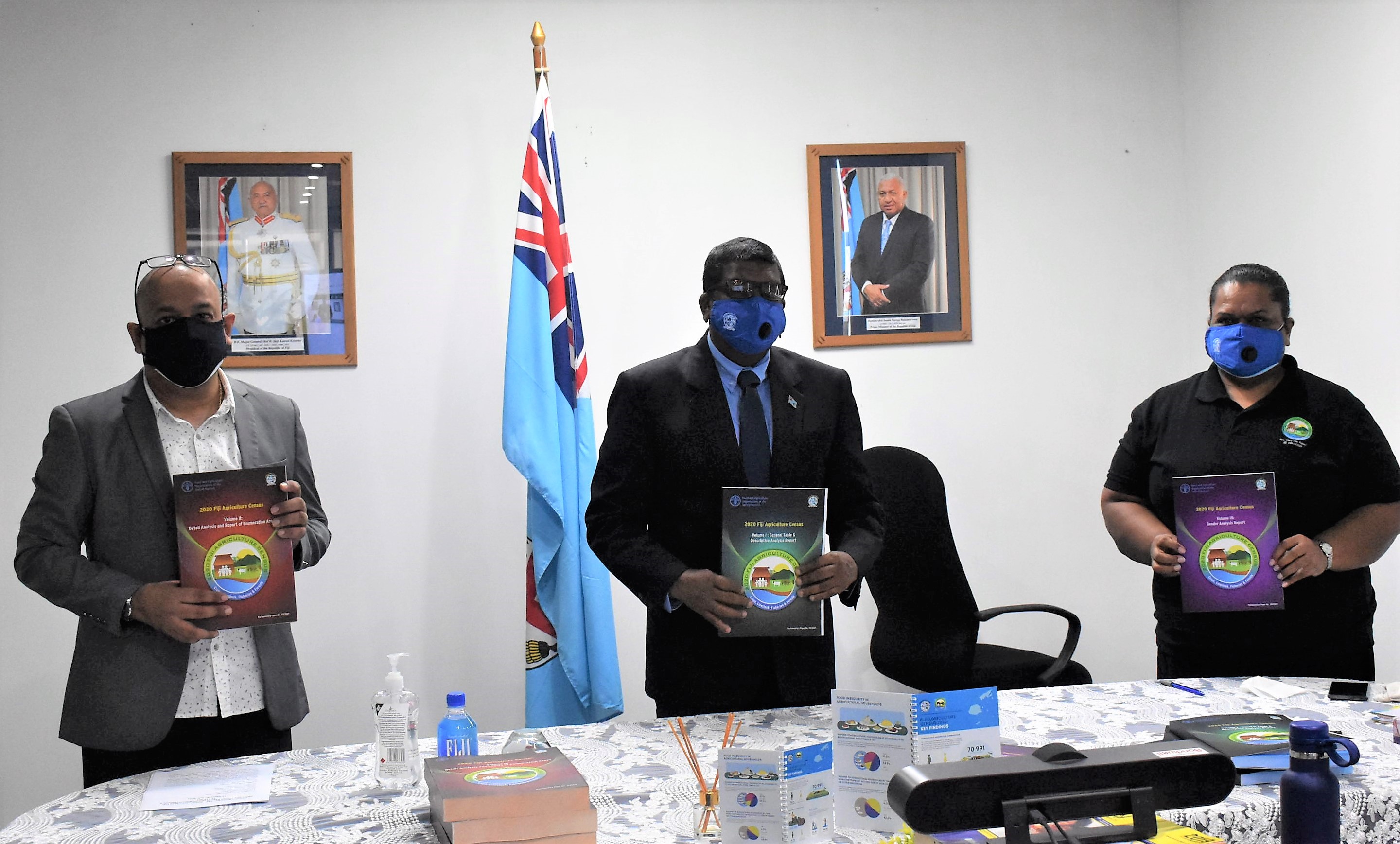 Picture : Minister for Agriculture Waterways and Environment Hon  Dr  Mahendra Reddy and senior Ministry officials with members of Garden Creation Cluster. 
Recognizing the floriculture industry as a commodity and the benefits associated with participating in it has garnered Government's intervention to further develop this female-dominated agricultural industry.
 Floriculturists are set to be part of a one-day organized 'Floriculture Market Day', specifically set-up for floriculture clusters and enthusiasts in local municipalities every last Saturday of the month.
 This was relayed by Minister for Agriculture, Waterways and Environment Hon. Dr. Mahendra Reddy while meeting with Garden Creation Cluster members of Nadi today.
 This revelation was made by Minister Reddy as he described the immense potential that was yet to be tapped into by women who religiously engaged themselves in floriculture and were ardent flower growers.
 "We are undervaluing and down playing the value of the products from floriculture and the transformation of floriculture produce into products such as garlands, leis, wreaths, and bouquets as there is a huge market for these and we are not taking advantage of certain celebrations that require your input.
 "We want to assist all floriculture groups moving forward, including you, and we are planning to reserve the last Saturday of every month to organize a spot in respective towns, like here in Nadi, Lautoka, Rakiraki etc for floriculture groups to come and sell there," he said.
 He shared that these floriculture groups wouldn't need to worry about paying fees during this intended market day as the logistics and payment would be met by the Ministry of Agriculture and that the support of municipal councils would be sought.
 "We will organize the marquee wherever the foot traffic is, we will try to set up these one-day markets specifically for you, floriculturists, all you need to do is come and sell your products," said Hon. Reddy.
 "In agriculture, we also see the floriculture industry as a small but upcoming, growing and significant industry contributing to the economy, contributing to the livelihood of households, and I note that in a particular point in time, in female headed households, females were able to identify certain niches for themselves and in floriculture, females are able to easily put in their delicate and intrinsic skills to use and improve their livelihoods."  
 "Flowers have a direct and indirect impact on our quality of life, and are also a naturally environment enhancing source that contributes to the wellbeing of our natural habitats and your actions as floriculturists create this suitable environment by deliberately planting trees and flowering plants.
 He said there was a need to enhance the investment in the industry so that existing participants were able to grow while also promoting the participation of new members, and gave his assurances of Government's full support for the industry to grow at a faster rate.
 Meanwhile, Garden Creation Cluster submitted their proposal to Minister Reddy with cluster Secretary Ms. Nazmin Nisha highlighting their intention on diversifying into the Cut Flower Business apart from selling potted plants.
 "One of the key elements for our growth is financial stability so that we can explore a wider range of customers, introduce more varieties to our collection and build nurseries as per the standard required for Orchids and Anthuriums," said Ms. Nisha.
"These ladies have worked tirelessly, selling their flowers at the market and a big part of getting our proposal off the ground is diversification, which is beneficial to all the ladies as our income will become more consistent," she added.
 There are approximately 200 floriculture clusters with 2,000 active members nationwide.
-Ends-