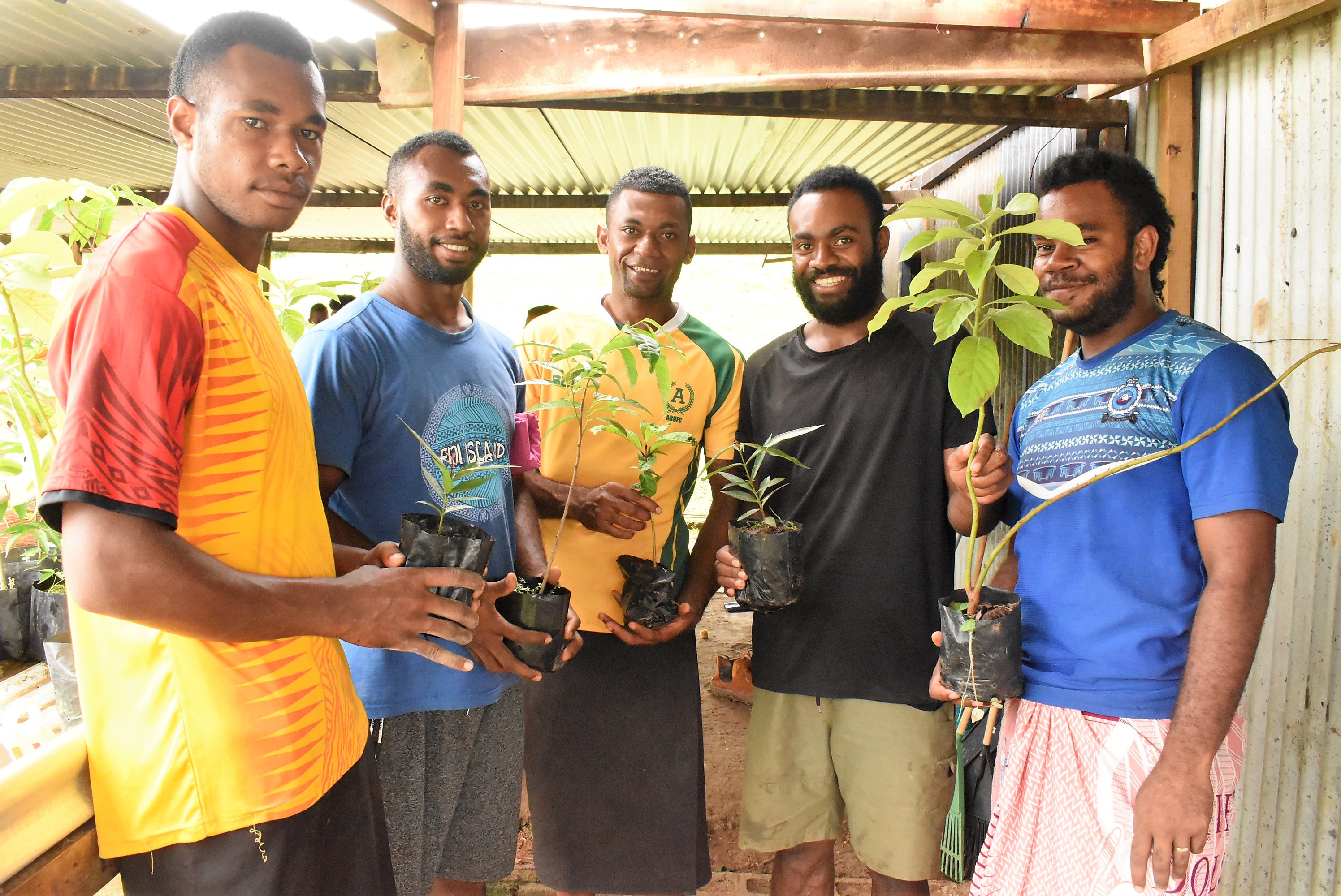 Picture : Youth of Vagadra Village with fruit tree seedlings.
The #iPlanted50 initiative which is a continuation of the same programme rolled out during Fiji's 50th Independence celebrations last year has been commended by the receiving communities.
The programme, which was upscaled from the 'Village Nutrition Security Initiative', entails the planting of 50 fruit trees at 50 select villages around the country as part of the Ministry of Agriculture's efforts to ensure the nutritional security of Fijian villages.
Minister for Agriculture, Waterways and Environment Hon. Dr. Mahendra Reddy spearheaded the programme implementation today at Vagadra Village in Nadroga with the simultaneous planting of fruit trees being held at selected villages from all the four geographical divisions with villagers applauding Government's continued input in their daily livelihoods.
Vagadra village elder, Mr. Aniti Vasa, 78, said the fruit tree initiative was a welcome one for their village as there was an increase in the village population.
"This is a very good programme because there are more households in the village and our future generations will benefit from the fruits that these trees will produce," he said.
"The only source of income for the village is turmeric, cassava, kumala and our livestock and with these fruit trees, we can look forward to healthier food choices and the onus is on our youth to maintain them," added Mr. Vasa.
Fellow Vagadra villager Mr. Mesulame Kunavula said there was a need for more fruit trees in the village as there were only a handful of trees growing within the village boundary.
"We are happy to have been chosen to be part of the programme because we now can source fruits without having to go far to get them, especially avocado, this is a fruit most of us here in the village like to eat," said Mr. Kunavula.
Minister Reddy said that though rural and maritime communities had a steady source of staple foods like dalo, cassava and yams, there was always a shortage of nutritional foods available to them.
"We've noted that there is an issue with balanced nutrition in our communities, often in our interior and maritime areas, people do not enjoy a balanced and nutritional diet," said Minister Reddy.
"You may not experience the lack of a balanced diet now but over time, you may see the impacts of a lack of nutrition in your lives.
He shared the long-term vision of the Ministry to improve the quality of life of current and future generations stating; "at the Ministry of Agriculture, we decided that something must be done to ensure regular access to nutritional produce, particularly fruits."
Minister Reddy also requested all the assisted villages to be collective caretakers of the fruit trees that were planted in their villages.
Additionally, home gardening packages were also distributed to households to further enhance their food and nutritional security and complement traditional food sources.
Fruit trees ranging from mangoes, avocado, green pearl guava variety, home gardening packages, pomegranate, coconut and breadfruit seedlings were planted as part of the programme.
-Ends-