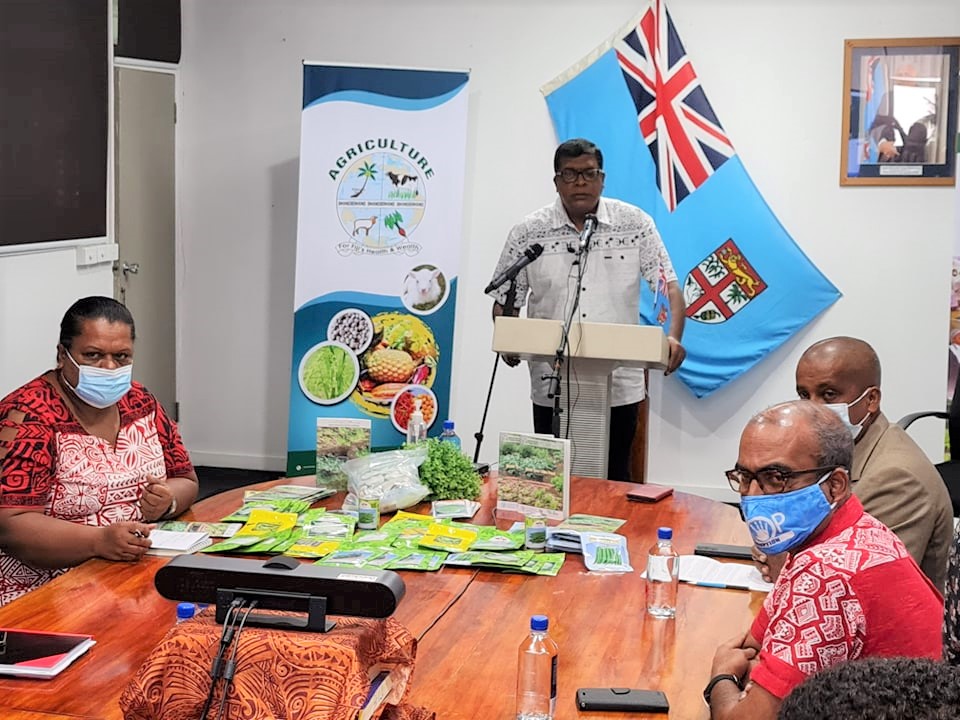 Picture: Minister for Agriculture, Waterways and Environment Hon. Dr Mahendra Reddy and senior management during the announcement of the inception of a new agritourism programme.
As part of efforts to increase the engagement of communities with large tracts of idle land located close to hotels to actively involve themselves in agriculture, the Ministry of Agriculture has announced the inception of a new agritourism programme.
The Our Community Agriculture (OCA) programme will set up hotels to their neighbouring communities and help these communities supply their produce to the hotels.
While making the announcement today, Minister for Agriculture, Waterways and Environment Hon. Dr. Mahendra Reddy said identifying opportunities to amplify linkages between the agriculture and tourism sectors remained a key priority given the interdependence and employment opportunities both these sectors each offered.
"The Ministry wishes to engage communities with idle land, near hotels to engage in farming and supply their produce to the nearest hotel. In doing so, we will be able to utilise new land for agriculture and raise agricultural output.
"Additionally, we are encouraging hotels to utilize locally grown produce and by connecting our hotels to local communities, we contribute to their improved livelihood by transferring income in exchange for fresh farm produce," he said.
Minister Reddy said that the programme was being implemented as a means to boost the share of tourist spending retention in the local economy and to address the importation of produce by the tourism sector to meet the demand at the tourist table by strengthening linkages between the hotel and farmers through agritourism initiatives.
The Ministry of Agriculture Agritourism Initiative OCA will focus on youth groups, women's groups, co-operatives and clusters of farmers in communities close to hotels and resorts.
"Each community group, consisting of at least 5 households, in a village or settlement, will be provided $600.00 per acre for a maximum of 5 acres, (a total of $3000), to clear, prepare and cultivate the land with vegetables or root crops with the intention to supply 100 per cent of their harvest to the nearest hotel," said Hon. Reddy.
"For phase 1, we are targetting a total of 30 farming groups. Noting $3,000.00 per group, we have a total budget of $90,000.00 for this program and for phase 1, we are limiting to one group per hotel," he added.
The disbursement of the selected farmers' groups will see 12 farmers' clusters from the Western Division, 8 from the Central Division, 6 farmers' clusters from the Northern Division with 4 clusters from the Eastern Division being a part of the first phase of the OCA programme.
The OCA programme will include land clearing, land preparation, the provision of planting materials, cultivation, and farming equipment.
The Ministry will work closely together with the identified clusters of farmers, groups and co-operatives to supply fresh and value-added commodities to resorts and hotels.
Interested farming clusters must be located within 2 kilometres from their nearest hotel/resort and must provide evidence of ownership of up to 5 acres of land. Clusters must also have a minimum of 5 households and must be registered with the Ministry of Agriculture. Additionally, interested farming groups must also provide the support letter from their nearest hotel indicating proof of partnership with respective farming clusters.
-Ends-