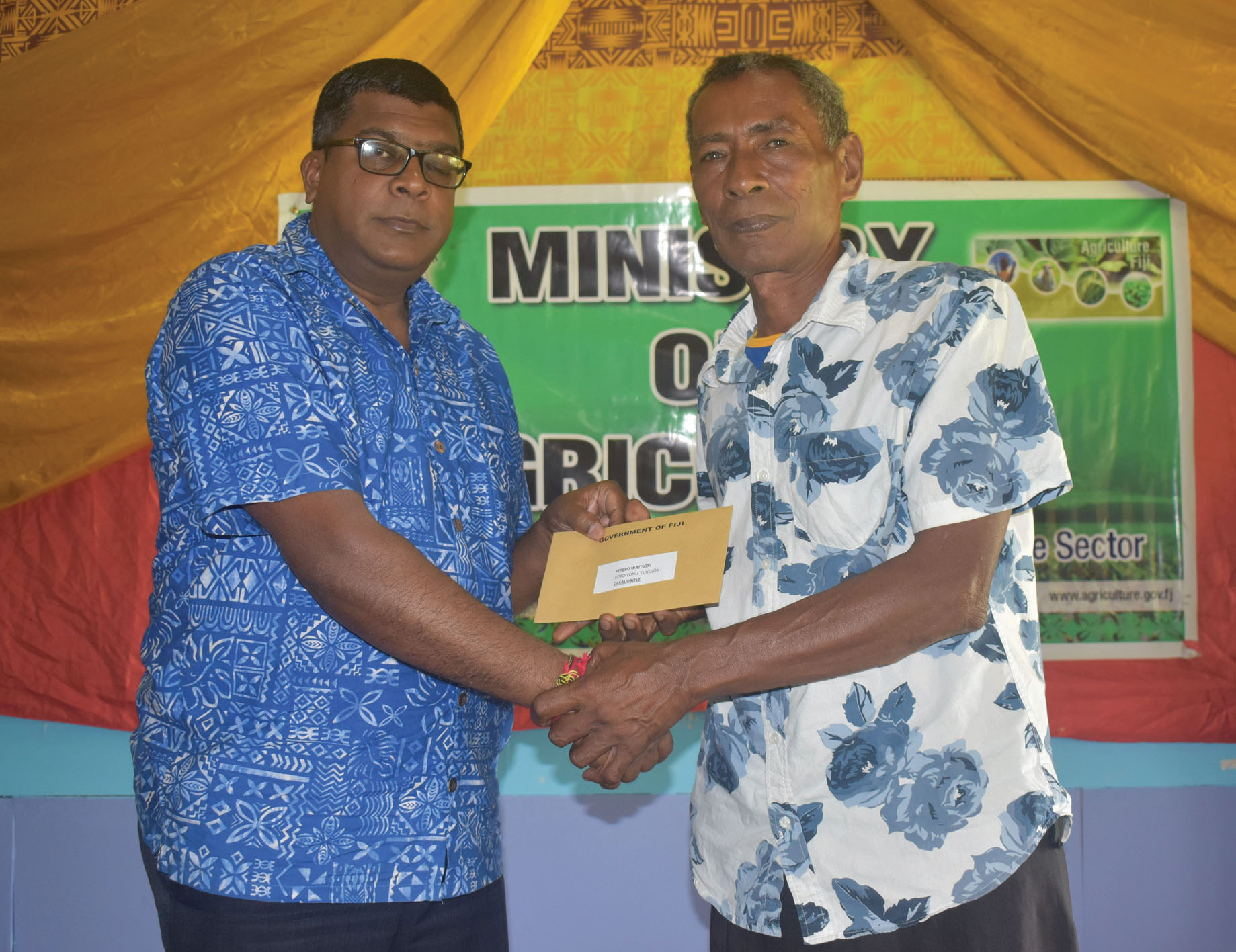 Picture: Minister for Agriculture, Hon. Dr. Mahendra Reddy handing over the R2R offer letter to Mr. Petero Watisoni of Natewa Village.
Restorative action is needed to maintain the health of our biodiversity for the benefit of our future generations.
This was relayed to villagers of Natewa Village, Natewa district and farmers of Naqai Village, Labasa in Vanua Levu who were recipients of fencing kits and planting material through the Ridge to Reef programme by the Minister for Agriculture, Waterways and Environment Hon. Dr. Mahendra Reddy during his most recent Northern Division tour.
"It is our responsibility to protect our biodiversity and build up its resilience, we cannot exist in isolation from our biodiversity but we need to exist in harmony with it and our biological resources, our flora and fauna.
"We need to get communities to add their contributions towards protecting our biodiversity and contribute more towards biodiversity restoration. We're doing this not only for your interest but for the interests of our future generations too, as it is also of national interest," he said.
"And it is in this regard that we have chosen to provide support to your community here through the Ridge to Reef programme funded by the German Environmental Fund so that our biodiversity can be protected and enhanced.
"As you know through this project, its primary objective is to protect our biodiversity by looking after our animals, and by isolating our animals so that they do not damage or destruct our efforts to restore the biodiversity around us and I want to thank the German government through its environmental fund, the administrators of the Ridge to Reef programme who have provided this funding," Minister Reddy added.
He said the funding would allow the recipients, who were raising livestock freely, to erect paddocks and keep their livestock within their paddocks in order for them to undertake restorative activities for the environment through the planting of more native tree species and the establishment of fruit trees orchards.
Meanwhile, 33-year-old Mr. James Allen who is an R2R fencing kit recipient living in Siberia, Labasa said receiving news of his inclusion into the R2R programme was a welcomed one as it was also the first time for him to receive Government assistance.
"I was happy because it felt like there was someone looking out for me, there is help out there with the Government and I was pleased and I was very happy to be a recipient of the R2R programme where I will receive planting materials and my fencing kit materials.
"Dealing with the environment, I am a farmer who never uses chemical fertilizers as I practice mulching and more organic traditional practices and manure, I am a farmer who is very conscious of the environmental impacts of my farming practices and through the R2R programme, it has helped to engage me into this type of farming, which is the orchard and fruit tree planting," said Mr. Allen.
"I've always been a vegetable farmer and I also have a few livestock but through this programme, it has helped to be more aware of the environment and the importance of practising sustainable farming models," he added.
As for 63-year-old Brian Vunibola, the headman of Naqai Village, the R2R programme is one that has incorporated a positive development criterion for its recipient members.
"The Ridge to Reef programme is indeed a very well-thoughtout project and it is important for all farmers to take up the model, it is a programme that encompasses a variety of models that will be beneficial to the farmer, the environment and our future generations," said Mr. Vunibola.
"There is a great concern for the wellbeing of our future generations and I am pleased to have been chosen as a recipient of the fencing kits and materials to help me become more environmentally aware for the restoration of our biodiversity, while not compromising the food and nutrition security of my family, I am very fortunate to be a part of the programme and am indebted to Government for such a wonderful programme.
-Ends-