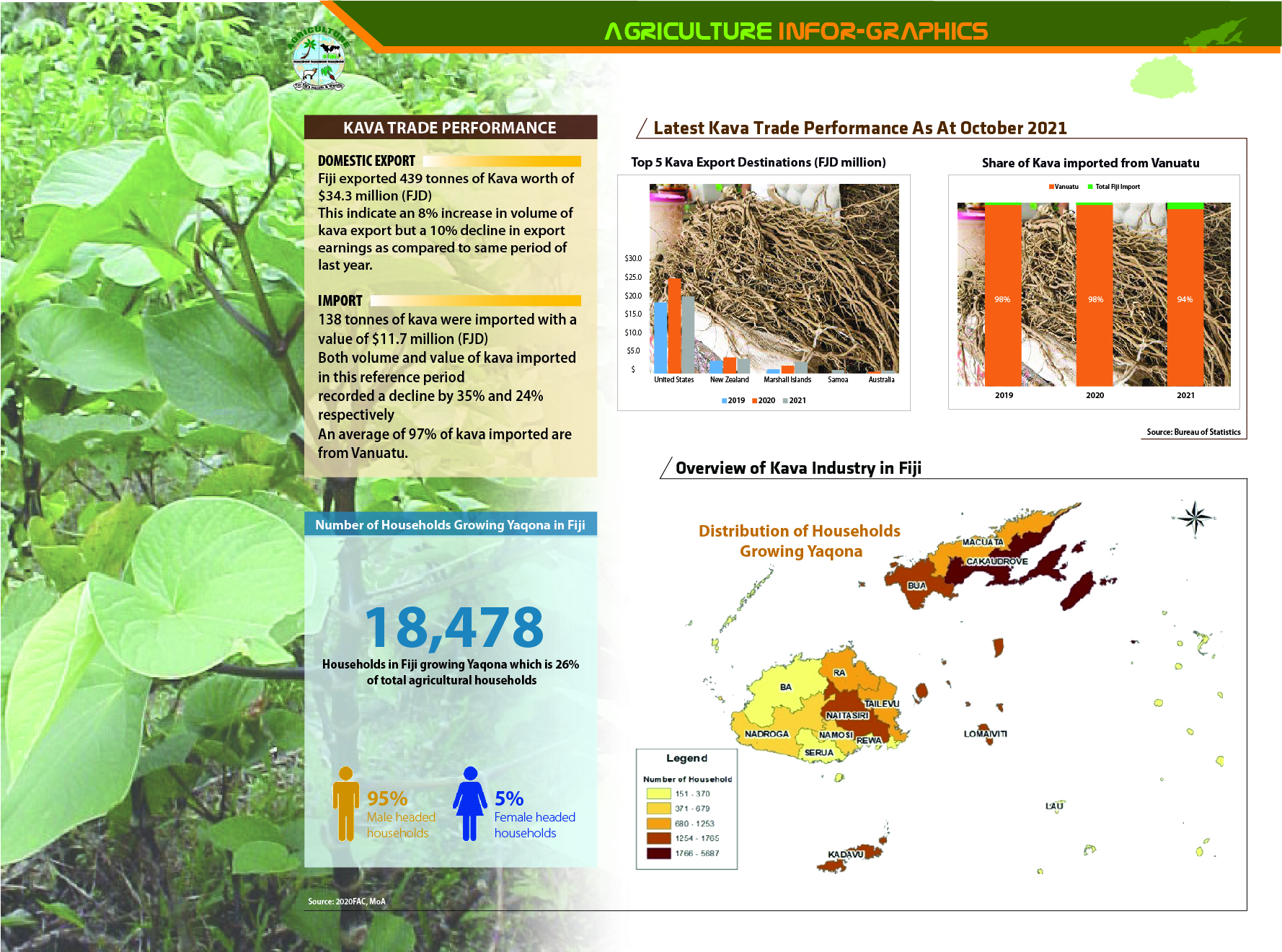 Picture: Latest Kava Trade performance as at October 2021.
As of October 2021, Fiji exported 439 tonnes of kava valued at $FJD34.3m, participants attending the recently held inaugural National Kava Committee Meeting.
Presenting the 'Fiji Kava Industry Economic Status and Performance', Ministry of Agriculture Acting Principal Economic Planning Officer – Statistics, Ms Sainiana Kirisitiana said the October 2021 figures indicated an 8per cent increase in volume of kava export in comparison to the same period of last year.
She explained, there was a total of 18,478 households in Fiji involved in growing yaqona representing 26per cent of agricultural households, according to the Fiji Agriculture Census Report of 2020.
"Of this figure, 95per cent are male-headed households with the remaining 5per cent female-headed households. As to the reasons why these households harvested yaqona, 60per cent say it is to sell, 34per cent say it is for household consumption, 22per cent say it is for social functions, while 5per cent say it is to be given as a gift," she said.
Ms Kirisitiana also informed the participants in 2019, $208.2m was the value of kava GDP.
"This was 2per cent of the National GDP. For the past 11 years, from 2009 to 2019 the annual growth rate of kava GDP was 17per cent," she said.
In terms of domestic production, Ms Kirisitiana explained that 13,187 tonnes was the volume of yaqona produced locally in 2020.
"This was 4.5per cent of the total crop production and 3.8per cent of the total agriculture production. For the past 12 years, from 2009 to 2020, the annual average growth rate of domestic yaqona production was 18per cent."
Further, she said 478 tonnes of kava was the volume of exported in 2020, which was 4per cent of domestic production for that year.
"$43.6m was the value of kava exported in 2020 which was 4per cent of the national domestic export earnings."
-ENDS-