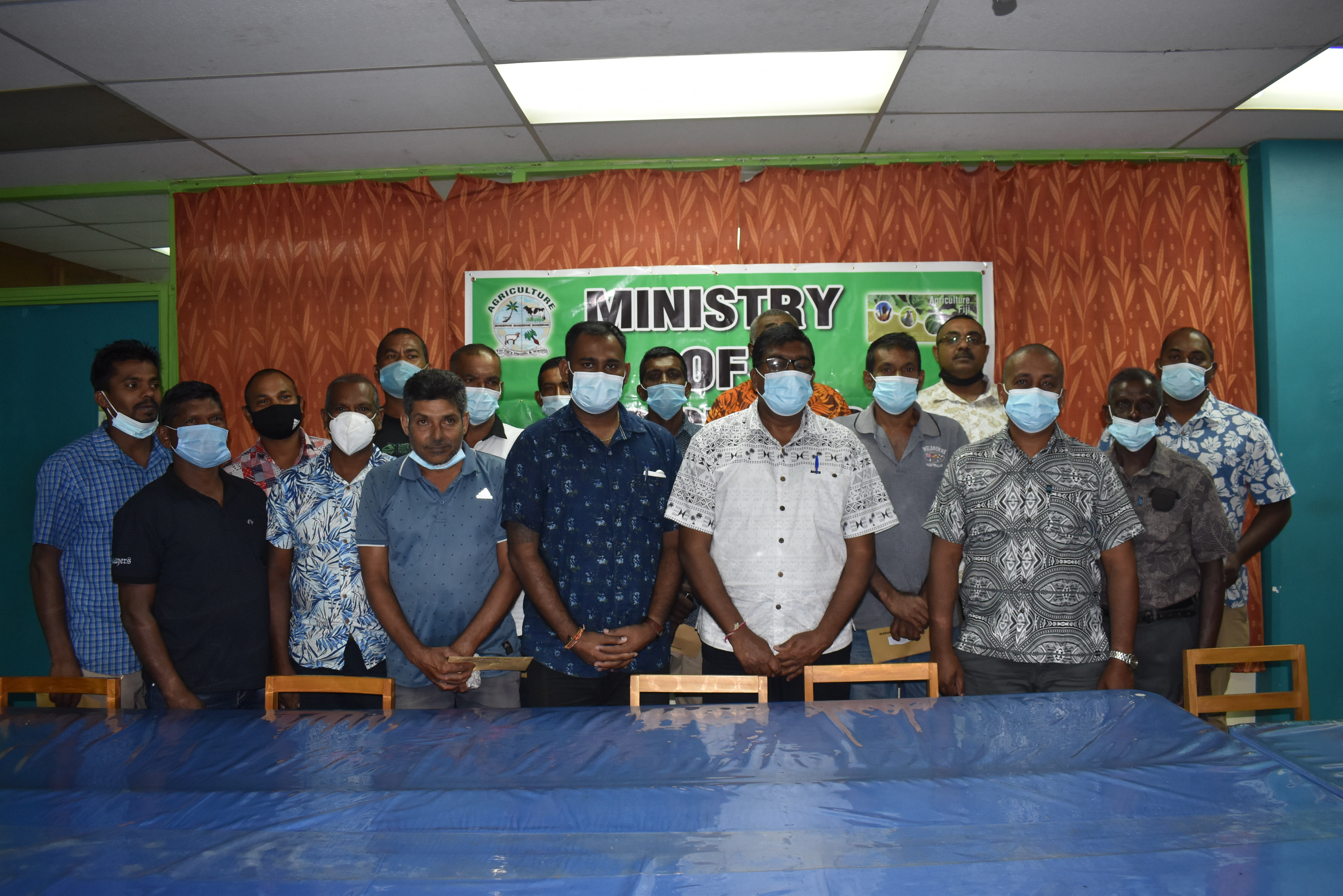 Picture: Minister for Agriculture, Waterways and Environment, Hon. Dr Mahendra Reddy flanked by the successful farmers who will be receiving the assistance.
Twelve (12) farmers in the Macuata Province became the first recipients in the North to receive offer letters for Irrigation kits and Small Farming Equipment yesterday.
Minister for Agriculture, Waterways and Environment, Hon. Dr Mahendra Reddy who handed over the Offer Letters to the farmers congratulated who would be receiving irrigation kits, rotavators, and walk-behind tractors.
"It is impossible for any business, any entrepreneur, and any farmer in any country or region to grow and expand if they do not invest. The farmer needs to invest in his or her farming enterprise such as investing in a processing shed; a farmhouse; machinery; or a farm road – in order to expand and grow," he said.
"That investment requires financial resources which the farmer acquired from savings from past business activity or from a loan from the bank or from the Government as a one-off leverage. Today we are here to give you a leverage which coupled with your investment; your finance will make good investment in your farming business," he added.
Farmer Kamal Deo of Waiqili Sector, Namekavu was grateful to be chosen to receive the assistance, which he said was the first time that he received help from the Government.
"The irrigation kit I will receive will help me grow my commercial farm. I plant vegetables and root crops like cassava and dalo and where the land is wet, I have planted four acres of rice.
"It feels really great to receive this assistance and I want to thank the Government and the Minister for Agriculture for helping me," Mr Deo said.
Mr Rajneel Maharaj of Tovata, Labasa expressed similar sentiments.
"I will get the Small Farming Equipment assistance which is a walk-behind-tractor and a trailer. The walk-behind-tractor will increase my productivity and efficiency. Before I used bullocks and horses and it was hard especially when it was the wet season. But now, with this assistance, I can easily work in both the wet and dry season," Mr Maharaj explained.
"The trailer too will really help me. I will be able to easily move things around on my farm from one part of the land to another. So I am very happy with this assistance and I am grateful to this government for choosing me."
The pair along with other successful farmers had successfully applied online when the advertisements for assistance opened in August last year.
Today, the Hon. Dr Reddy will travel to Bua and the Agriculture Station in Dreketi.
-ENDS-