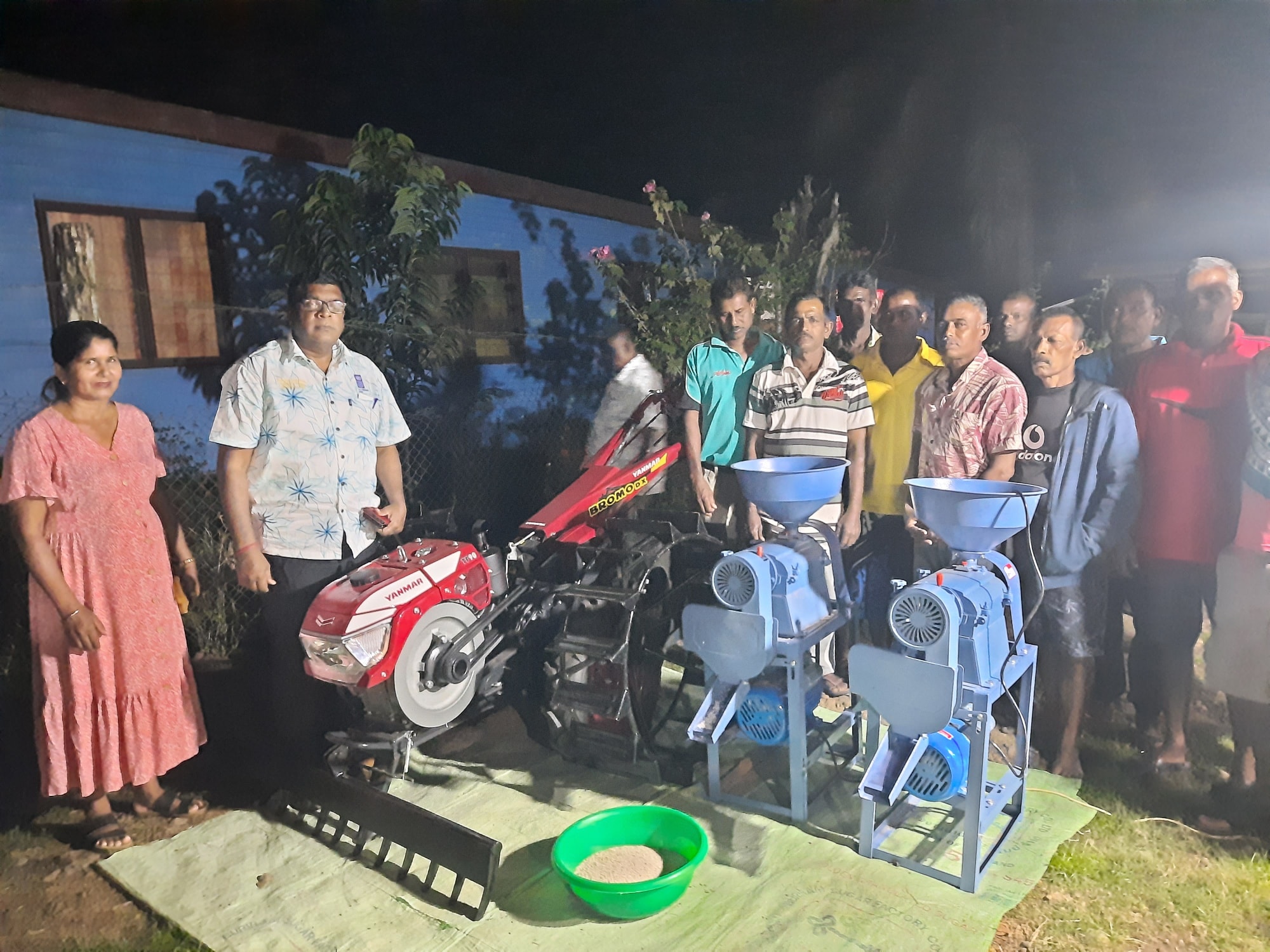 The drive and commitment of the Ministry of Agriculture through its development programmes tailored to promote and aid agricultural growth in the country has been acknowledged by farmers in Vanua Levu.

While receiving their brand new tractor and farming implements last week under the Small Farming Equipment (SFE) programme, Mr Avinesh Kumar Kamal and Mrs Anjeeta Kamal of Lajonia, Labasa said the Ministry's one-third two-thirds programme would increase their farming productivity.
"We are very happy and proud to receive this grant where Government paid 70 percent and it has contributed to us to buy this tractor. We are really happy as we can't afford to pay for it all by ourselves, but through the Ministry's funding, we can buy a new tractor," said Mrs Kamal.
"And we are also happy to have the Minister handover the tractor, this tractor will help us to do farming in a much easier way it will help us in land preparation before we used to hire other tractors for our land preparation or we used a rototiller which was a bit harder but now with this tractor, it will make our work much easier," said Mrs Kamal.
"I want to thank the Ministry for the generous donation. Farming is a difficult task but when people have the right tools and equipment, farming becomes very easy. I want to thank the Government for doing a lot for the people of Fiji," said Mr Avinesh.
Meanwhile, for Dalip Chand of Vunivau Ba who was also a recipient of the Small Farming Equipment programme, the split contribution under the programme was a welcomed initiative as it helped him to source his rice/spice mill and a walk-behind tractor.
"I just want to thank the Agriculture Ministry for what they have done for my farming, and I also make a call to all farmers to apply for their programmes, together we can build our agriculture to a new level," said Mr Chand.
Echoing similar sentiments was Ms Savita of Waiqele Hotsprings who was now a proud owner of a power tiller, co-funded under the SFE programme.
"I plant all kinds of vegetables like cabbage, bhindi, eggplants and I plant at Hotspring and I also plant rice, I paid $3,000 for the power tiller and the Government paid $7,000.00 and I was very happy to receive this assistance," said Ms Savita.
"I want to plant more vegetables and my market is in Labasa. I sell 70-80 bundles of cabbage in one day to the market and 50-60 bundles of bean, sometimes 100 bundles and this is my farming production, I have been farming for 15 years and this assistance will help me to improve production," said Ms Savita.
Whereas for Nabouwalu Village Rice Farmers Cluster president Mr Tevita Robanakadavu, for their village community, rice farming was now a staple crop and activity and with the added impetus of the portable rice mill, their farming would only increase from here.
"Our village was one of the first to plant rice here in Bua and though we used to face difficulties in milling our rice, we never stopped planting rice because we know that it is for our benefit and with the assistance given by the Ministry, I know we will only get better from here," said Mr Robanakadavu.
The Ministry of Agriculture is currently distributing equipment to successful recipients who had applied for this financial year's agricultural development programmes with another set of similarly designed programmes to be announced following the commencement of the new financial year.
-Ends-