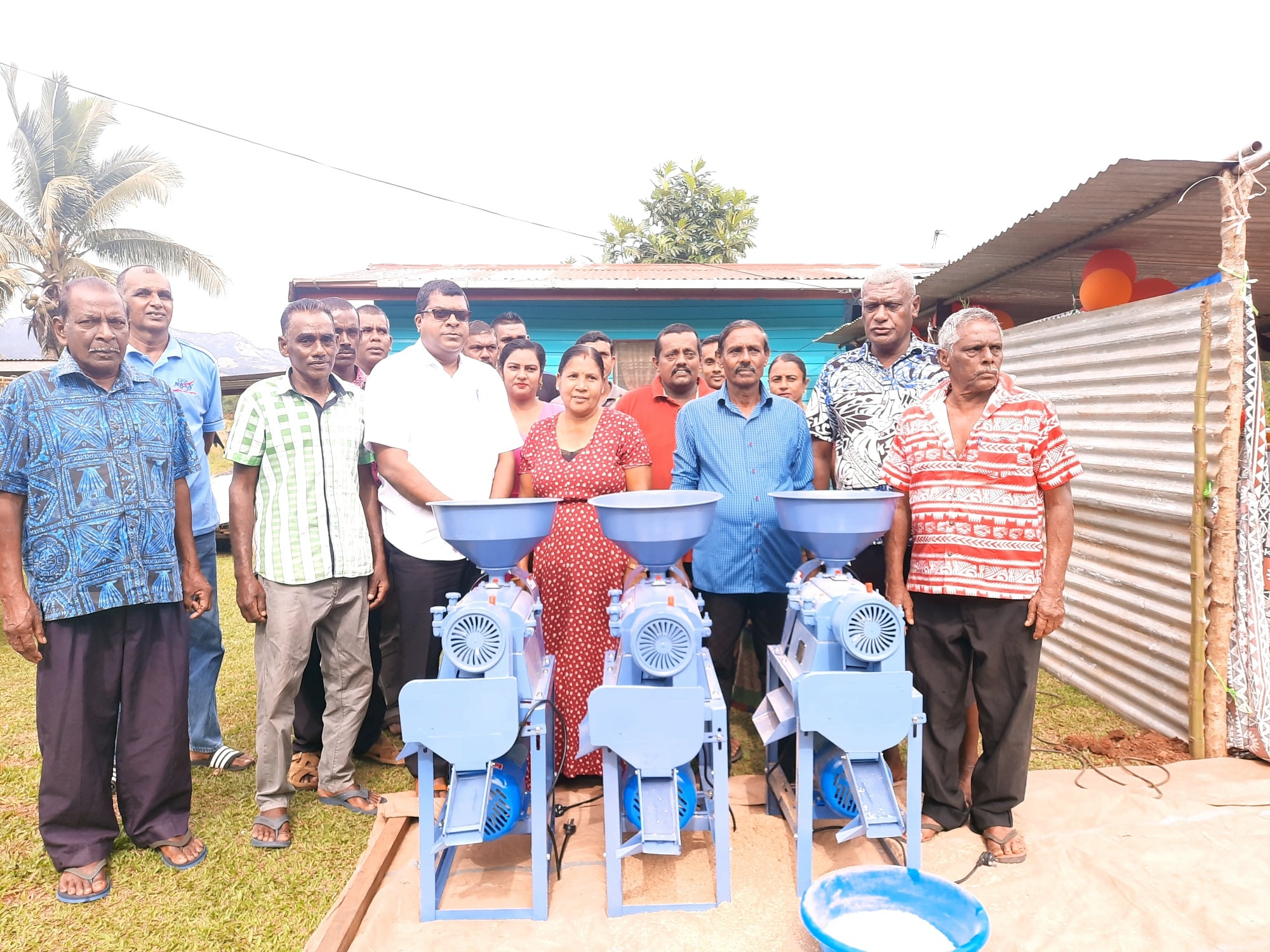 The Ministry of Agriculture recently distributed an additional 15 portable rice mills to rice farming clusters in Vanua Levu to further incentivize the farming communities into upscaling rice production.

The distribution of the portable rice mills also addresses the issue of a lack of milling facilities available to the farmers and directly resolves transportation costs borne by the farmer during rice milling.
While distributing the portable rice mills to the farmers last week, Minister for Agriculture, Waterways and Environment Hon. Dr Mahendra Reddy said the Ministry was well aware of the issues and difficulties faced by farmers, reiterating that the Ministry was addressing these binding constraints bit by bit.
"During the last two years when we were promoting rice, we noticed that farmers who were growing rice for their consumption or growing rice but wanted to keep some for their consumption, for them, milling was an issue, where would they mill the rice," he said.
"Farmers had to travel long distances to look for a rice miller and sometimes when they reached there, they found that the house was locked and the mill was locked and they had to come back again and they spent a lot of money to hire a truck or van and that discouraged them from growing their rice and noting those concerns, we went to FAO and got some assistance and we are now giving out portable rice mills that you can plug to the single-phase powerpoint electricity and mill your rice," said Hon. Reddy.
"So this is indeed a very exciting day because you now don't have to travel long distances. For these two rice mills, for your information, one tin of rice to mill is $0.70, $0.40 to go to the homeowner, and $0.30 to go for maintenance. So we're very excited that this incentive will result in a major boost in rice production.
Meanwhile, Waiqele Khamba Rice Farmers cluster president Dharmendra Jit has praised the stance taken by the Ministry of Agriculture and for providing the necessary assistance to all farmers.
"We are very happy today that we have received that rice mill for our group to do rice milling and we thank the Ministry of Agriculture for helping us and our community is very happy because before we had to go very far about 7-8 kilometres away from this area but now our community is very happy," said Mr Jit.
"Government is doing a very nice job and we are targeting to form a cooperative so that we can also have our own rice harvester and that is our plan going forward," Mr Jit added.
The Ministry of Agriculture handed over a portable rice mill to the Boubale Rice Cluster, Urata Rice Cluster, Waiqele Khamba Rice Cluster, Waiqele Hotspring Rice Cluster, Nabouwalu Village Rice Cluster, Batiri/Voloca/Dreka Rice Cluster, Valelawa No. 1 Rice Cluster, Navudi Rice Farmers Cluster, Vunivere Rice Farmers Cluster, Coloci Rice Farmers Cluster, Batinikama Rice Farmers Cluster, Naleba No. 16 Rice Farmers Cluster, Naleba No. 17 Rice Farmers Cluster, Matiniwai Rice Farmers Cluster, Nagigi No. 11 Rice Farmers Cluster, Nagigi FSC Lane Rice Farmers Cluster and Vunika Rice Farmers Cluster respectively.
The portable rice mill is part of the European Union-funded Pro-Resilient Fiji project which is implemented by the Food and Agriculture Organization of the United Nations (FAO) to support the Ministry of Agriculture's wider aim to ensure food and income security for Fijian farmers.
-Ends-