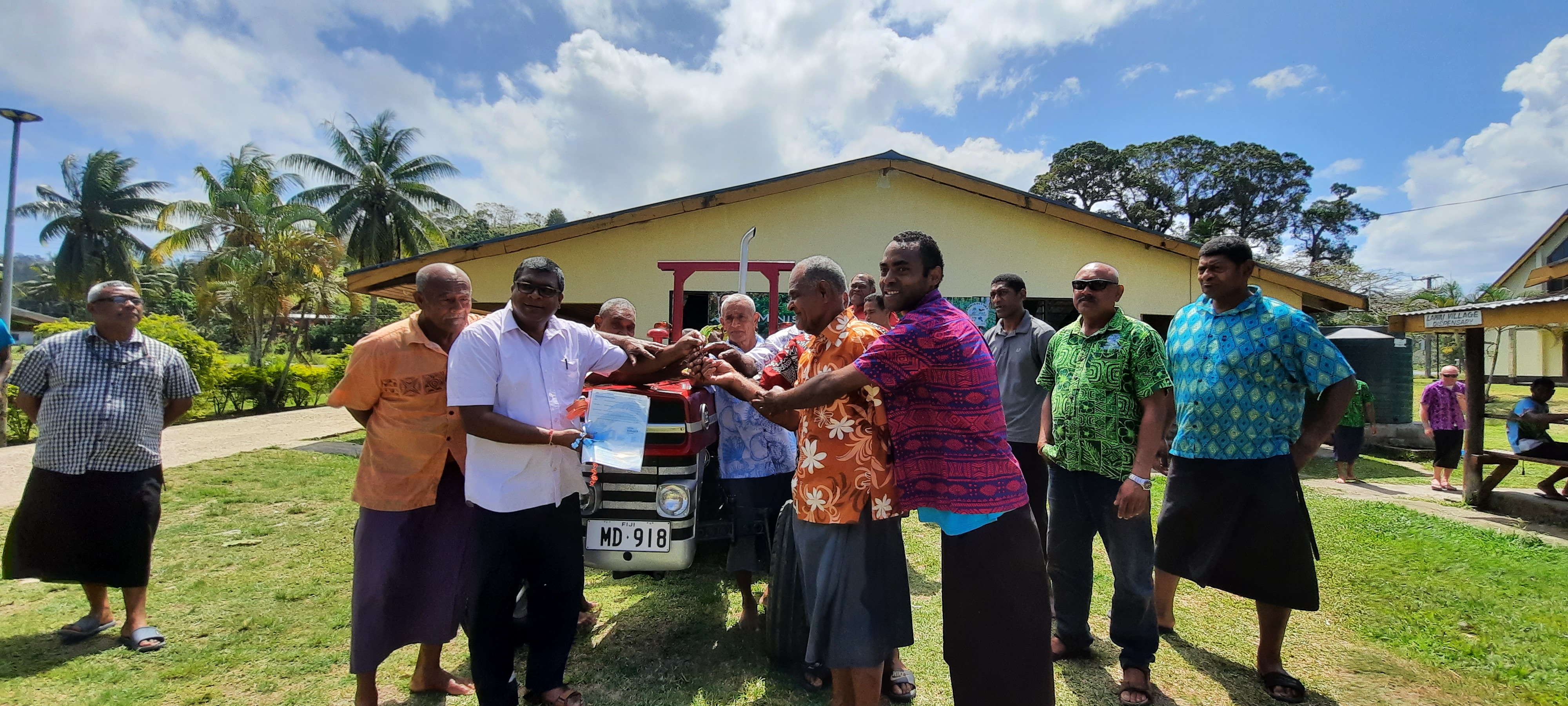 Picture: Minister for Agriculture Hon. Dr Mahendra Reddy with the Naboumahimahi Farmers' Cooperatives during the handing over of the tractor.
Naboumahimahi Farmer's Cooperatives from Lawai Village in Nadroga received their tractor as part of the Ministry of Agriculture's Farm Mechanization Initiatives for Commercial Agriculture Development purposes.
While addressing the farmers yesterday, Minister for Agriculture, Waterways and Environment Hon. Dr Mahendra Reddy said their initiative to own a tractor was commendable as the group had achieved significant progress in their livestock farming.
"I came here two years back, you asked for beef cattle farming and fencing material; you organised it and had 60 cattle back then, now it's around 80 cattle," said Minister Reddy.
"I am very happy with the leadership of this village, if you don't have good leadership you wouldn't have been able to achieve what you have achieved today."
Minister Reddy said there was a lot of potential but he highlighted that their abundant resources would not provide the desired returns if resource owners failed to think commercially.
"That is the challenge throughout Fiji amongst the Mataqali, they don't think big; I am very happy to see the leadership in this village doing otherwise," said Hon. Reddy.
Meanwhile, Aminiasi Kunagado the Advisor of Naboumahimahi farmer's cooperative thanked the government for the assistance being rendered to them stating that it was a blessing for their youth groups as it would prompt them to work harder.
"I would like to take this opportunity on behalf of the Naboumahimahi Farmers' Cooperative as an advisor to thank the government for the opportunity that is given to us, we will make use of it and explore more, we have a lot of plans for our youths, and now that we have our own tractor, this will provide the boost for our farming," said Mr. Kunagado.
Naboumahimahi Farmers' Cooperatives paid a third of the cost of the tractor and 2-disc plough which amounted which is a part of the requirement of the Farm Mechanization Programme which incorporates the one-third, two-thirds payment model of government assistance.
-Ends-