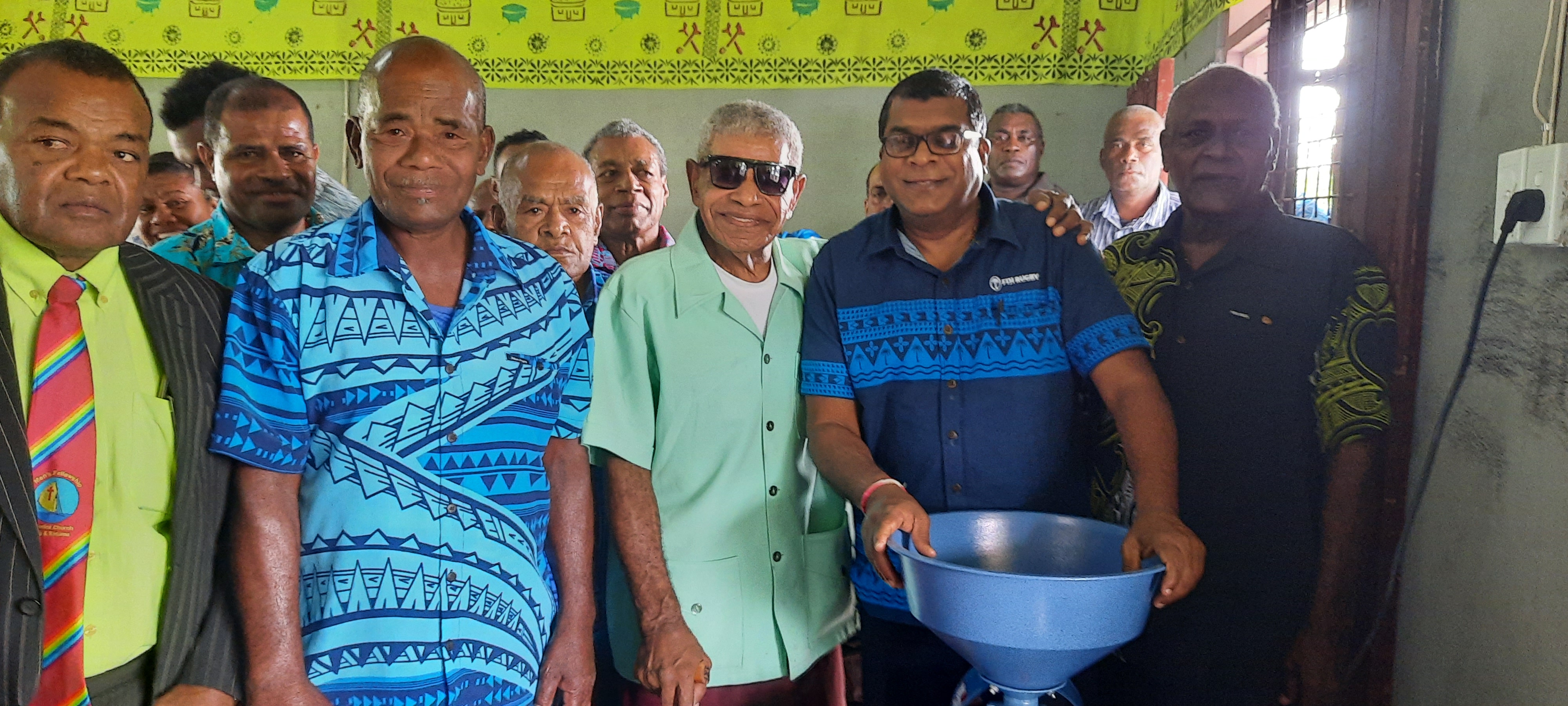 Picture: Minister for Agriculture Hon. Dr Mahendra Reddy with the elders of Lodoni village during the handing over of the portable rice mill.
All Heads of Mataqali nationwide are being urged to support their youth and guide their hand towards better utilising their resources and land for commercial agriculture.
This was the call made by the Minister for Agriculture, Waterways and Environment Hon. Dr Mahendra Reddy while handing over a portable rice mill to youths of Lodoni village earlier this week.
The Naovini Youth Group which consists of 26 youth members planted 1.5 acres of rice and they managed to harvest two tonnes which will be distributed to the community.
Minister Reddy thanked the leadership of the village elders for allowing and promoting rice cultivation in the village as rice was a staple now with all Fijian households consuming rice, and for the youth of Lodoni Village growing rice for their consumption, this is a major breakthrough in terms of securing food for members of the own mataqali.
"I want to really thank the leadership of the village, the "Turaga na Tuivatu, vinaka, thank you very much! I also want to thank him for allowing the youth groups to engage in rice farming and this is what we want," said Minister Reddy.
He said there was huge potential and opportunity to provide leverage to young men and women to undertake commercial agriculture in rural areas.
"A lot of resources in the interior and rural areas are under-utilised, land in particular, and we don't see significant growth in most villages; we do not have much development in our rural areas because they have not adopted commercial agriculture models.
However, he said growth and development in the villages are very slow because there is no surplus created as villages are still undertaking semi-subsistence farming; "Growth will only take place if there is consecutive surplus."
Minister Reddy shared that if all the 1,400 villages in the country started to grow rice for their own consumption, rice importation would decrease significantly and Fiji could achieve 80 per cent self-sufficiency in rice.
"So I am urging all the mataqali members throughout Fiji, that there is no better time than this to get into commercial agriculture, the level of support by the government is thriving for the first time ever, we have allocated $29.2 million direct assistance to farmers and this should provide the impetus to grow the sector even further," said Minister Reddy.
-Ends-