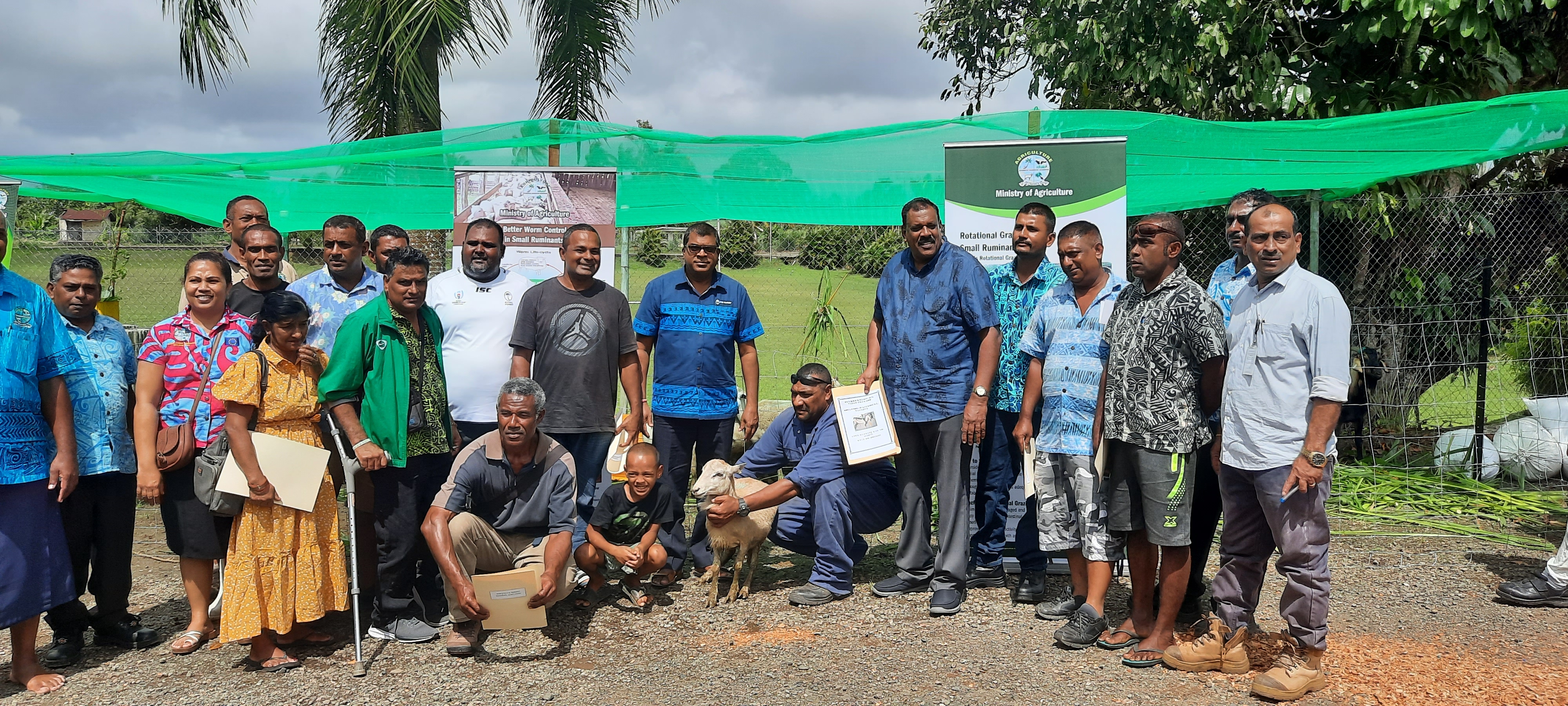 Picture: Minister for Agriculture Hon. Dr Mahendra Reddy and ministry staff with the recipients of the F1 sheep at Koronivia Research Station.
As part of ongoing efforts to improve the genetic makeup of sheep farms in the country, the Ministry of Agriculture recently handed nine pairs of F1 sheep breeds to farmers in the Central Division.
While handing over the sheep pairs, together with three breeder bucks to three goat farmers at the Koronivia Research Station earlier this week, Minister for Agriculture Hon. Dr Mahendra Reddy said that the Ministry remained committed to developing the sheep and goat industry.
While addressing the recipient farmers, Minister Reddy highlighted the Ministry's efforts to improve the livestock sector, particularly small ruminants, were to specifically decrease the importation of lamb meat.
"This is part of ongoing efforts to improve the genetic makeup on sheep farms in the country.
The import status of sheep meat and lamb has tremendously fluctuated over the past five years with 4,629 tons of sheep meat imported in 2021 from Australia and New Zealand.
"In comparison, our current formal production of sheep meat stands at 74 tonnes/year and you can see the difference between what is being imported and the level of production locally, which needs to be addressed and improved substantially; for example from 2019 an average growth rate of 3 per cent was recorded in sheep production but we can still do so much better," he said.
Hon. Reddy has also called upon farmers to make use of the genetic improvement programme to improve the current condition of the current Fiji Fantastic stocks.
Meanwhile, upon receiving his improved F1 pair of sheep, Mr. William Feresi from the village of Nakavu in Namosi thanked the Ministry of Agriculture for their continuous stance in securing the local livestock sector.
"I am a beef farmer but I always tell my family that we need to have other things to back up our beef farming and I always wanted to explore sheep farming so when I received the call from my locality officer asking if I wanted to take up sheep farming too, I grabbed the opportunity with both hands and I told him yes, I want to be a sheep farmer too," said Mr. Feresi.
"I am so happy today, because I have been thinking of having a sheep farm here, this will be the first time in my life to have sheep farming. I will need to attend training for this to learn more and I am looking forward to it, I can only grow from here and I want to thank the Ministry of Agriculture for this program," said Mr. Feresi.
The introduction of these F1 sheep cross breeds on farms is anticipated to boost the genetic make-up of the existing population and contribute to the improved performance of these animals on farms. The improvement in the genetic makeup will create impacts such as improved weight gain, reproductive efficiency and better production performance.
The Ministry of Agriculture's Animal Research Stations will continue with its breeding programmes and will evaluate the productive and reproductive parameters of various crossbreeds.
-Ends-